After a rainy week, we knew the trails might be a bit muddy and slippery with fallen leaves, so we opted for some easier locations this weekend.  With Evie safely handed off to Saturday gymnastics, we stopped for lunch at Soup to Nuts in Sturbridge.  They're a cozy lunch spot with a limited menu including a rotation of homemade soups and quiches.  Even though I'd never heard of it, they've been in business 31 years. Shows what I know!
Fed and ready to explore, we stayed local and headed down Leadmine Road, intending to visit Tantiusques, a Trustees of Reservations property down the road from the Leadmine trails we had previously hiked.  Following the Trustees' directions, though, led us nowhere fast; Leadmine Road became a basically impassible dirt road (at least in my hatchback) thanks to deep ruts, wide puddles, and heavy fallen leaf cover.
After debating for a bit, we took side roads over to Holland and found Quinebaug Woods instead, another Trustees property.  Quinebaug Woods is a narrow parcel nestled between private property and the Quinebaug River.  A single trail goes on a brief 1.1 mile loop.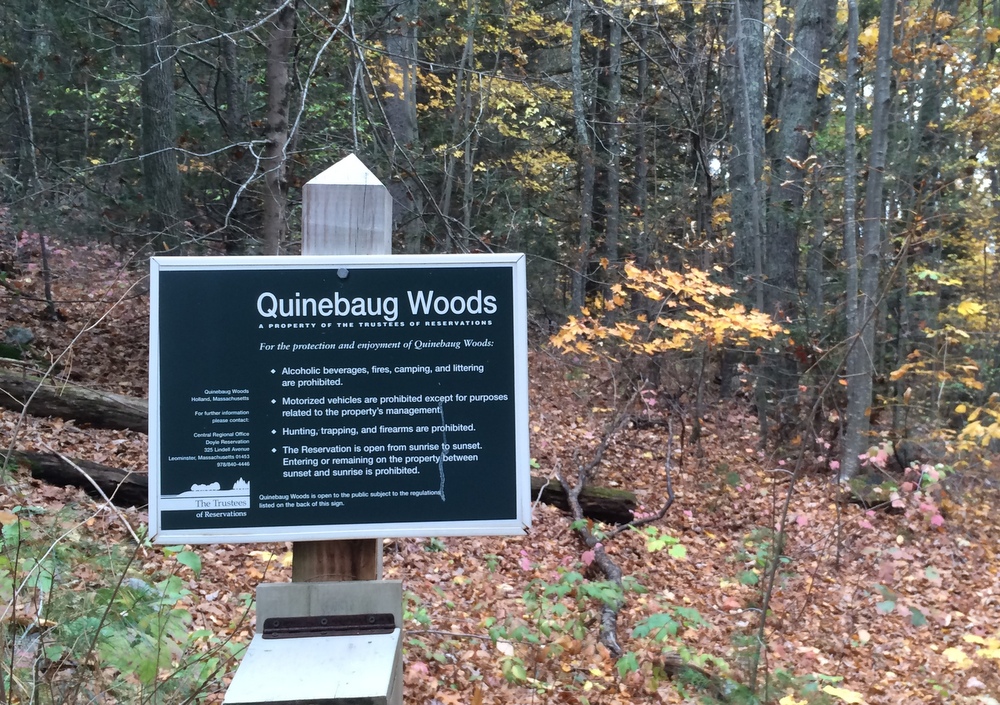 It starts along the river (fishing is allowed, and someday I may return with a fly rod) and then takes a short steep climb up.
After the climb, it's a meandering walk along rocky paths back to the trailhead.
Along the way, we stopped at the old chimney, all that is left of a 1930s cabin on the property.  It's impressively large for what must have been a tiny cabin (there is not much level ground here!).
After completing the loop, we looked at our maps (on our phones, of course) and figured out we could take a back way across to Tantiusques from where we were.  So we made a quick drive back into Sturbridge and approached the site from the opposite direction.  The road was paved, well-maintained, and wide.  I have no idea why the middle section of the road was such a disaster.
Tantiusques was similar terrain as the trail we had just completed, with a similar 1 to 1.5 mile trail loop on it.  The interesting aspect of this property is its mining history, dating back to pre-Colonial times.  The mining stopped in the early 20th century, and there's ample evidence of the mining all around, including this 1905 mine entrance which is fortunately boarded up (but still plenty creepy looking).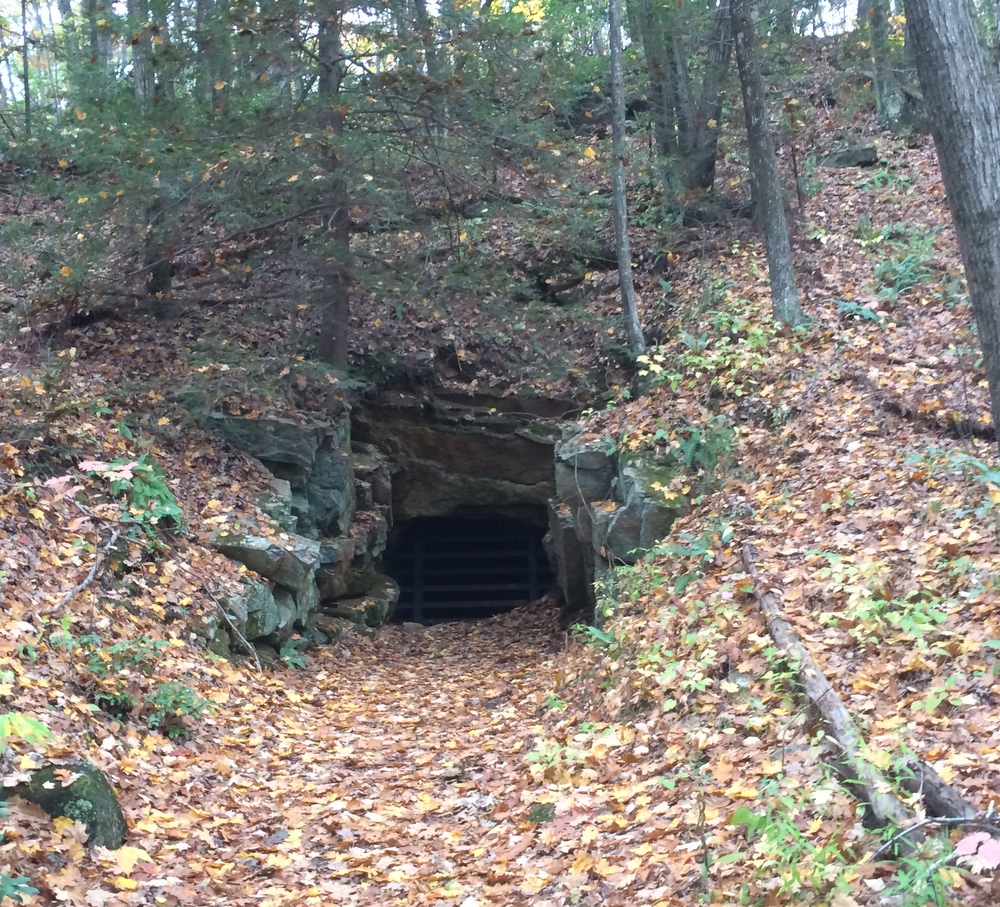 Most of the mining on this property was not underground, though. The miners simply cut into the earth, exposing the graphite and other minerals.  Much of the hike was along an old ridge that had been cut open and partially refilled.  There were ample opportunities to look into nooks and crannies of the old mining cuts.
We somehow missed a cutoff which would have returned us to the trail head, and followed a side trail which took us out to the road, meaning we had to walk a quarter mile down the road to return to our car.
In both these cases, the properties were obviously not as well-traveled as our other trails.  Trail markings were not as clear,probably because the parcels were small and the trails simple one-mile loops. But we still felt lucky to experience two great hikes in the middle of this beautiful New England autumn.