With my wife and daughter out of town, I had to make a decision on how to spend my Sunday afternoon: watching the Patriots beat up on the Bills, or hiking on a beautiful sunny October day?
Fortunately, I have the technology available to solve this problem — a DVR!  Safe in the knowledge that I could watch the Pats any time on this Sunday, I was free to explore other options.
So it was that after a morning spent with friends at Hamilton, I parked the car at the main lot for Wells State Park, where my wife and I had recently hiked, for another visit.
I decided on this trip that I wanted to uncover the two trails we had skipped on our recent visit — the South Trail and the Mountain Road Trail.  To start, I warmed up on the Mill Pond Loop (the accessible trail), an easy mile with incredibly bright foliage surrounding the small ponds.
From here, I climbed up the steep trail which leads to Carpenters Rocks.  I took a wrong turn somewhere (it's hard without my navigator!) but quickly got back on the trail and made my way to the rocky cliff with its views of the slowly changing foliage.  I passed several other hiking groups, families, couples, and groups of friends.  At the Rocks I found the cold remnants of a campfire.  It seems like a dangerous spot to have a fire, to me, but what do I know?
After resting a moment, I continued up the path to the South Trail, which was a totally different beast than the North Trail I had hiked before.  Wider and easier, it was a slow descent to make up for the steep ascent to the Rocks.
I made a spur-of-the-moment decision to fork off from the trail and head along a blue-blazed trail which leads out to New Boston Road.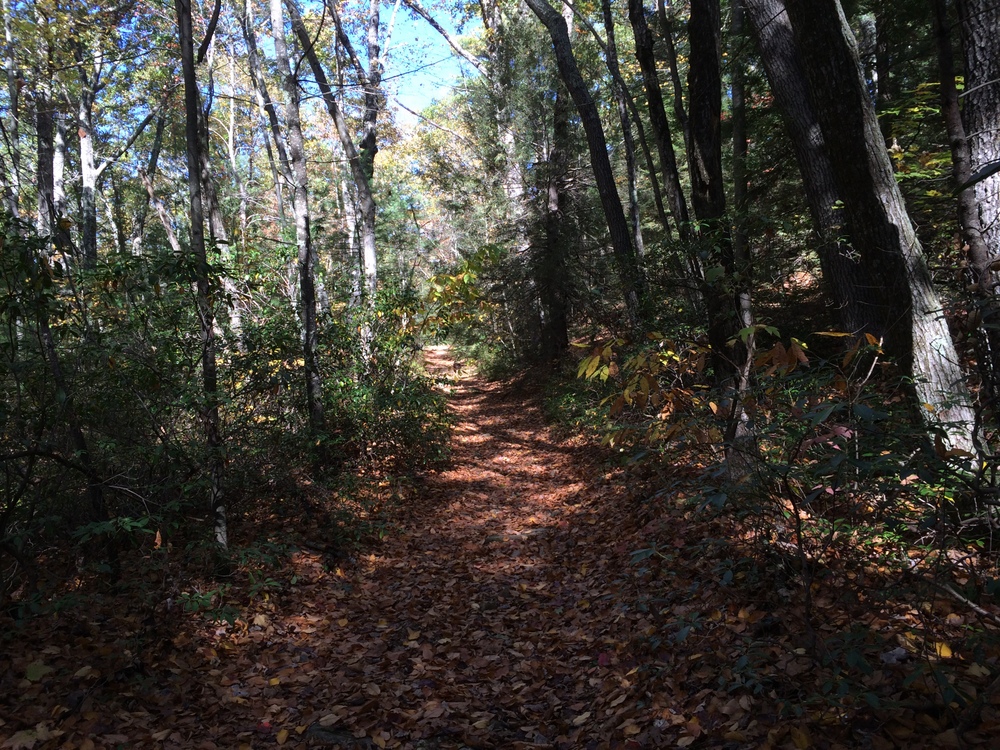 There, I met up with a father/son group who were just entering the woods.  I paused and drank some water while I let them get ahead of me; I didn't want to be hot on their heels.  This section of trail has some beautiful spots but bogs down a bit in a marshy area.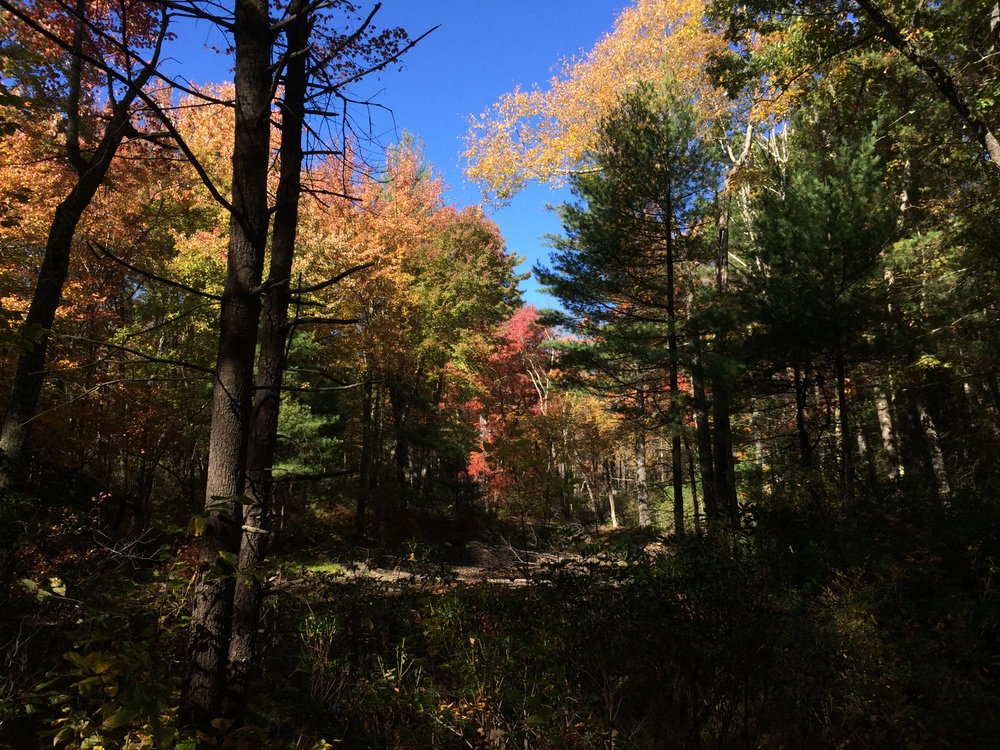 After giving the family some room to breathe, I followed back up the blue blazes to the South Trail.  There, they turned left and I turned right, and I sped up a bit to make up some lost time.  The trail ended on the paved park road, and I followed that for a bit while walking past campsites along it.
Eventually, I turned back into the woods at the orange blaze trailhead for the Mountain Road Trail.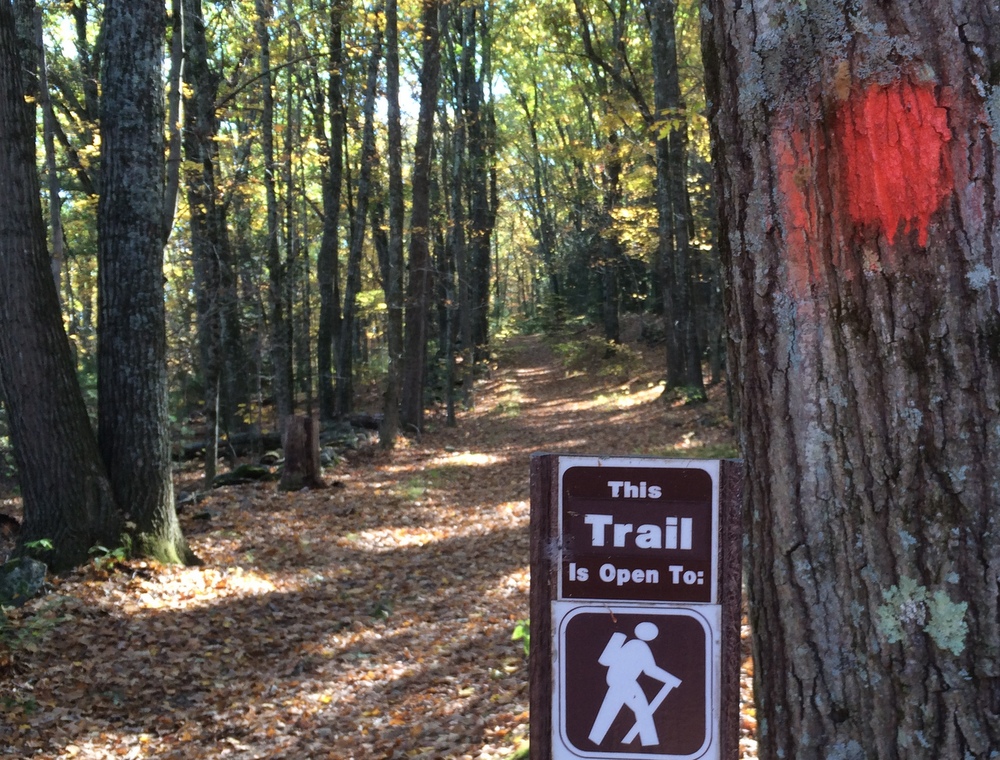 This trail was again, completely different.  A slow climb took me through several different types of forests as I got closer to Route 90. I passed several families out for hikes along this trail, due to its proximity to the park's campsites.
As the trail reached Route 90 and took a sharp turn, it got incredibly steep.  Making my way carefully down the path I wasn't sure whether I'd rather be hiking down this grade or up it.  Soon, though, it was back on level ground and moving away from the highway.  Before long, to my right the views of Walker Pond began to open up.  My legs were getting tired at this point, but the incredible views rejuvenated my body and spirit.
Eventually, the trail connected back up with the park road, which I followed back to my car.
I had a close call with a football spoiler as I walked past a campsite playing the game; I heard something about multiple officials and a possible turnover, but I picked up my pace and managed to get out of earshot before anyone announced the score.
When I got back to my car, I learned I had hiked 6.5 miles over some really interesting terrain.  It was an incredibly satisfying hike and I was fortunate to have the time to myself to enjoy it fully.
Hiking alone is very different than hiking with a partner (or a whole family).  Your mind wanders — work, home, deep thoughts, superficial thoughts, and then … nothing, just one foot in front of the other.  Peace.
It's why I go out there.  It takes a few miles of physical activity before the brain has exhausted itself of its conscious concerns and the unconscious can take over….
I drove home, watched the Pats win their game, and then sneaked back out for a late dinner at BT's Smokehouse.  Not a bad way to spend a Sunday….