This past weekend, I took ownership of a genuine "beater" pick-up truck.  This truck is old enough to drive, and it looks it.  But it can do one thing our family SUV can't — handle a canoe atop it.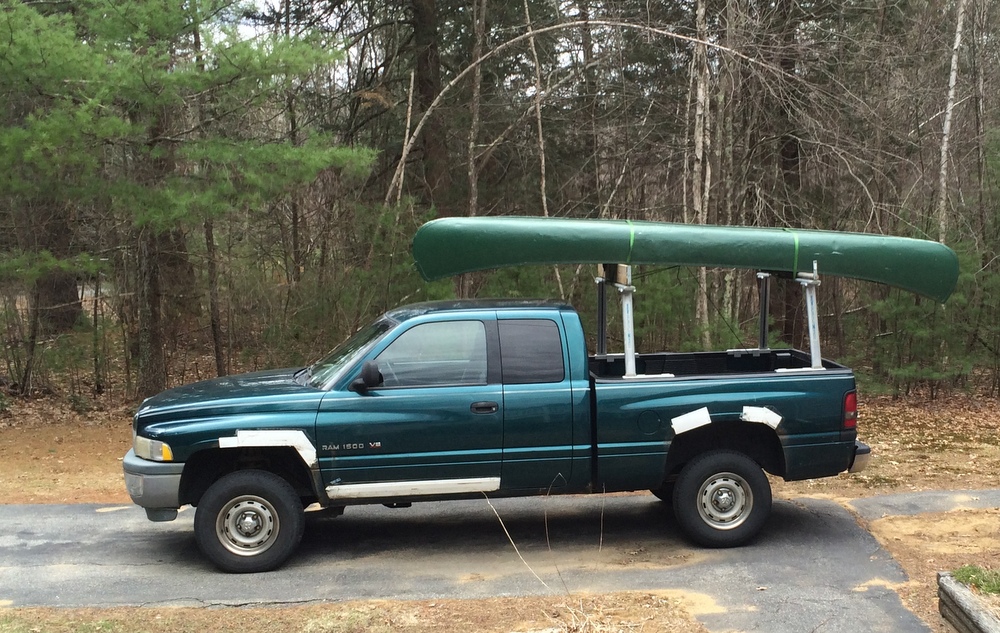 The white sections are metal trim my father-in-law and I fastened to the body to make it pass inspection.  The truck used to be his, and when he took it off the road I gave it a new home.  I don't know how long it will last, but a summer of canoe trips will be worth the cost of insuring it.
For my first trip alone with the canoe I chose a body of water I'd already paddled around (albeit with my father-in-law), the third pond ("Fish Pond") at Hamilton Rod and Gun Club, where I've been a member for a few years.  I chose this for a few reasons — water is fairly shallow, has almost no current, and is unlikely to have any other boaters on it, being a pond on closed club grounds, which only allows canoes and kayaks.
The pond is fairly quiet, though I could at times hear road traffic and lawn work being done. The club also has several firing ranges on it, so the occasional echo of shooters' target practice rang through as well.  Still, overall, it's a quiet and peaceful experience to paddle around this pond.
Of course, paddling isn't enough to hold my attention; I had to bring a rod and net with me.  I caught a couple respectable perch and a large pickerel — all returned to the pond to be caught again another day!
After about an hour and a half on the water, I made for the shoreline and the truck.
I managed to stay dry, catch fish, and successfully transport the canoe to and from the pond without any help.  I'd say it was a successful first paddling expedition.  I'm already planning the next one….