(Some photos on these posts are courtesy my friends Bryan and Topher and posted with their permission.  This series of posts will be fairly photo-heavy.)
Day Four – Mizpah Springs Hut to … home
(I'll supply an elevation profile for each day, courtesy GPS data from Bryan and processing done by Google Earth.)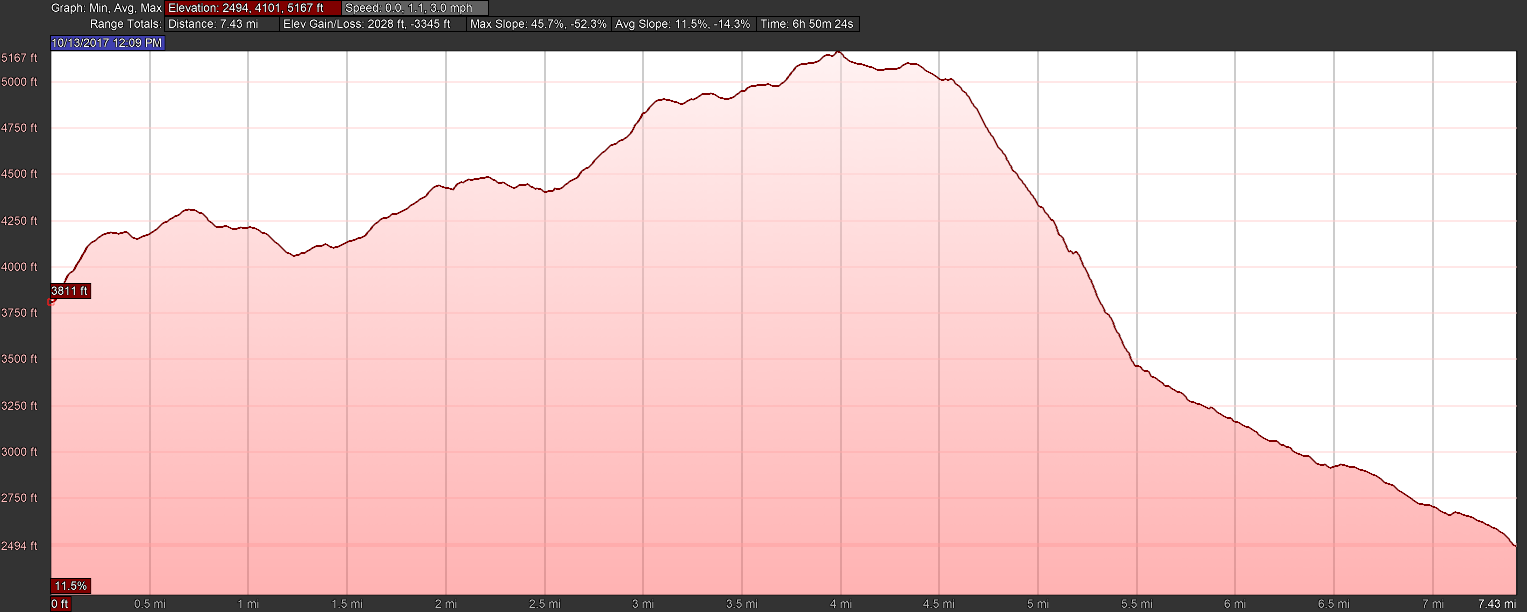 My third sunrise in the mountains did not disappoint.  It was cold outside, but I was dressed appropriately and enjoyed my coffee in peace.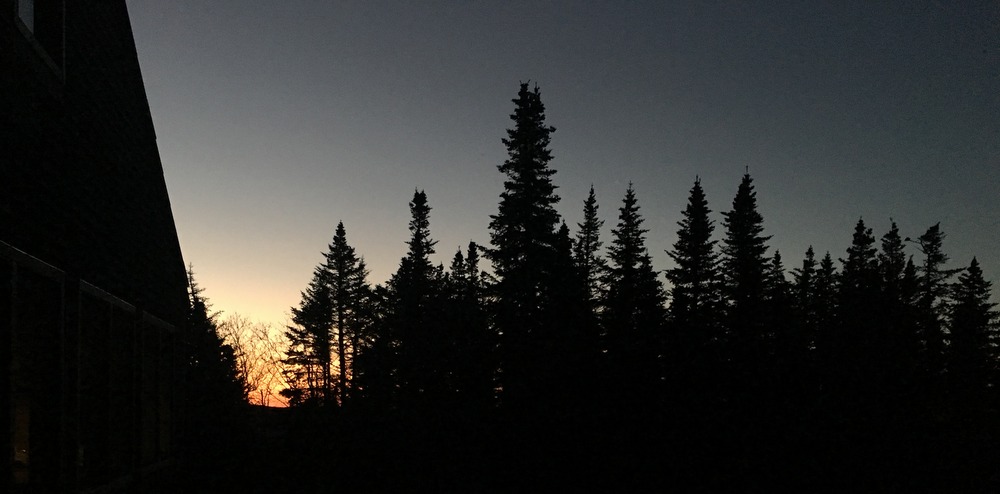 Oatmeal, bacon, and pancakes again — solid hiking fuel! My knees were pretty beat up at this point; even a night's sleep didn't cure them and every stair climb (the hut had a short upstairs to reach the bunk rooms) was a reminder of my age and fitness level. I joked that I shouldn't have opted to take my father's knees with me on the trip.
It was cold; we left the hut bundled up much more than usual. Our plan was to head to Lakes of the Clouds Hut along the Appalachian Trail, and then hike down the Ammonoosuc Ravine Trail to the car. We reserved the right to hit various summits along the way (beyond Mt. Pierce, which we'd summit by nature of the trail itself), including potentially Mt. Washington (which we all silently agreed was probably not in the cards, given our [mostly my] pace and body condition). Adding Mt. Washington would add "just" three miles to our day, but we all knew they were three hard miles with the potential to end the trip on a sour note. Still, we left our options open.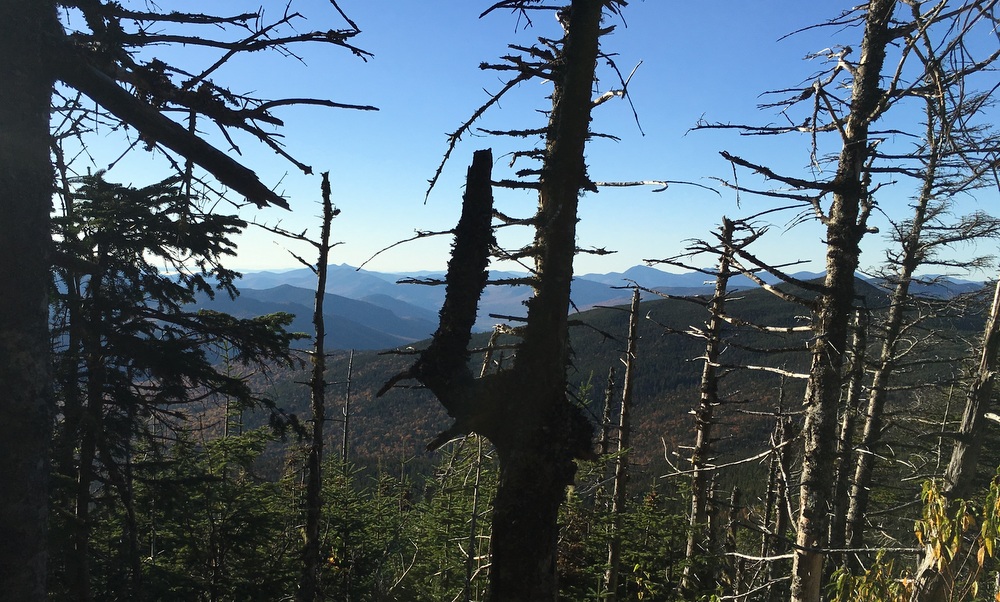 We began with a short climb (0.8 miles, 550 feet) to the summit of Mt. Pierce. The temperatures began to warm up slighty as the sun rose, but the wind picked up the higher we climbed.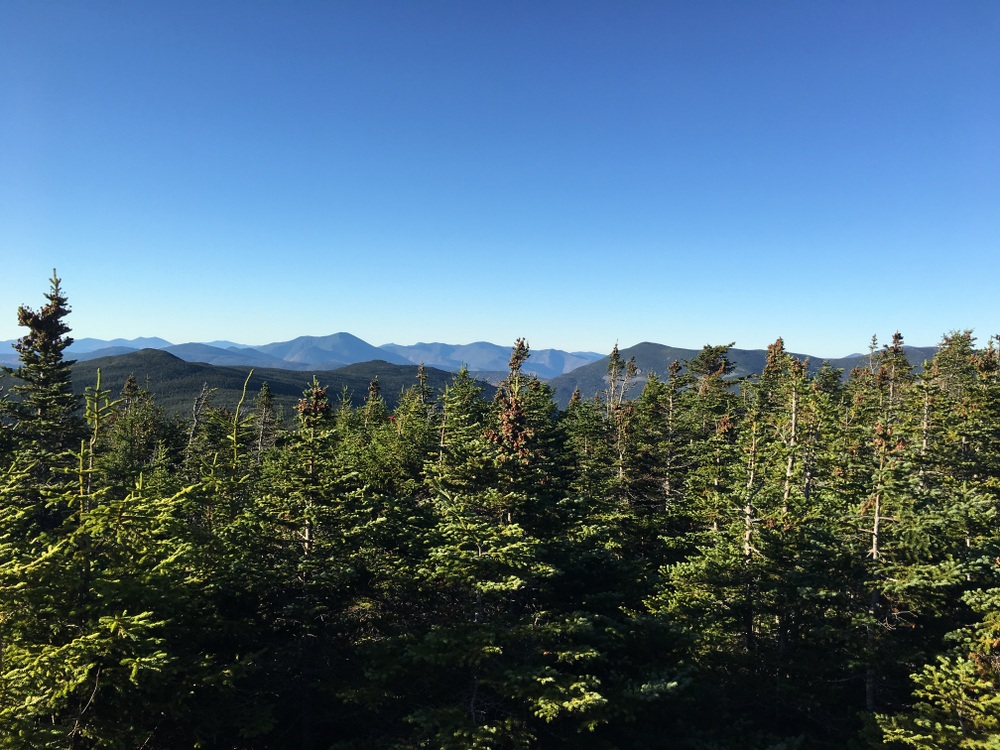 The trail leading from Mt. Pierce to Lakes of the Clouds is mostly an exposed ridge line, and we fought the wind almost constantly.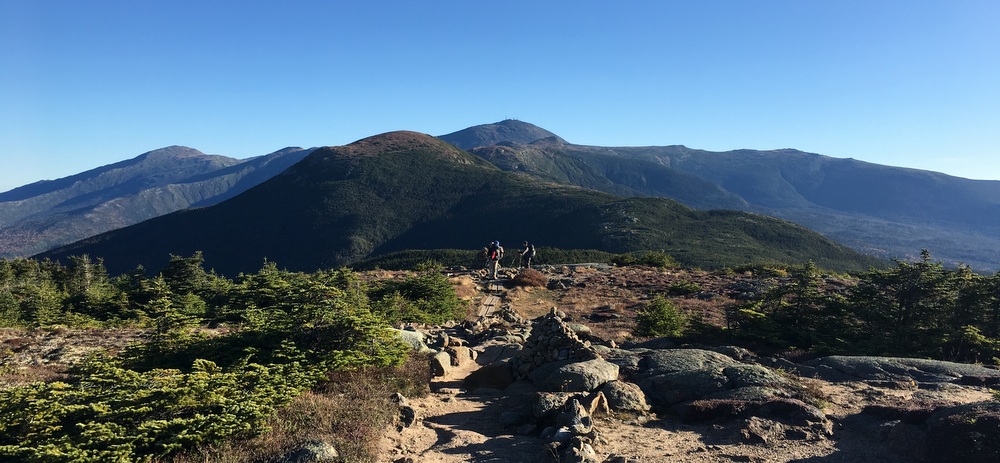 It would occasionally dip below the treeline, giving us a moment of shelter, but most of the time we were quietly trudging on bare rock and fighting to maintain our balance in wind.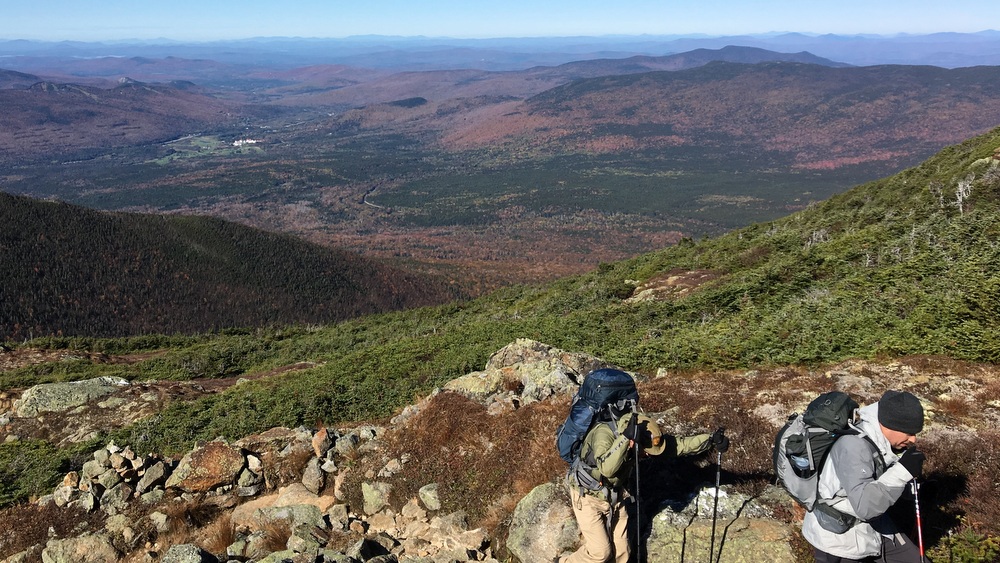 On the plus side, though, the trail we took did not climb or descend too steeply at any time. It was a constant struggle against the wind, but we didn't have the added difficulty of steep climbs.
We had several optional summits available to us as we hiked (Eisenhower, Franklin, Monroe) but we skipped them all. We weren't here to check off mountaintops, and the views were already amazing (when we could stop and enjoy them) from the exposed ridge line.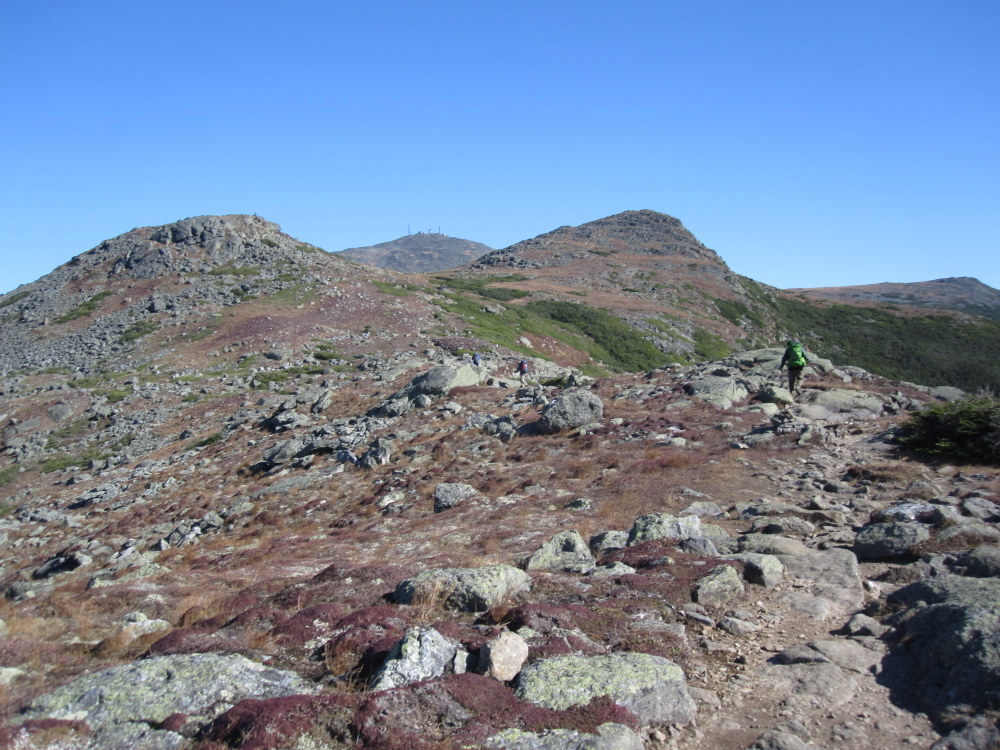 It really was a fantastic experience, but it sapped all our energy. We arrived at Lakes of the Clouds (closed for the season) and tried our best to find shelter from the wind.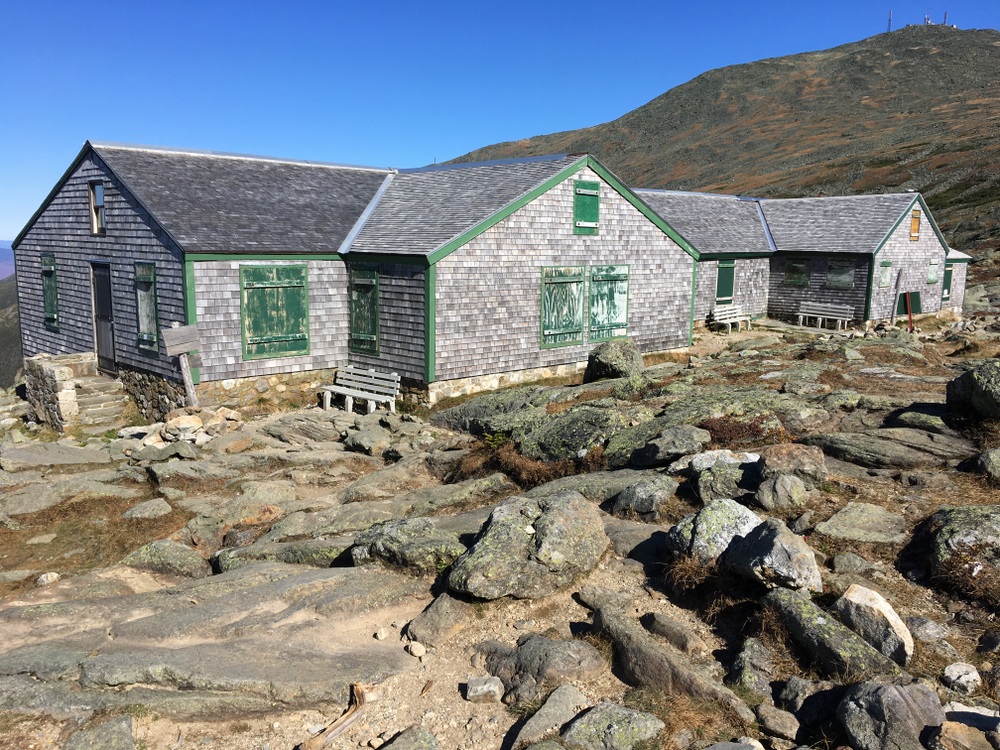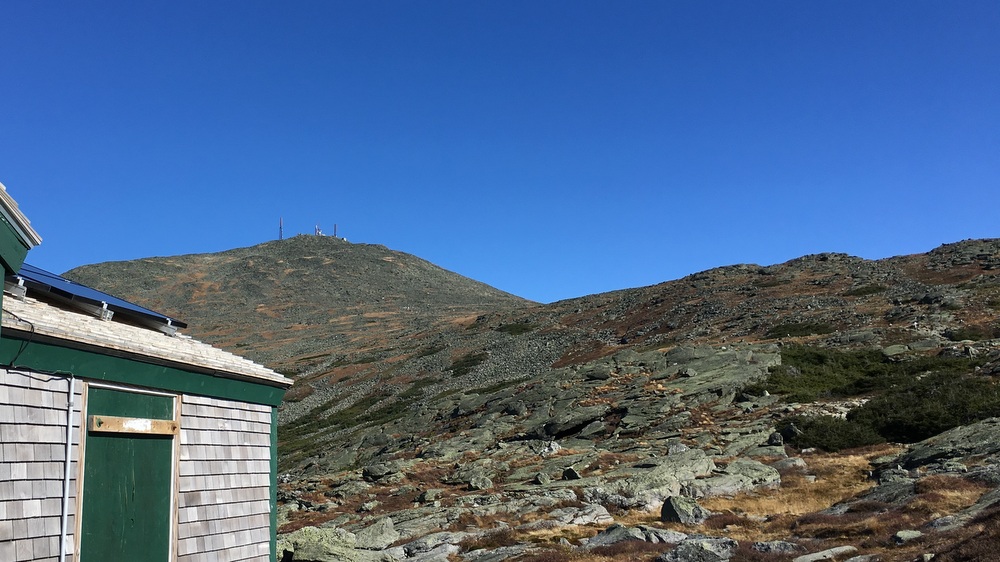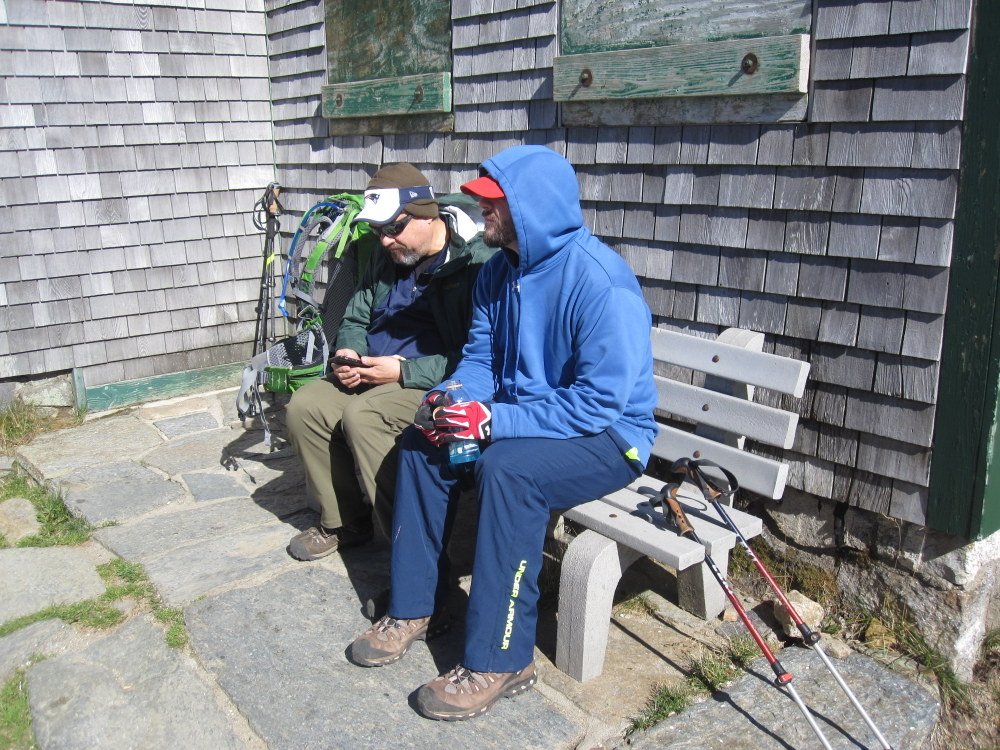 We ate lunch (Bryan even broke out the stove and boiled water for ramen) and decided we were not going to fight that wind for another 3 miles. We didn't even want to summit Monroe, never mind Washington. So we turned our attention to the Ammonoosuc Ravine Trail.
We had been warned earlier in our trip that this trail was steep and difficult when wet. It was three miles long and descended a half mile, and steep was an understatement. Its first mile or so often felt like it was going straight down (1500-foot descent), often on an exposed rock face, often hiking directly on the same wet rocks which the fledgling Ammonoosuc River was flowing over.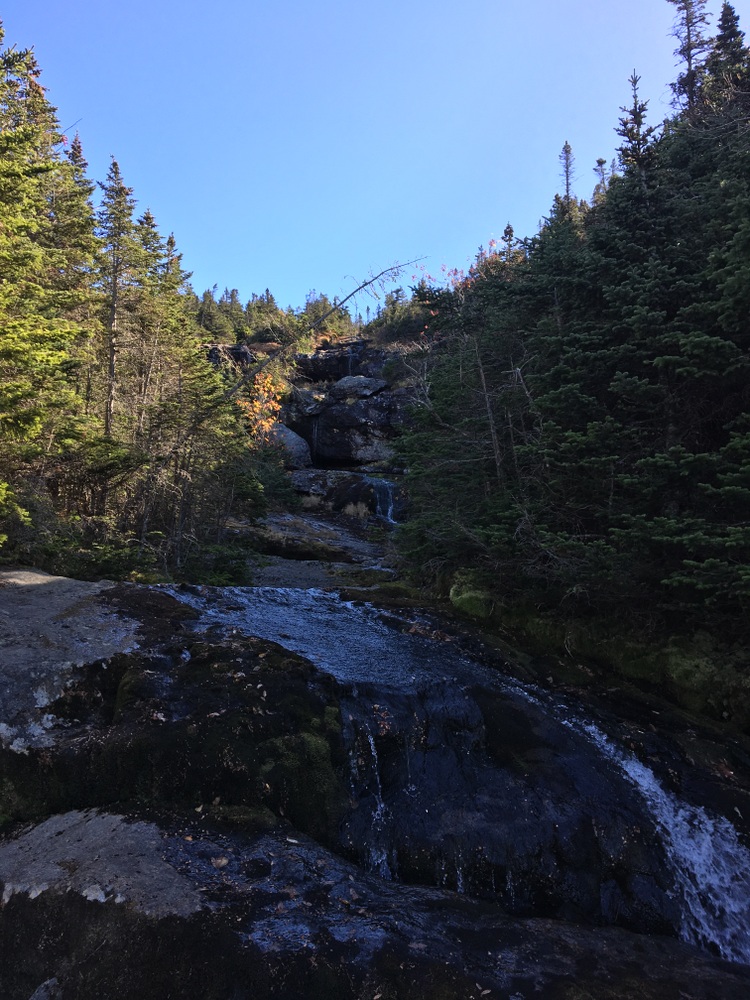 At the very top, the parts in the shade were still frozen, adding a little extra challenge to the descent. This trail seems like a place where fresh legs would have been beneficial — our tired bodies and sore knees were a constant challenge on this trail. I sat down a few times and shimmied on my backside, rather than trying to figure out the best way to balance my tired body on my beaten knees (and risk tipping forward or falling backward and losing control).
Finally, the trail began to even out, and then it became downright pleasant. We hiked alongside the river, now swollen with water and beautiful, down a mostly gentle descent.
We took a moment to look back at the peak and saw how exposed the trail had been; we each photographed it to try and preserve the memory.
We followed the river and mostly quieted down, as we realized we had conquered the only real remaining difficult part of the hike together, and now we just had to finish a "walk in the woods" before it was all done. Alone with our thoughts, we spread out a bit and marched through the woods.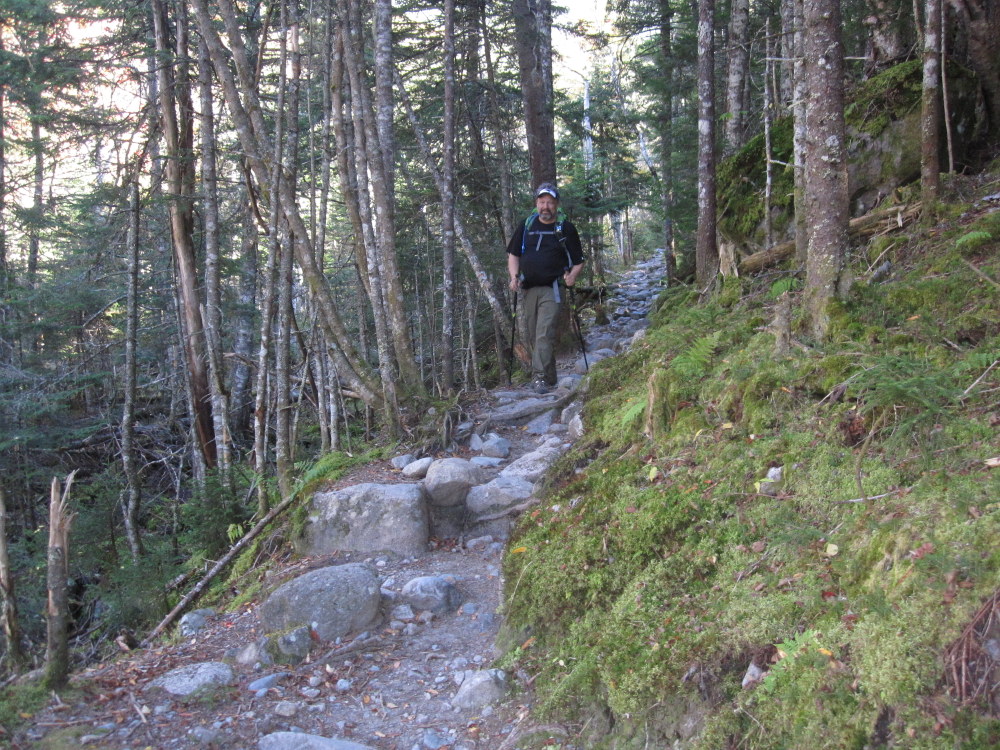 Eventually it leveled out completely, and a final mile or so through the woods led us to the same parking lot where the car had been left four days prior. It was 3 PM.
We stretched out, we hugged each other, we congratulated each other, we sat down on the grass and took off our boots, and then we packed our four bodies and four giant backpacks into the tiny Mazda 3 for the 17-mile drive to the other car.
A bit more than an hour later, those of us who had brought a change of clothes felt a bit more refreshed, and we sat down for dinner at the Woodstock Inn. We drank tall draft beers, we devoured appetizers, and ate those steak dinners we had been talking about for days. We looked back on the toughest parts, we laughed about the attitudes of some of the people we had met, we reminisced about the incredible views. We finished our food and still didn't leave. We knew the real world awaited us … three hours of driving (with our sore knees that was something to dread!) was all that separated us from a return to reality.
It was hard to walk away from that restaurant, but we eventually did, sharing the highway with commuters ending their work-weeks.  Everything felt fast. The beautiful mountains and forests of New Hampshire turned into the familiar roads of 495 and 290.
And after three hours of driving, my daughter came running out of my house and gave me the biggest hug I think I've ever gotten from her. I was glad to be home.
But … I was certainly going to miss those morning coffees as the sky slowly brightened in the silent mountains of New Hampshire. I knew right then (and I know now) that I'll be back, eventually.