(Some photos on these posts are courtesy my friends Bryan and Topher and posted with their permission.  This series of posts will be fairly photo-heavy.)
Day Two – October 11 (Galehead Hut to Zealand Falls Hut)
(I'll supply an elevation profile for each day, courtesy GPS data from Bryan and processing done by Google Earth.)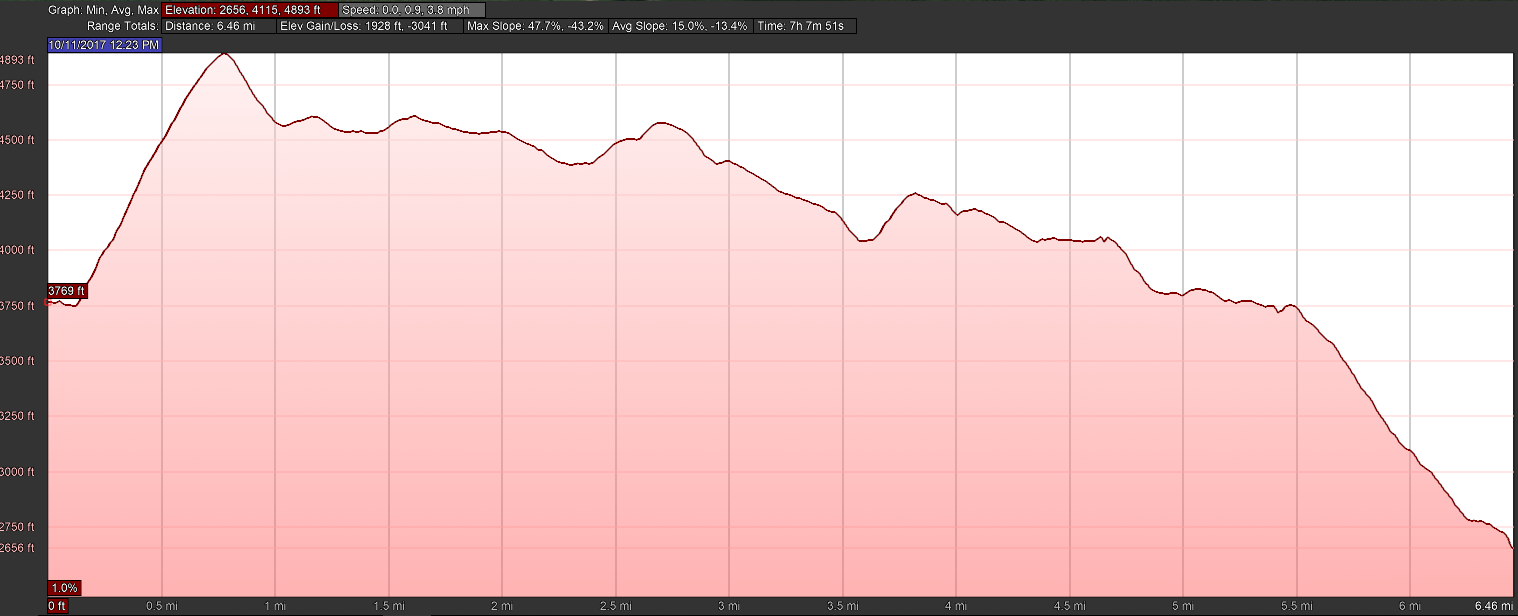 The first step was obviously to get a few cups of coffee into my tired body.  The lights you see below are battery-powered; the batteries are charged by solar panels, small wind generators, and in some cases even water generators.  The huts are completely off the grid. In most of them, I had no cellular signal.
The sun was rising, and the painful memories of the prior day's final half-mile were already fading.  There was a brisk breeze and the early-morning air was crisp.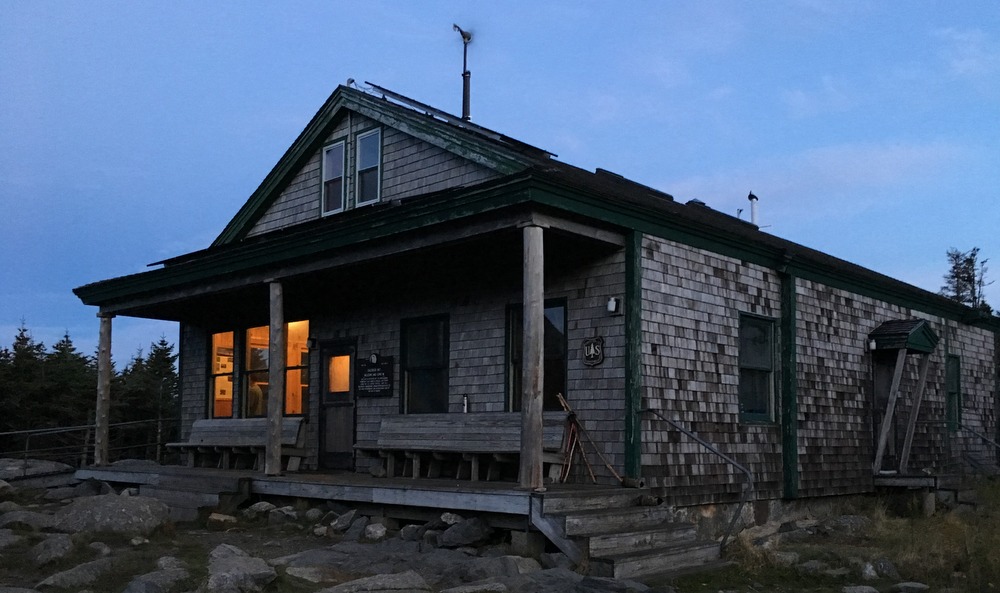 The hut was nowhere near full capacity, but probably had around 16 people in it, which made for a lively morning. I snapped a few photos of things I had missed the night before, including this amusing claim (perhaps true!).
We ate oatmeal with brown sugar and canned peaches, watery scrambled eggs (made better with a dash of tabasco), and slightly-burned sausage patties. It was all much better than it had any right to be — my appetite had definitely returned overnight.
The second day was a night-and-day difference from the first. My knees and legs were often uncomfortable, but I never felt broken, never felt defeated. I ate enough, drank enough, and though my pace was slower than expected I was not dragging.
When we left the hut, some heavy clouds had rolled in, but they didn't last long.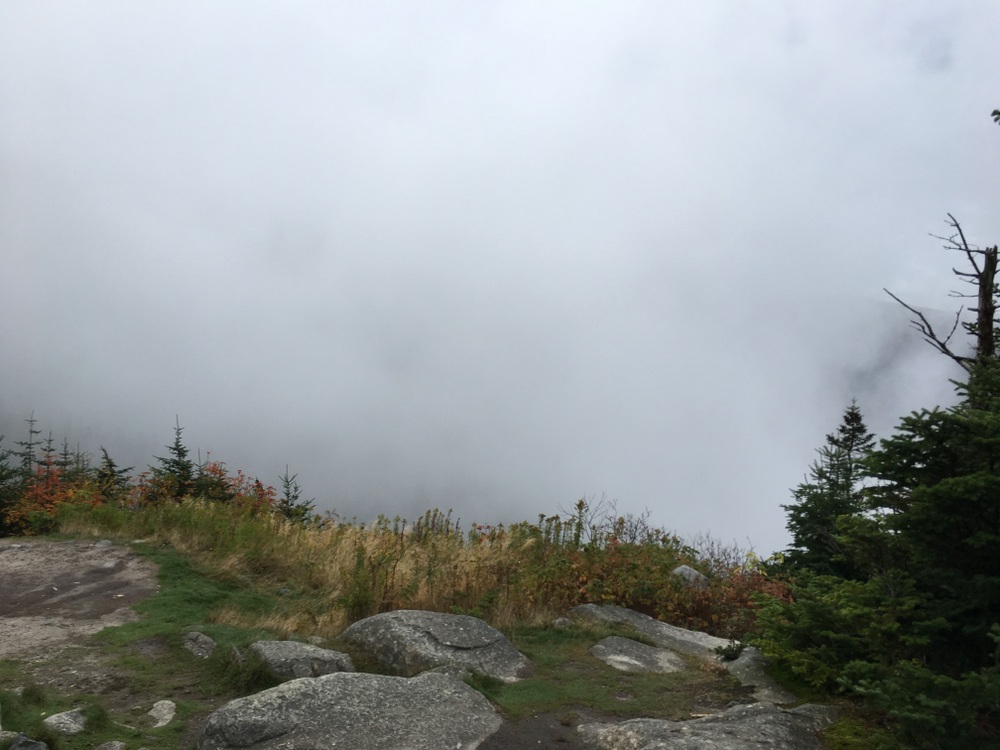 Starting a full two hours earlier than the day before with a healthy breakfast in our stomachs made the initial climb to the South Twin Summit (via the Twinway trail, 1150 feet of elevation gain in 0.8 miles) tiring but not exhausting.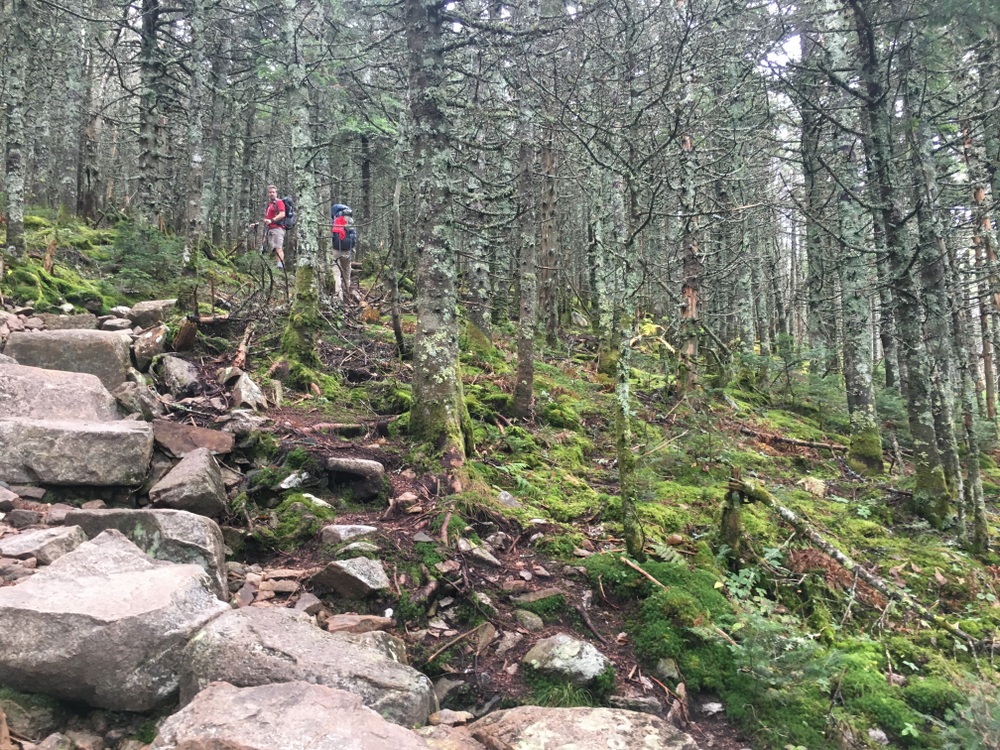 We paused periodically for dramatic views behind us as we climbed.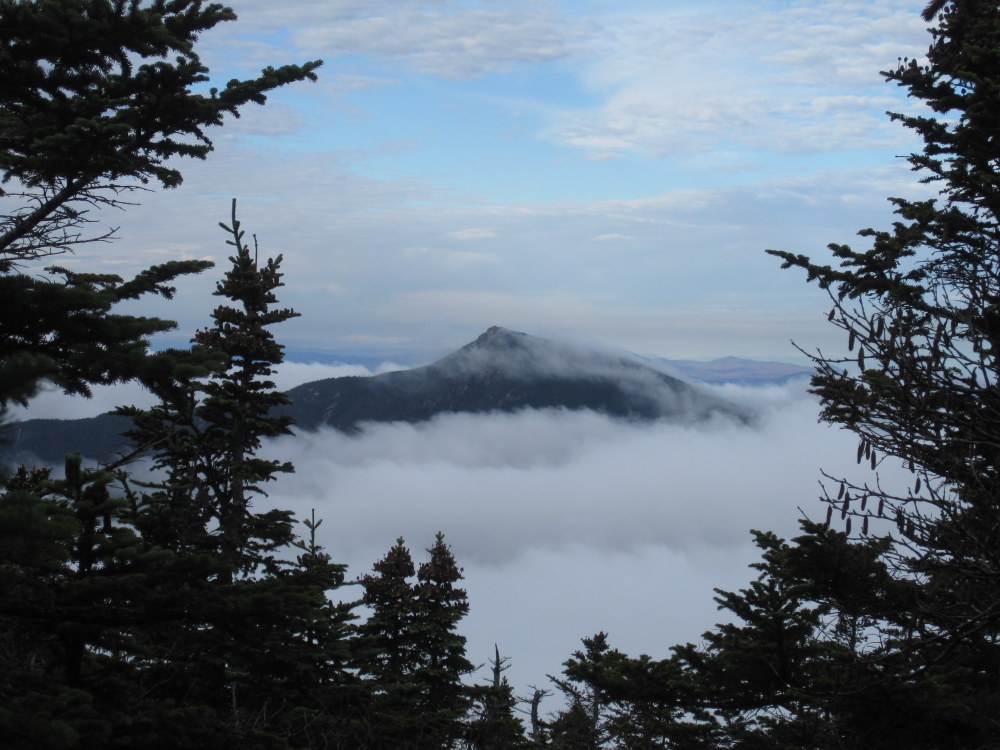 The higher we got, the thinner and smaller the trees got.
From the top, we were in the position of seeing clouds above and below, a striking contrast.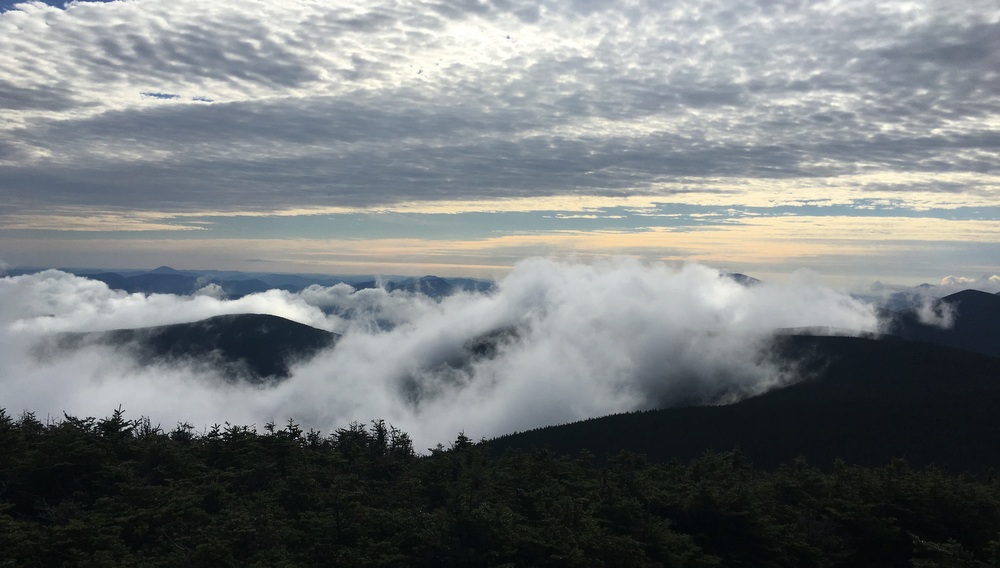 We hiked a bit more than six additional miles that day, across a variety of terrains. In many spots, we followed a somewhat uncomfortable trail of rocks in an ocean of tiny scrub pines.  It was better than climbing up and down giant boulders, but was a constant source of discomfort on the soles of our feet, and a mental challenge balancing and finding good footing.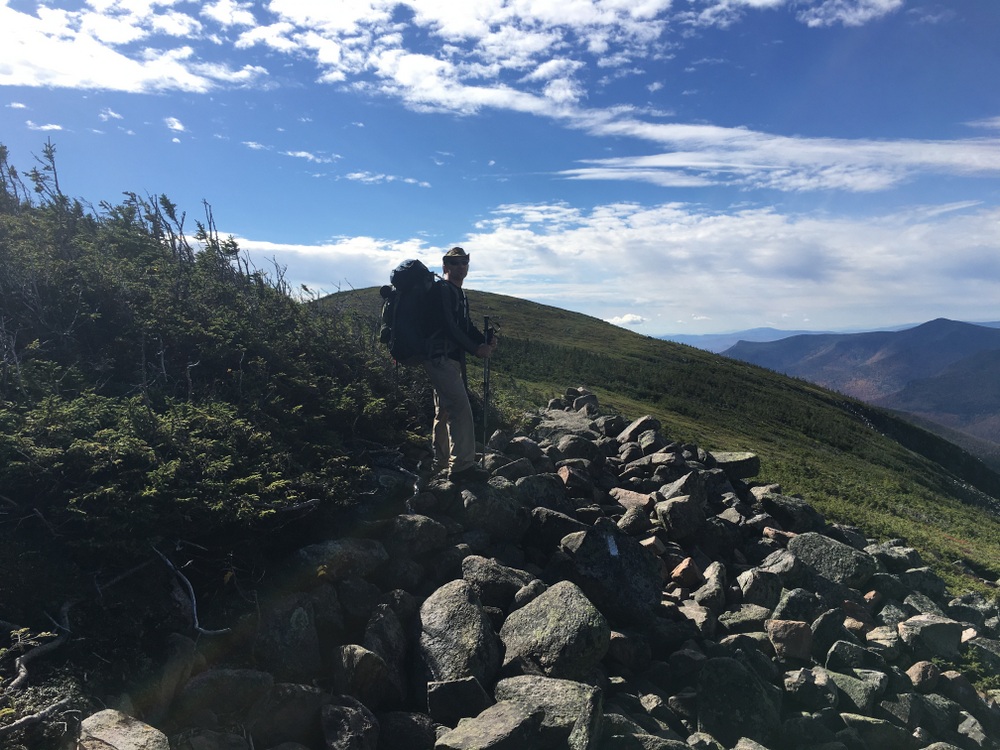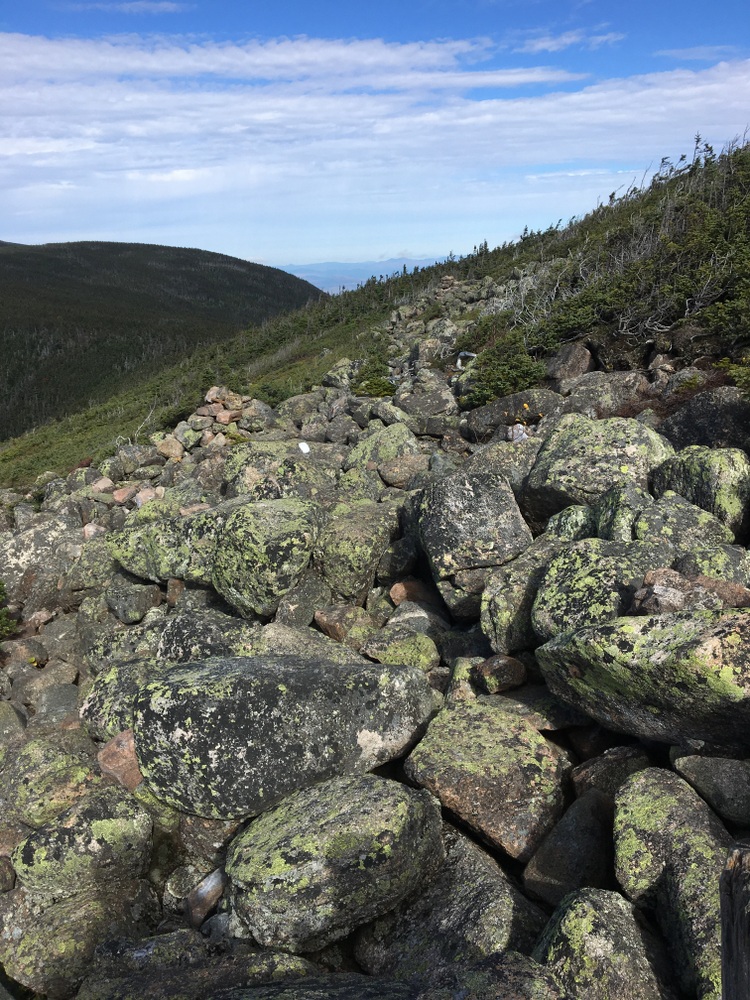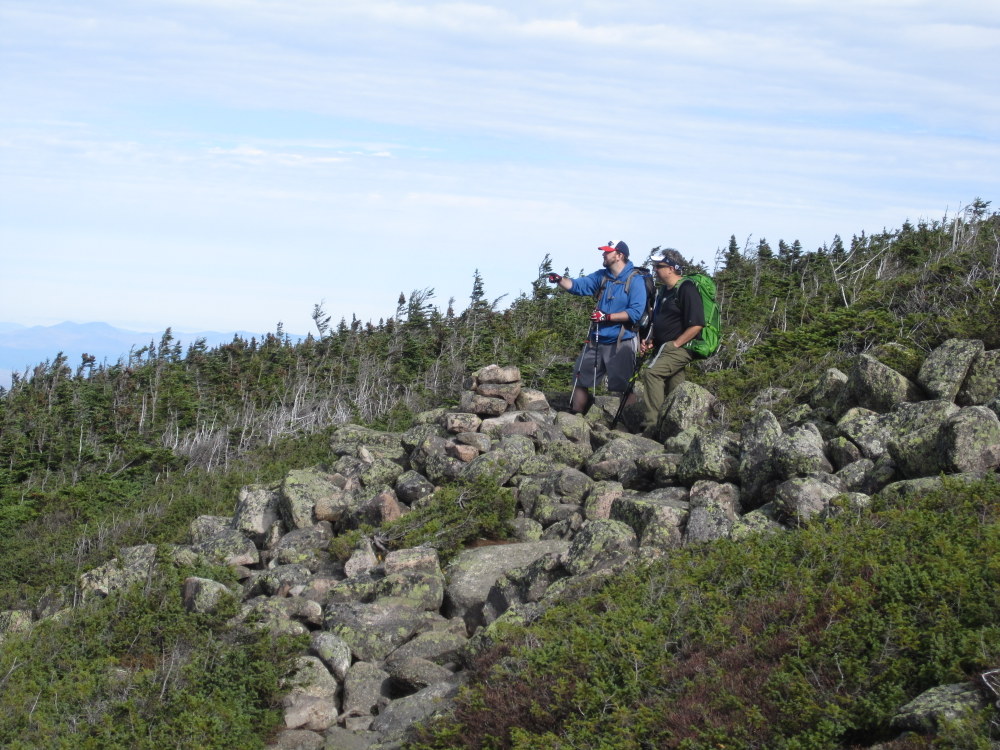 In others, we had short up and down climbs on boulders. We even hiked across wooden slats on a small alpine bog (where we spotted moose droppings). We took a small trail (Zeacliff Loop) to enjoy spectacular views from Zeacliff.

Following that, we had a short mile and a quarter hike across fairly easy terrain to arrive at Zealand Falls hut.  There was a steady downhill for a good chunk of the afternoon but nothing too challenging.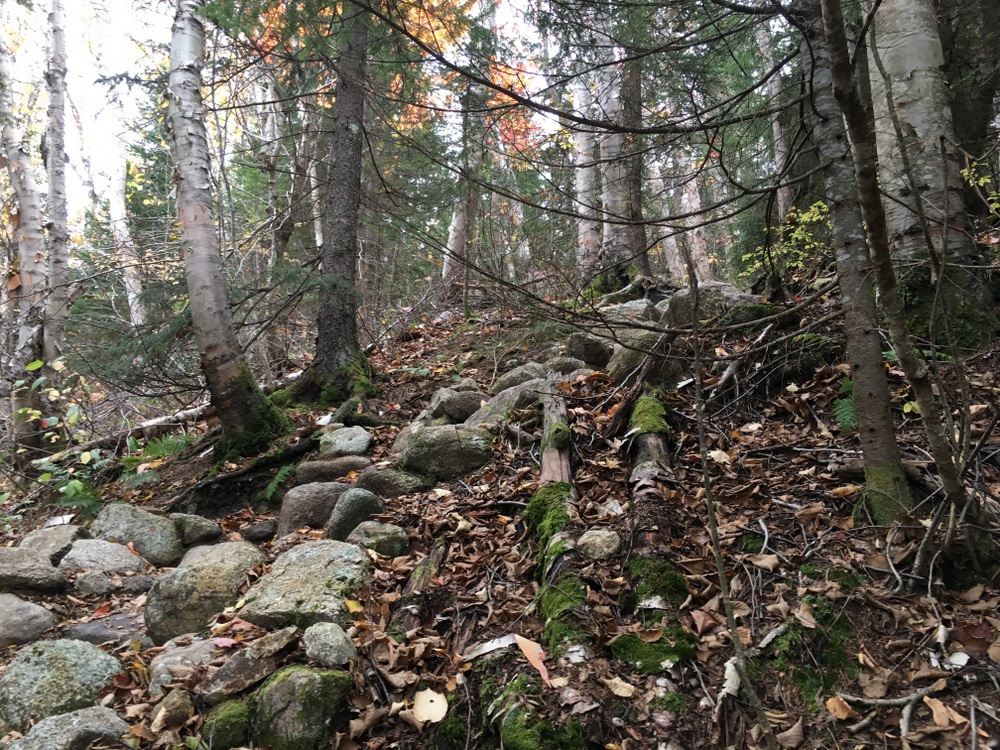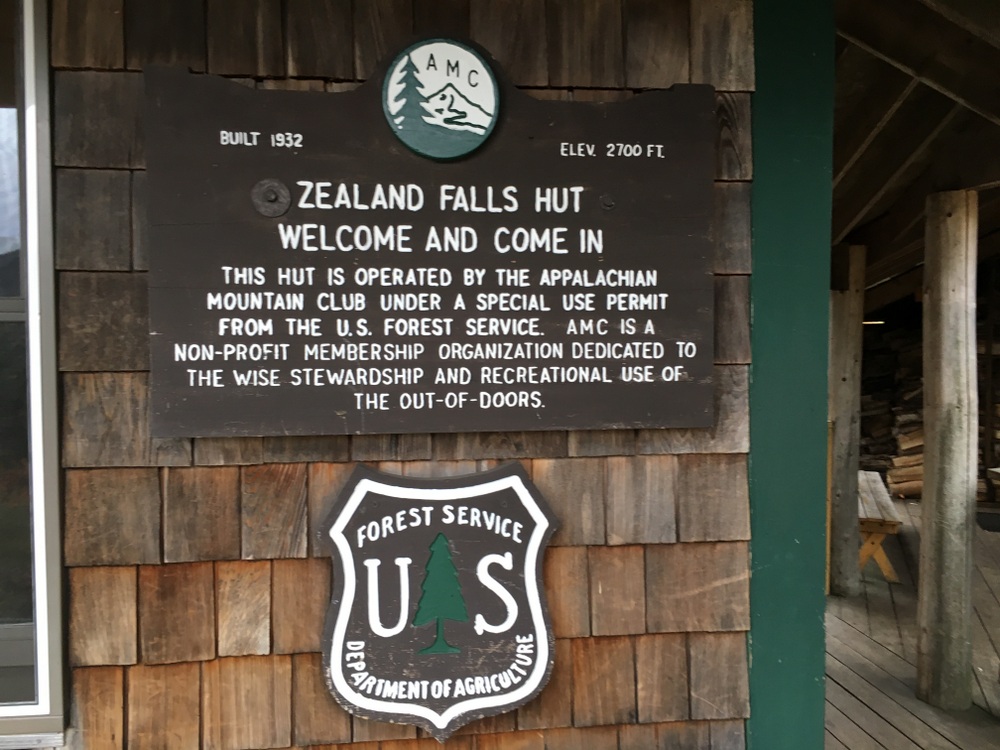 Zealand Falls was spectacular; a great view from right in front of the hut, and an even better one from a few yards away, where the river danced over rocks before heading down to a pond.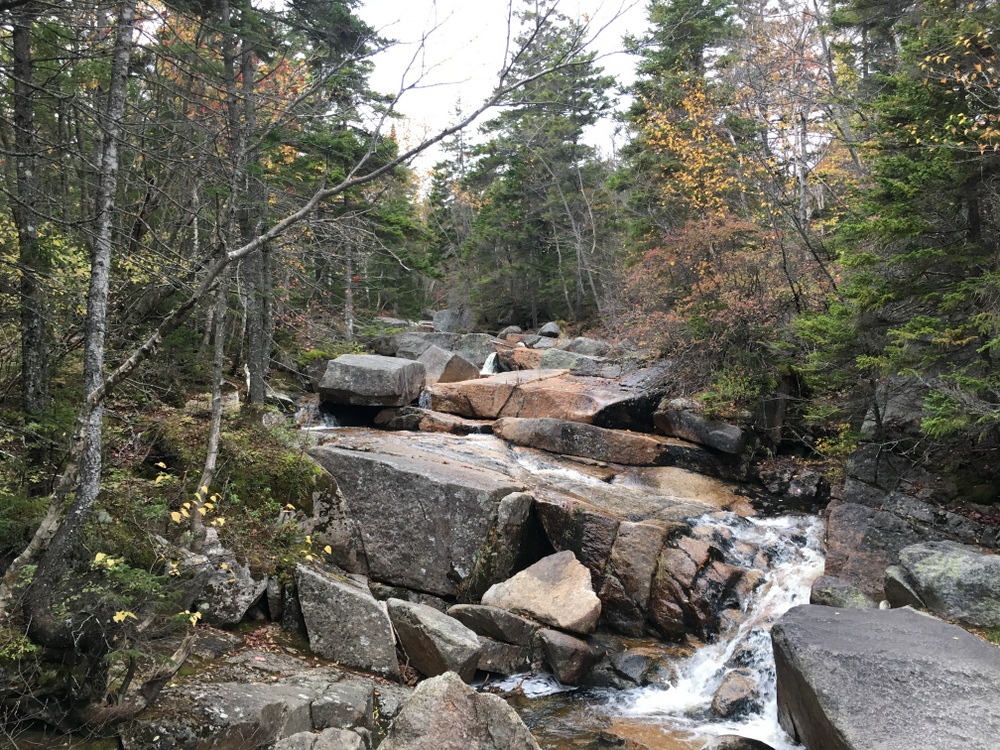 We arrived at 3:30, a full two hours after our original projections (a slower pace and longer breaks likely to blame), but still with plenty of time to enjoy the afternoon sitting on the rocks near the waterfall. I even soaked my feet in the frigid mountain water (the novelty of my numb feet wore off quickly, though). This had been intended to be a short day, and it felt it. We were refreshed and energized, and I personally had a substantial amount of confidence restored. This was about the difficulty level I had predicted in my mind when evaluating the hike, challenging but workable, tiring but not exhausting, and knowing I wasn't completely off my rocker was comforting.  I had no doubt in my mind I could handle (even thoroughly enjoy) four days like this one.
Dinner was billed as "pulled pork" but was really just thick cuts of roast pork. With rice and simple broccoli on the side, it was a wholesome but somewhat bland dinner (a pleasant change from the last night's black beans, honestly). We sat at two long tables, with about 16 guests sharing dinner family style. One of the guests was a mother who had brought her toddler daughter along for the hike. The little girl was energetic and friendly and made for a fun evening with her dashing around making friends with everyone and offering to help with various tasks. She even washed dishes with the Croo after dinner.
The accommodations were slightly different here; there were basically two large bunk rooms (with some side areas, but all open to each other) with bunks three in height. We shared the space with a significant number of other hikers. There was less privacy, but we adjusted quickly.  Unlike at Galehead, using the bathroom meant going outside. The temperatures took a massive dive at dark, and thicker clouds rolled in (no stars this night) and we all bundled up as much as we could to sleep. I slept well, even though I could see my breath and froze every time I shifted position to touch a new cold spot on the mattress.
Around six, I rose and stepped outside, again to watch the sky lighten. It was another new day, and this time after an excellent night's sleep and with much buoyed spirits.