(Some photos on these posts are courtesy my friends Bryan and Topher and posted with their permission.  This series of posts will be fairly photo-heavy.)
Getting Started – October 10
I started the day early Tuesday, out the door by 5:30 AM, heading east and then north. In the back of my car was a backpack, a pair of trekking poles, a pair of boots, and a change of clothes for Friday evening. On the seat next to me was a printout of directions to the parking lot of the Mt. Washington Cog Railway (in case my GPS crapped out or something), where I was meeting my fellow hikers, two friends from work (Bryan and Topher) and a friend of theirs from outside the office (Jeremy).
Once I cleared out of MA and into NH, the reality of the situation sank in; I was a relative novice, going into the mountains for four days with three experienced hikers. I'd invested a lot into my fitness over the few months before the hike, but I was still relatively out of shape, overweight, and had no idea what I was really in for. They'd all done this annually for the past five years, I'd admired their stories from afar until convincing myself I could handle it this time around.
Nervousness and excitement competed for top billing. I drank coffee and ate high-carb breakfast snacks from various rest stops on the way. As the miles rolled by, the foliage changed more drastically, into deep golden yellows and rich reds.
I finally met my friends, and we left my car at the base of the Ammonoosuc Ravine trail. I filled out an envelope with contact information and expected return date, stuffed it and a 20-dollar bill in the lockbox, and abandoned my car. The four of us took a second car the 17 miles to the Garfield Trail trailhead, and parked there. A little stretching, a lot of laughing, and we were ready to begin our journey.
The plan? Four days in the White Mountains, three nights in AMC Huts along the way. The huts provide dinner and breakfast, so we just had lunch and snacks to worry about. They also provide bunks to sleep in, and blankets, meaning we could get away with minimal sleeping gear (I brought a sheet sewn into a crude approximation of a sleeping bag, to protect me from both the cold plastic mattress pads and the questionably clean wool blankets).
We'd bond over the physical activity and relative isolation, trade stories, admire nature, think deep thoughts, drink whiskey under the stars, stumble out of the woods on Friday, change into clean clothes, find a place to eat a big steak dinner and look back on our accomplishments as true mountain men.
Or, you know, die trying.
And that's … almost how it went down.
Day One – October 10
(I'll supply an elevation profile for each day, courtesy GPS data from Bryan and processing done by Google Earth.)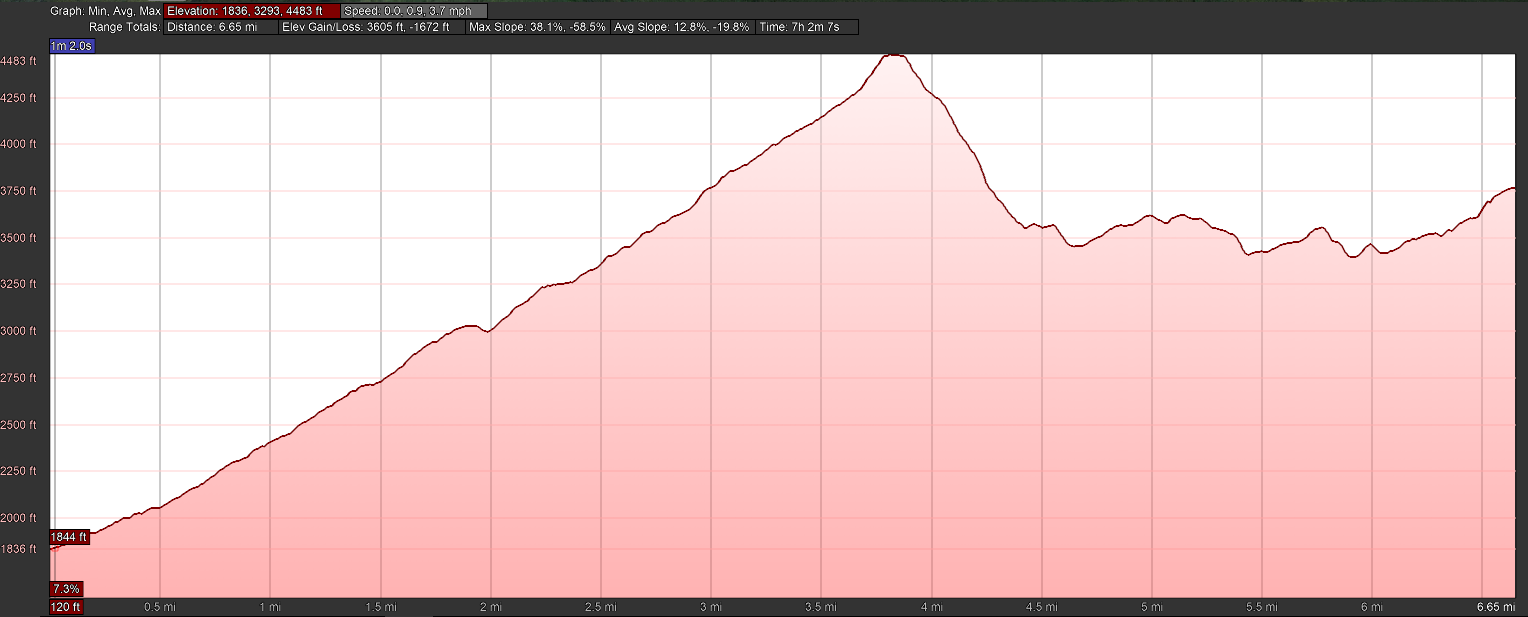 We started by hiking along the Garfield Trail, a five mile trail that climbs a hair over 3000 feet to the summit of Mt. Garfield (the last 0.2 miles is an extension along the Garfield Ridge Trail that continues to the top).  The trail is a steady uphill through the forest, giving some excellent photo opportunities.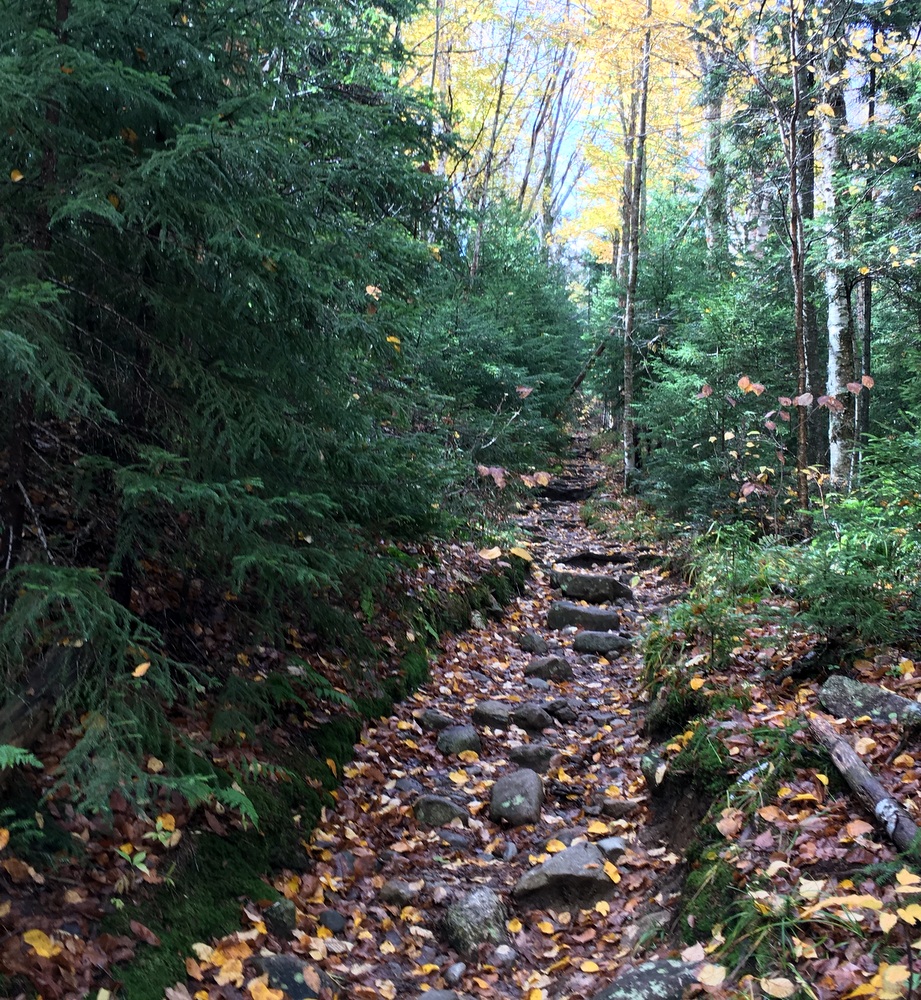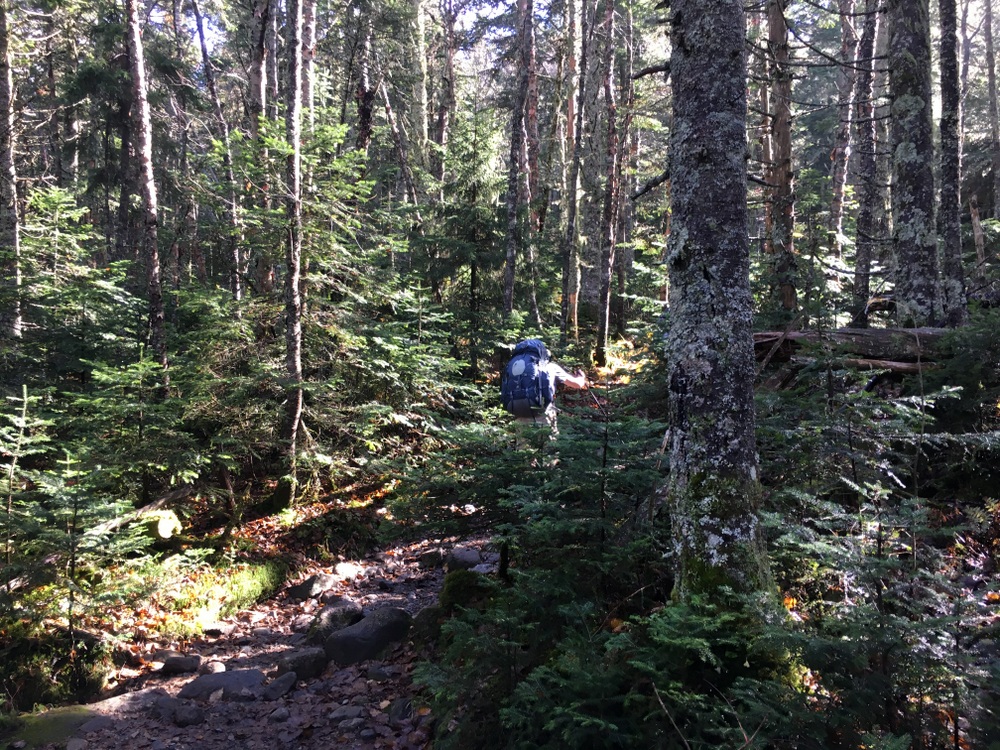 The weather was warm (upper 60s) and humid, and with the exertion of the hike we were all feeling a bit sweaty before too long.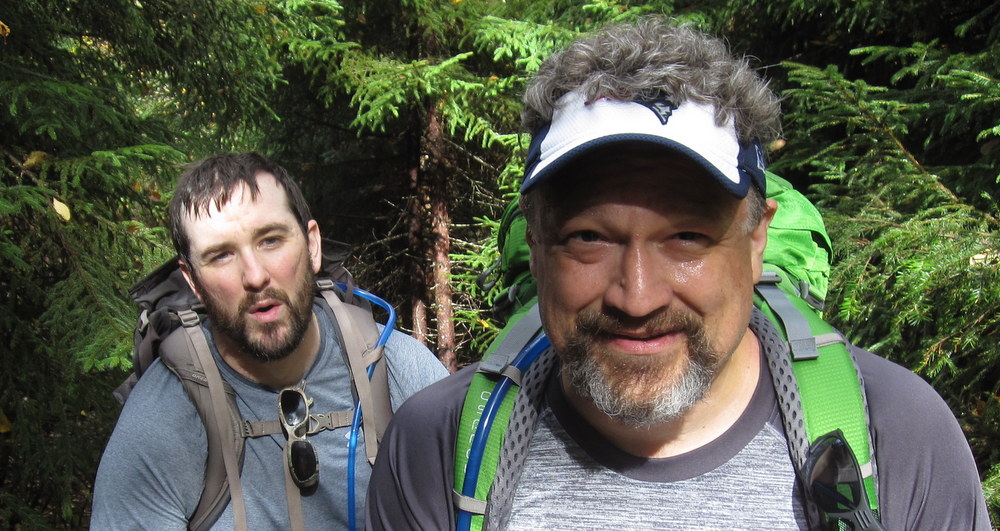 It took us about four hours (10:30 AM to 2:30 PM) to cover the five miles, with a few breaks along the way (this was how long we had planned it would take, though we started half an hour late). We dropped our packs at the trail intersection before the summit and enjoyed an easier climb to the top.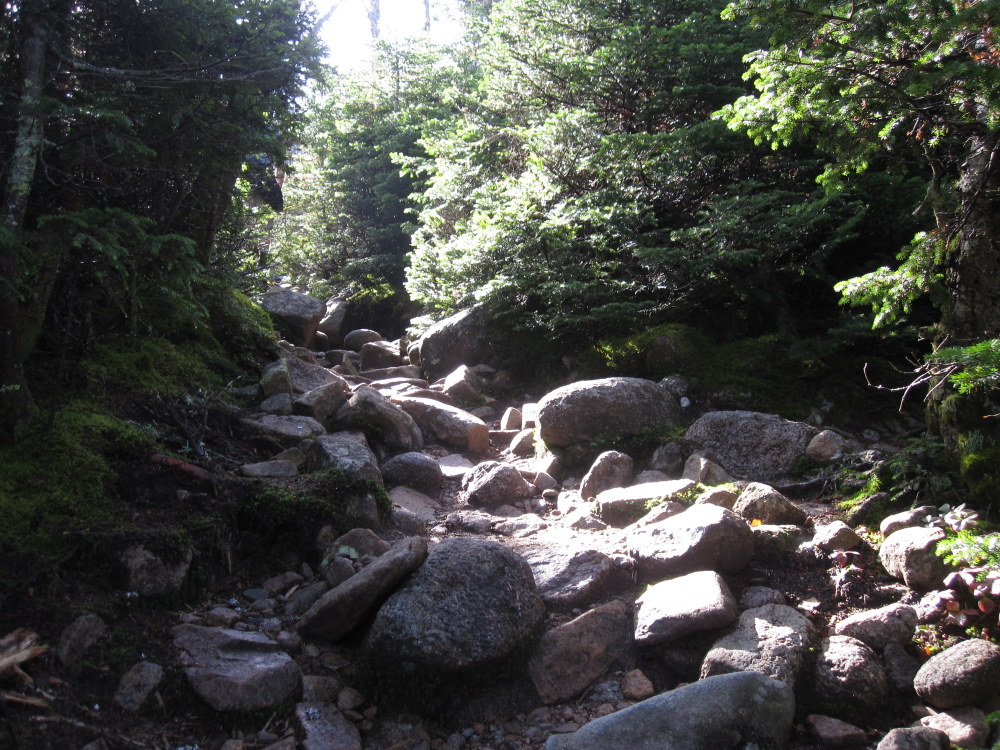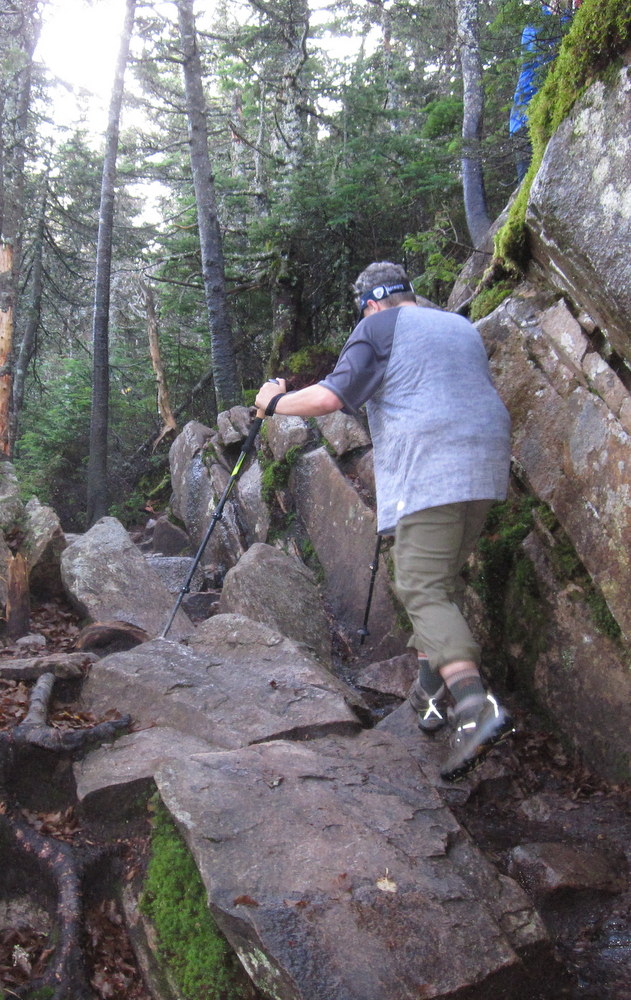 The views from the old fire tower foundation were amazing; the mountains spread out in all directions and the clouds cast big shadows on the valleys below. I felt accomplished and tired, five miles of uphill hiking with some fairly steep sections was enough to remind these bones of their age. We took a healthy break, admired the scenery, talked with other hikers, and generally enjoyed the fruits of our labors.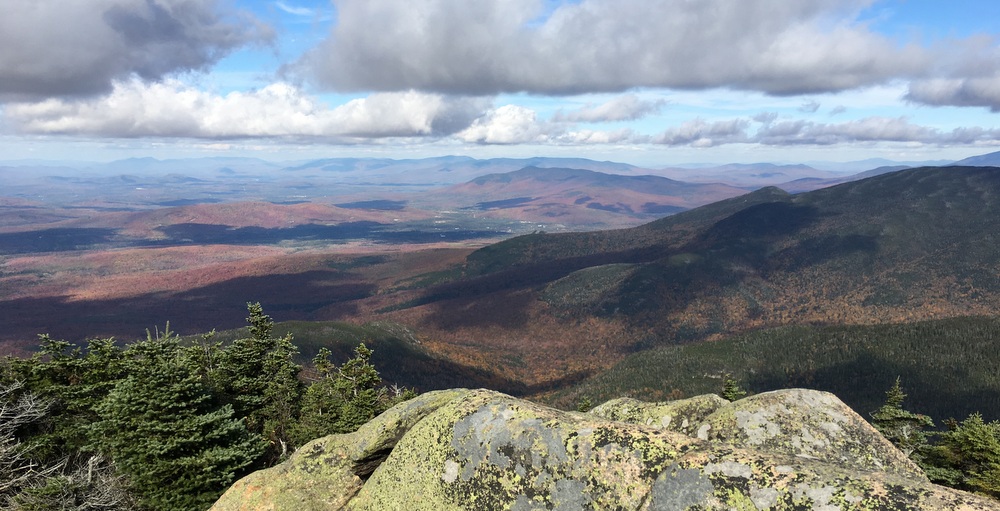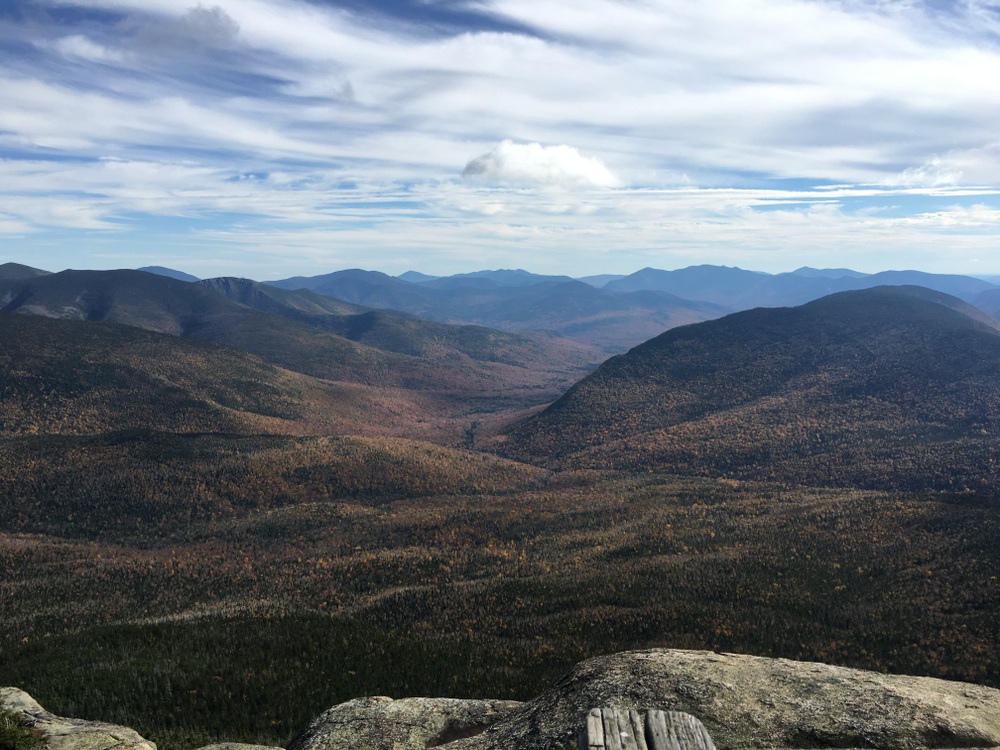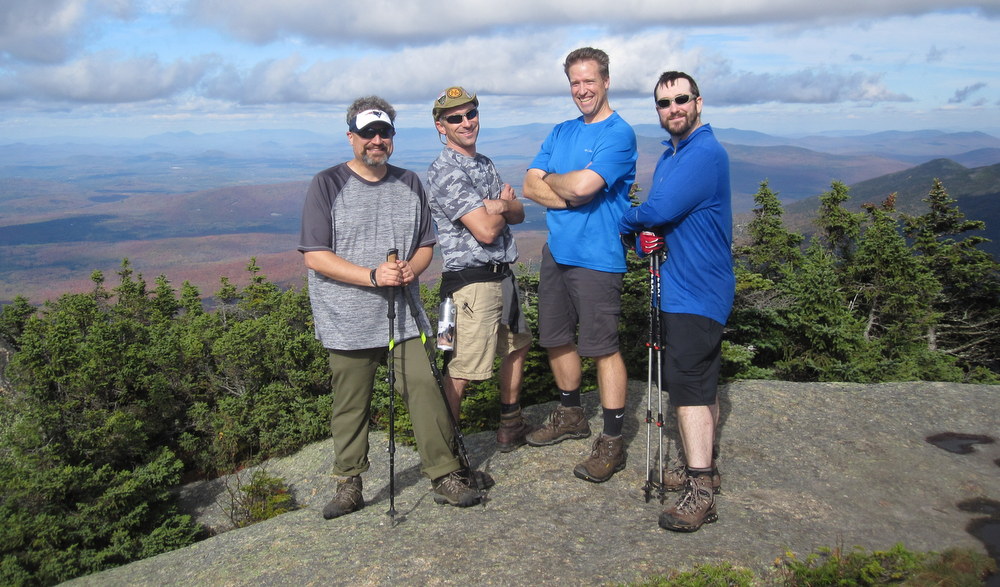 But, the day was only halfway through. I'm not sure what to blame for the remainder of the day; perhaps I hadn't hydrated or eaten correctly (the lack of protein in my breakfast choices, maybe). Perhaps I just needed to speak up and take more breaks. Or, perhaps, I wasn't quite ready for this hike at the fitness level I've achieved. Either way, it was a real challenge.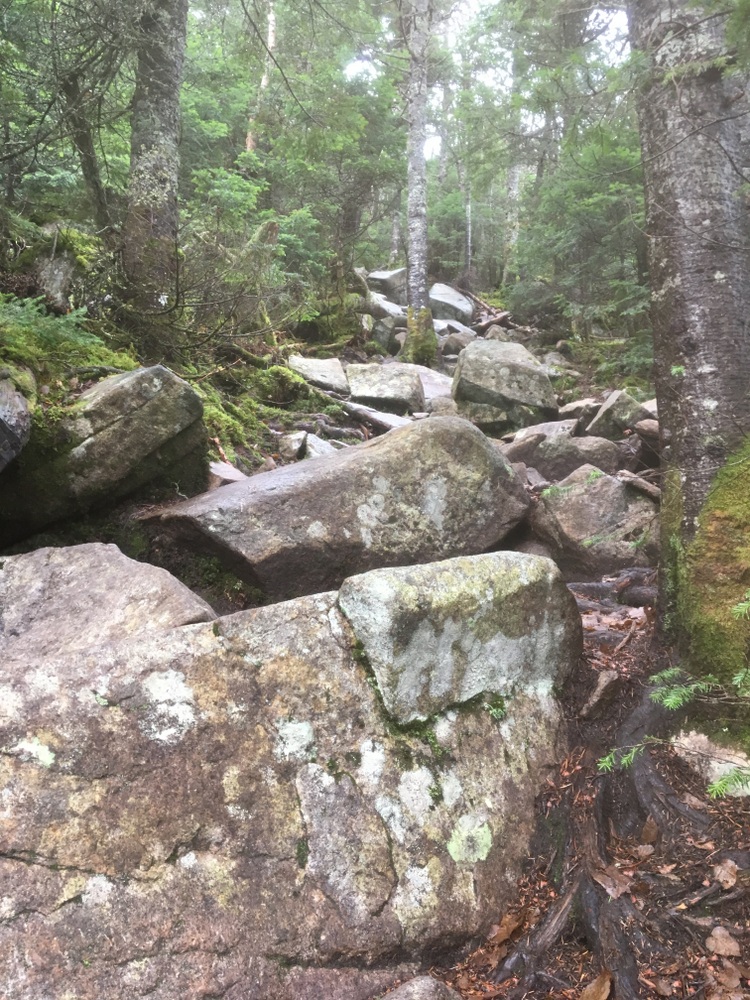 Back at the intersection where our packs were, a sign told us we had 2.9 miles to go to reach Galehead Hut, along the Garfield Ridge Trail. This was without a doubt the longest three mile hike of my life. The Garfield Ridge Trail starts with a steep descent (around 1,000 feet in a half mile) which took a long time due to the steep conditions and my lack of practice with heavy loads and rocky trails.
What made it more challenging were the times when you could see the hut in the distance, only to realize you had to go down and then back up multiple times to reach it. We pressed on, climbing back up and back down multiple times, hiking along a rocky trail that at times was a waterfall. Each difficult stretch was something I could have handled in isolation, but the compounded challenge, combined with the unfamiliarity of hiking with a big 30 pound pack on my back, made for one of toughest physical challenges of my adult life.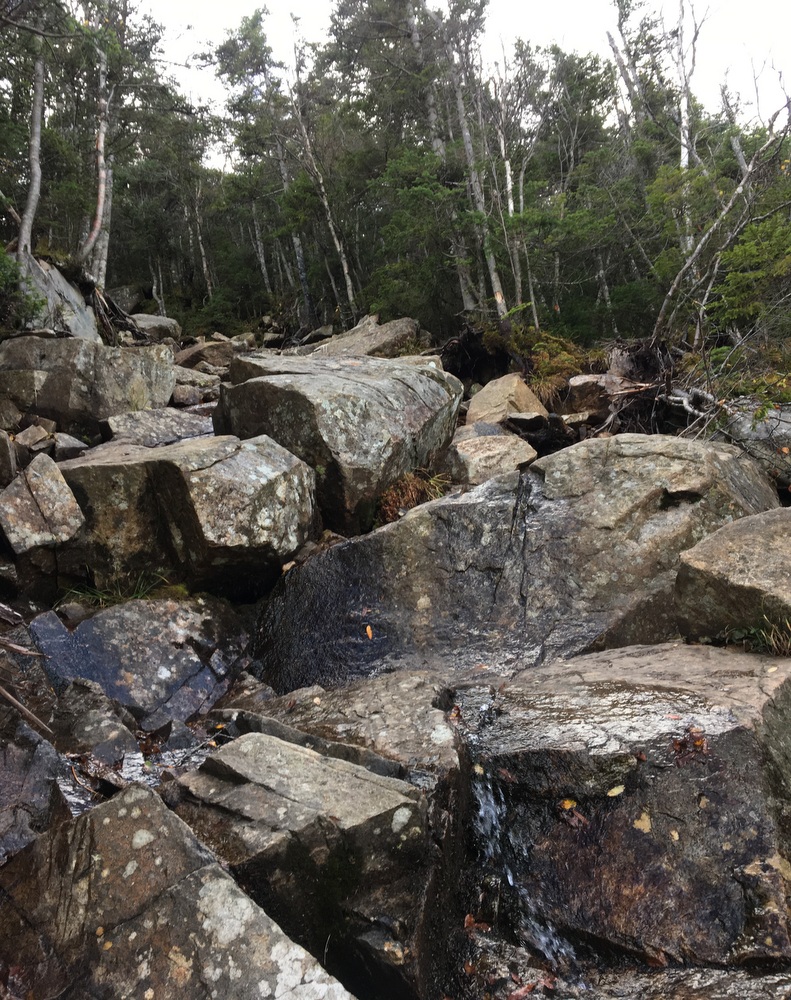 Unlike the first half of the day, it felt like I was boxing way above my weight class. Exhaustion began to pile up, and my mood soured a bit.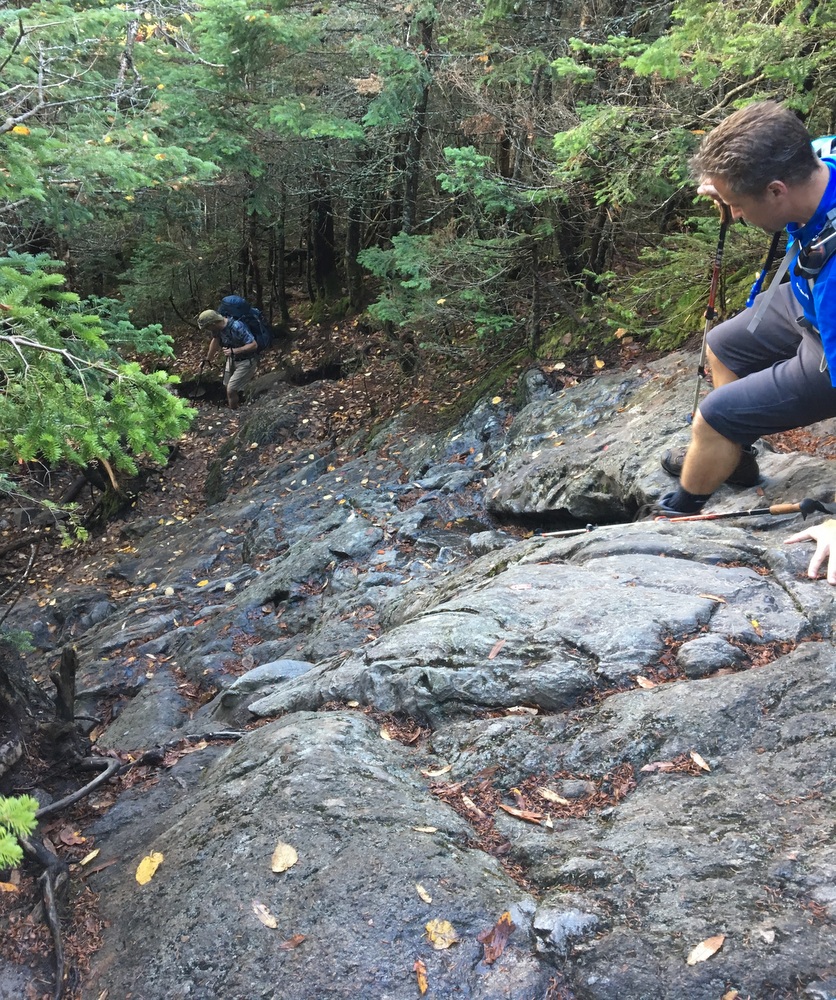 The final half mile approach to Galehead is steep (1800 feet uphill, in about a half mile), and my body was completely drained. I hit the proverbial wall, the "bonk" that distance runners talk about. Every step was painful and tiring, and I was acutely aware of how much I was slowing the pace of my friends (even so, I paused to take in the beauty of the valley view seen below). I felt frustrated and broken and was scared for how the remainder of the trip was going to go. Every day, mile-wise, was going to be close to this long. Some had the potential to be much longer, depending on which trails we took.
Bryan and Jeremy hiked ahead, to check in at the hut and make sure they held dinner in case it took me too long, leaving Topher to accompany me. With about a quarter mile to go, he took my pack from me. I had trouble letting him do this, but he insisted he could handle it for the short remaining hike. Finally, Jeremy returned to us (having left his pack at the hut), and took my pack. We pushed through the remaining couple hundred yards and were rewarded with the beatiful sight of Galehead hut.
I had no appetite, no desire to celebrate the day. I wanted a nap, but instead I went through the motions with my friends, ate delicious but unwanted food (no fault of the excellent Hut Croo, who made a delicious non-dairy vegetable and black bean burrito which would have been welcome at almost any other time), drank a ton of water and some decaf coffee, and a couple hours later finally began to feel human again. Sipping whiskey in the twilight, we had an honest discussion about the remainder of the trip. I confessed that if there were three more days like this one, I would probably not make it. We looked over topographic maps, consulted notes, and concluded that while there were parts of every remaining day which would be as difficult as anything we did the first day, none of the days would have the cumulative effect we had just felt. Not only that, each new day would start bright and early instead of at 10:30 in the morning after a three and a half hour drive.
So, I was going to give it my best, and they were going to hike alongside me. I knew I was slowing them down and forcing them away from optional parts of the trip which would have been more challenging and rewarding for them, but they wanted to keep the hike inclusive. I appreciated it more than they probably know.
As the kind of darkness you only get in the wilderness fell, we sat outside on the porch, admired the Milky Way, and then went to bed early. We had a bunk room to ourselves (8 bunks), and we did our best to muffle each others' snores with ear plugs.
I slept fitfully at first, my mind replaying the entirety of the day's physical and mental effort in half-awake dreams, tossing and turning and getting up for bathroom breaks repeatedly until a bit after midnight. Then, finally, I fell into a deep sleep, until a little after 5 AM. I woke up, stepped outside, and watched the lightening sky. I was cautiously optimistic.
A new day awaited.