(This is part 4 of a series of posts about our Summer 2018 trip to Europe. The series starts here.)
The train trip from Rome to Orvieto was only about an hour, but it felt like moving from one world to another. The train station in Orvieto is tiny; you're standing outside looking across the tracks at green grass, instead of a massive city station with twenty platforms.
It took us a moment to find our way to the car rental place, but it wasn't long until our bags were in the trunk and we were on our way out of the town of Orvieto and into the outlying countryside, to a 17th-century farmhouse which was completely renovated a few decades ago and is now known as the Agriturismo Antica Olivaia.
I'll call it a B&B, for simplicity's sake, but an Agriturismo is an Italian concept where innkeepers on a working farm, vineyard, or other agricultural property derive some (perhaps even most) of their income from tourists, rather than the normal commercial purpose of the property. In this case, the farm is still a working olive grove, but I suspect they do more business with overnight Bed and Breakfast guests than they do making olive oil.
The B&B was a short drive outside the town of Orvieto, but I had never driven in Italy. To make things even more exciting, I had rented a car with a manual transmission. I've owned several manual transmission cars and wasn't worried about it, but it did make the drive on the unknown roads reading Italian signs a bit more interesting. We quickly turned off the main roads and found ourselves on a narrow, winding road through a hilly rural countryside where tall grasses obscured our vision of what might be around the next corner.
We were slightly nervous, since all we had for directions were printed from the B&B's website. But the directions were perfect, and within half an hour we were pulling up to the gates of a beautiful farm estate.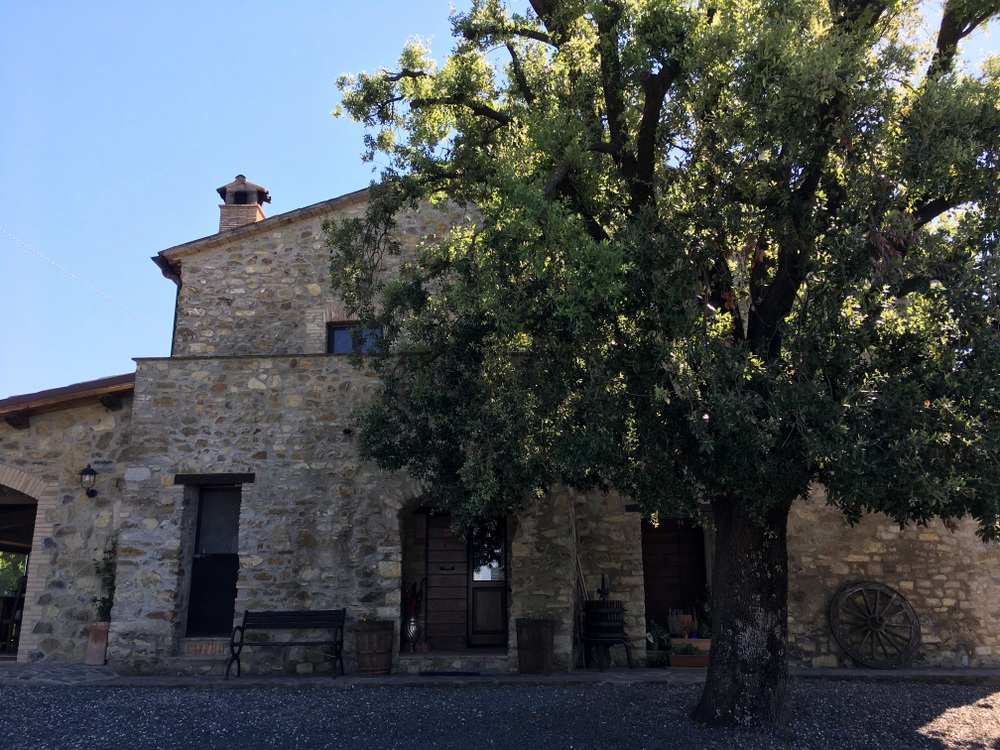 It's not really possible for me to overstate how awestruck we were with where we were staying. The views in every direction were amazing.
In the distance, the hilltop city of Orvieto was easily visible. Between us and that, however, were miles of open space. In every direction there were beautiful fields, lines of trees, and stereotypical Tuscan views (the B&B is actually near the connection between Umbria and Tuscany). It was silent — no cars, no trains, no honking horns or police sirens. Just birds and insects in the trees. Even remembering it now, I feel my stress level fall.
And once we got inside, it was even more amazing — as wonderful a B&B as I've stayed at across all our years of travel. It wasn't a cheap place, but we've paid more for worse places.
The personal connection with the innkeepers and fellow travelers is one of the key benefits of staying in a place like this. We had a nice chat with our hosts, who correctly read our mood (after a day of travel, we wanted an informal dinner close by, as opposed to a formal dinner a longer drive away) and recommended a pizza place in the residential area of a nearby small town. They called ahead and got us a table outside for soon after they opened for dinner (remember, Italian meal schedules are time-shifted from what we're used to). We loved the mood of the place, and had fun negotiating the menu with our waiter who spoke almost no English.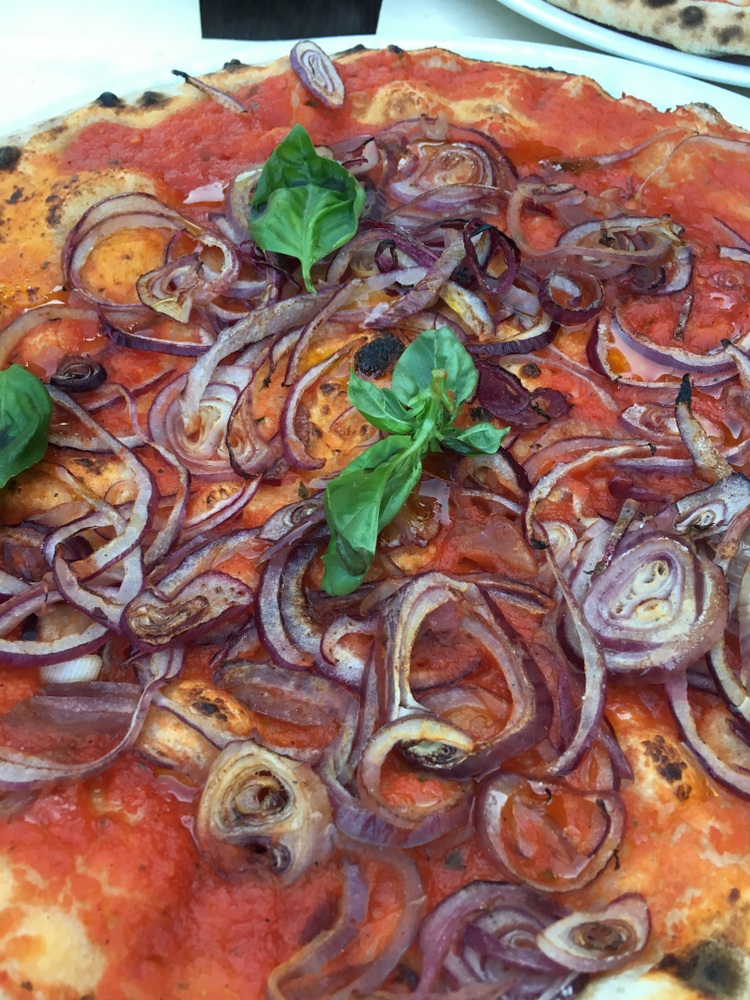 Everything was tasty, and halfway through our meal we saw a police officer redirecting traffic (not that there was much) to make way for a small, somber procession through the town. It was clearly religious in nature, with priests and kids in robes holding candles. We learned later it was (if we understood correctly) a march in honor of the town's patron saint. It was a reminder of just how far we were from home.
We returned to the B&B after night had fallen, and if anything it was even more amazing in the early evening.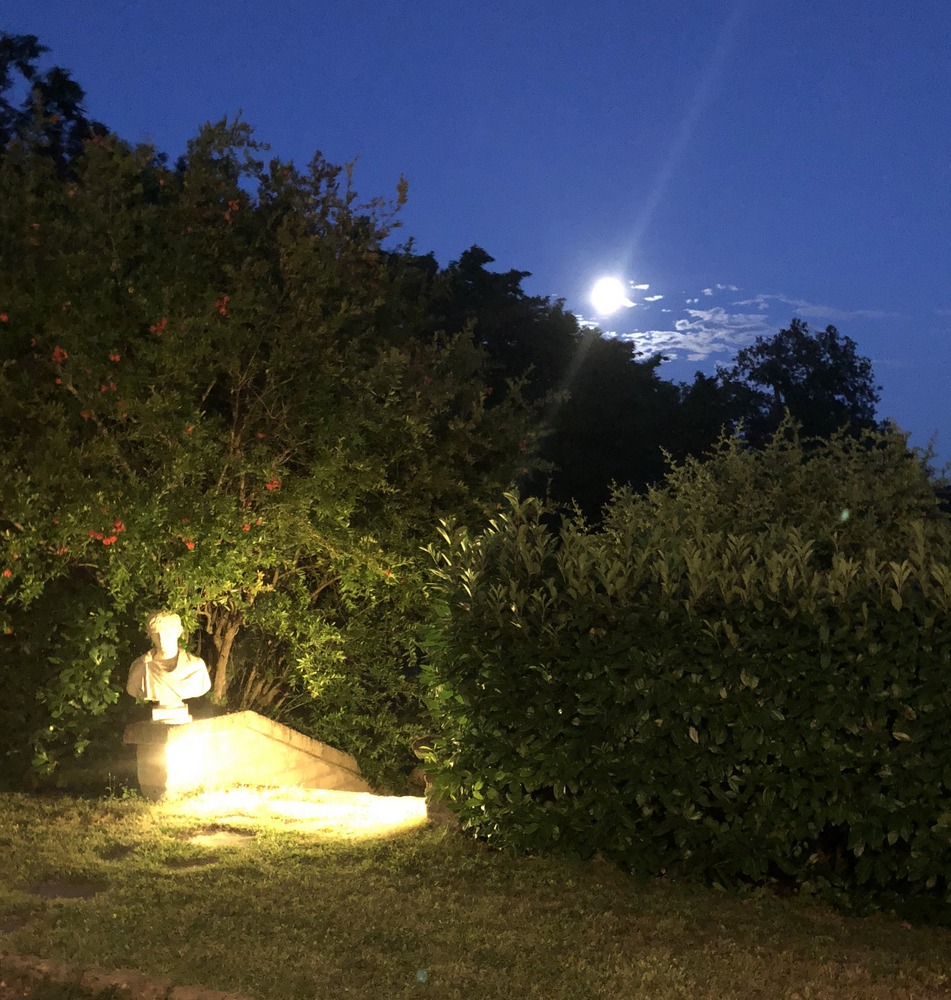 The city lights of nearby Orvieto sparkled in the distance, but around us was dark and silent, except for the summer-night noises of insects in the trees and fox kits barking in the fields. It was almost impossible to imagine that a few hours before, we had been in the bustle of Rome. It was magical.
The next day we had a delicious breakfast with our fellow guests, and then a pasta-making lesson in the kitchen with the innkeeper.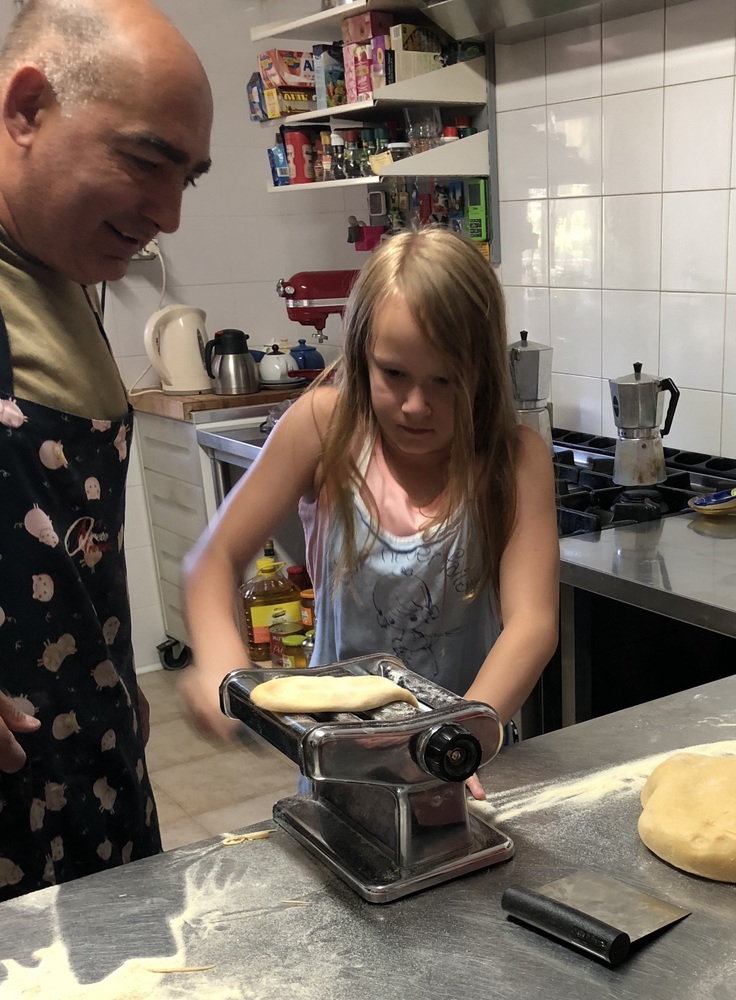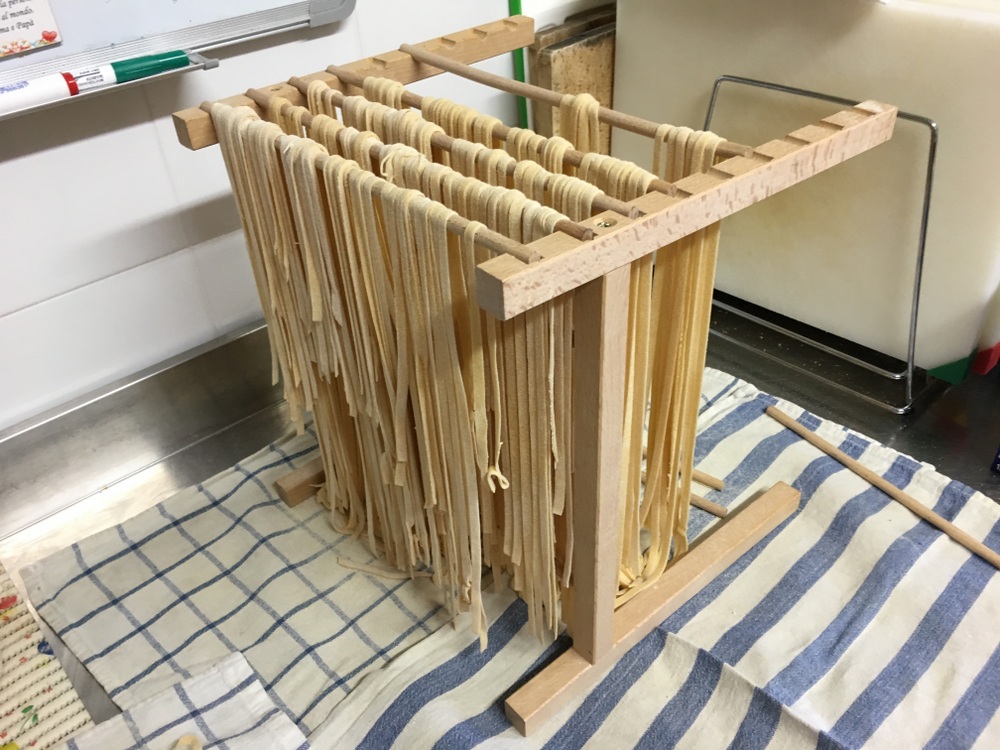 We swam in the pool, played with the dog, and Evie made friends with the other kids who were visiting.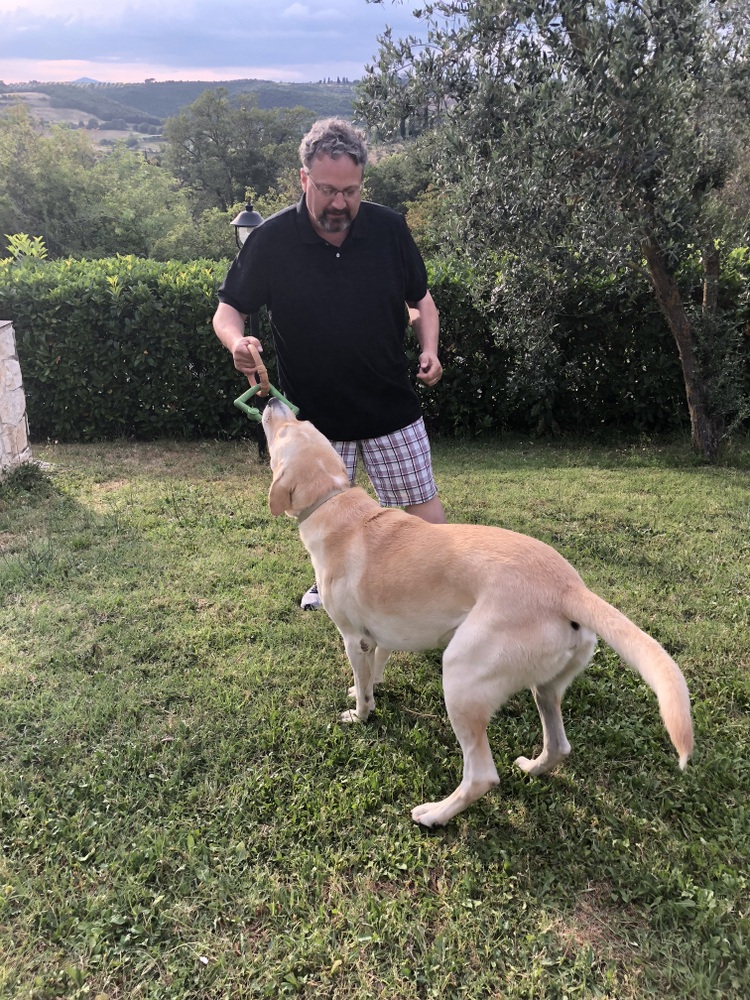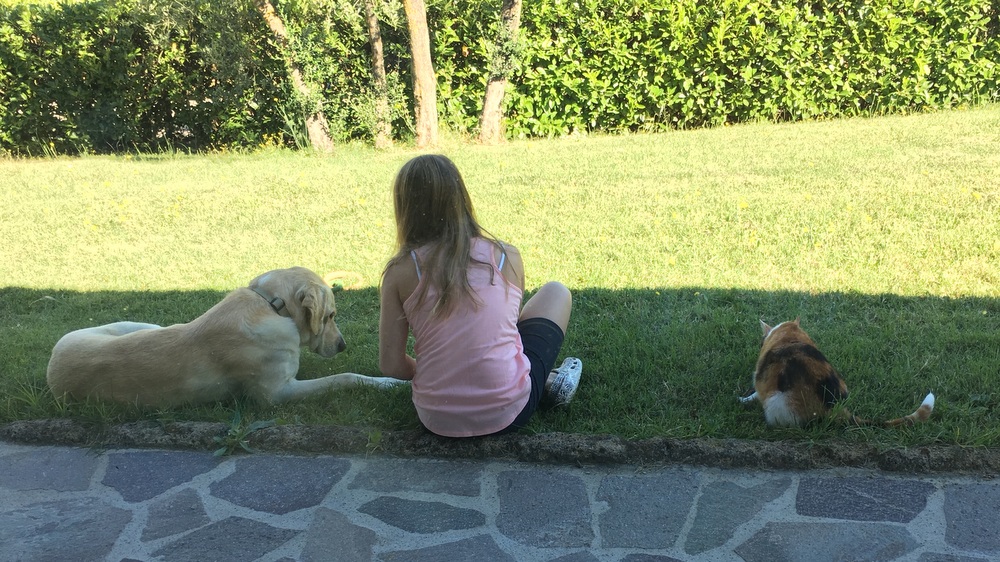 After the relaxing morning we made our way up to the old medieval town of Orvieto, which was magical in a completely different way — we took the funicular up the steep hillside and explored the entire town on foot (the photo below is of downtown Orvieto, with the hilltop town above it).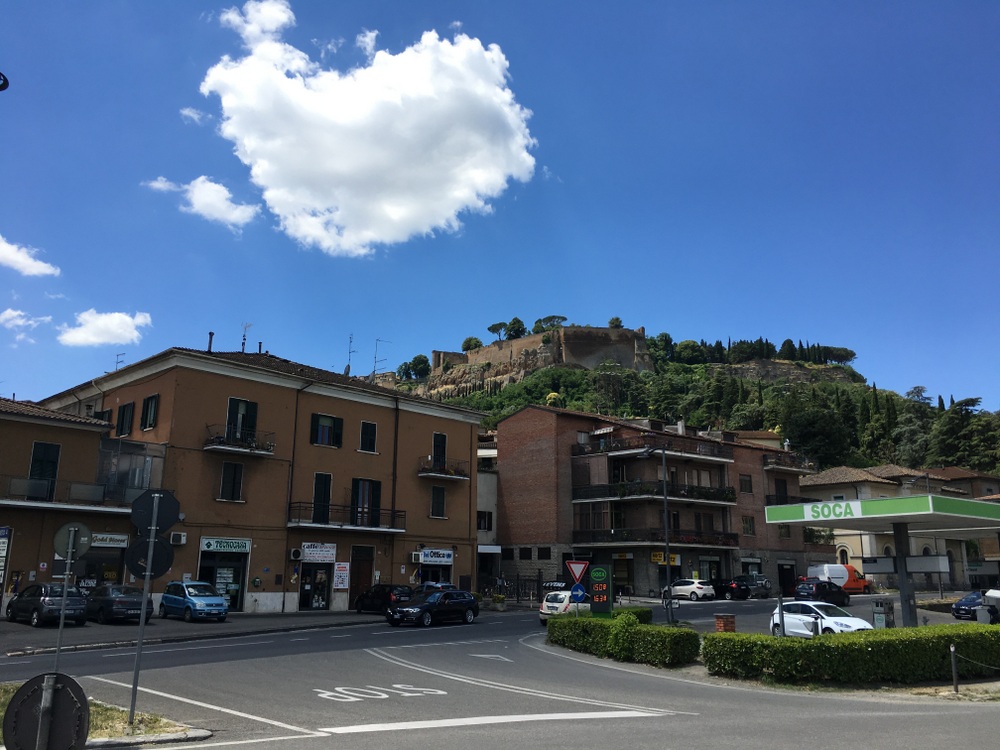 We walked through a park and admired the views of the same valley we had admired from the other side at our B&B.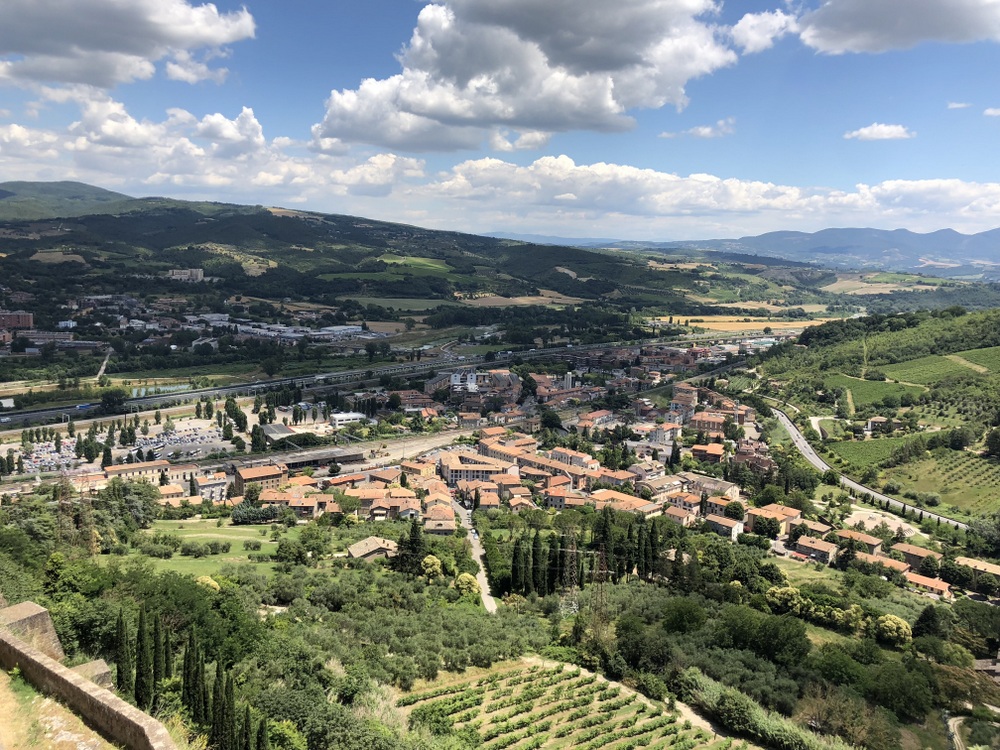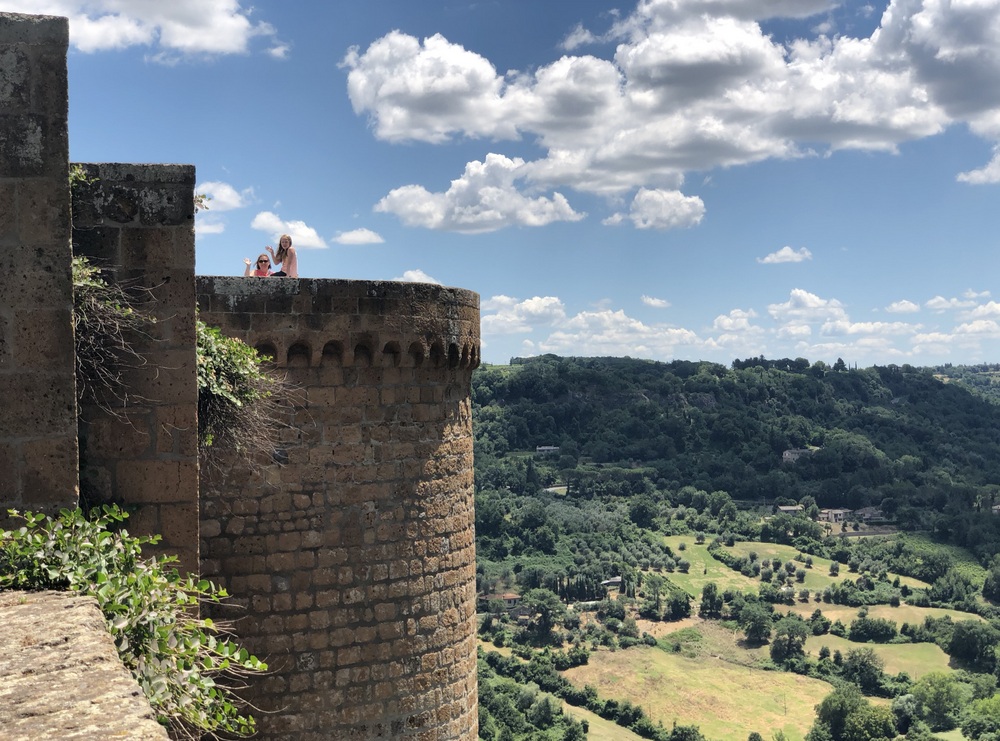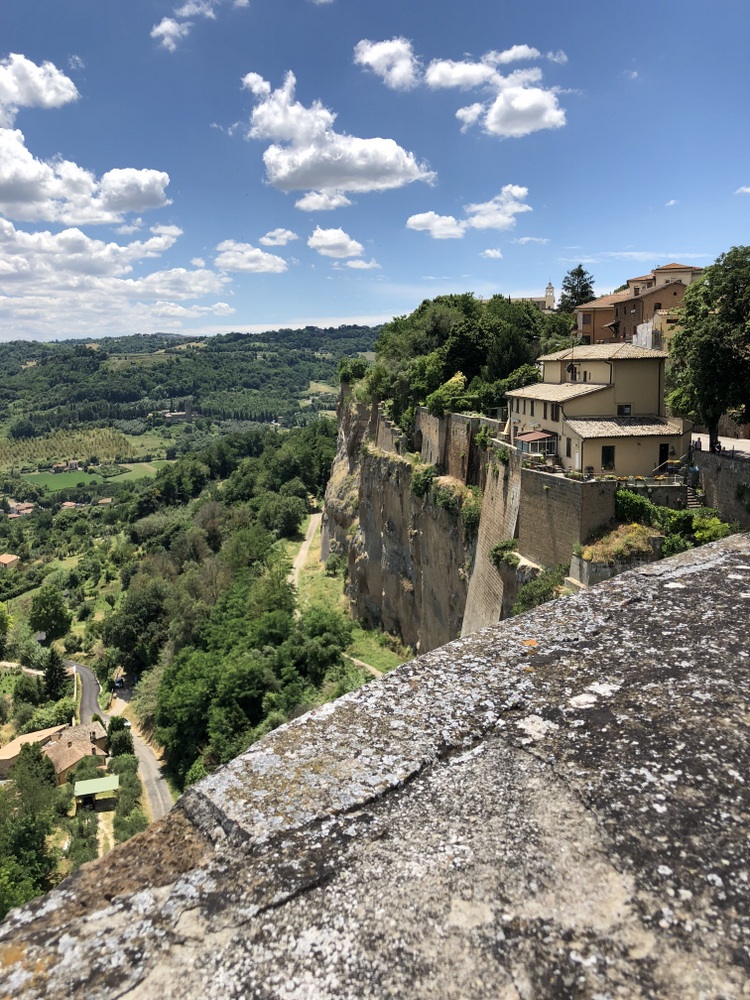 We admired the strangely striped Duomo, with the incredible detail on its front.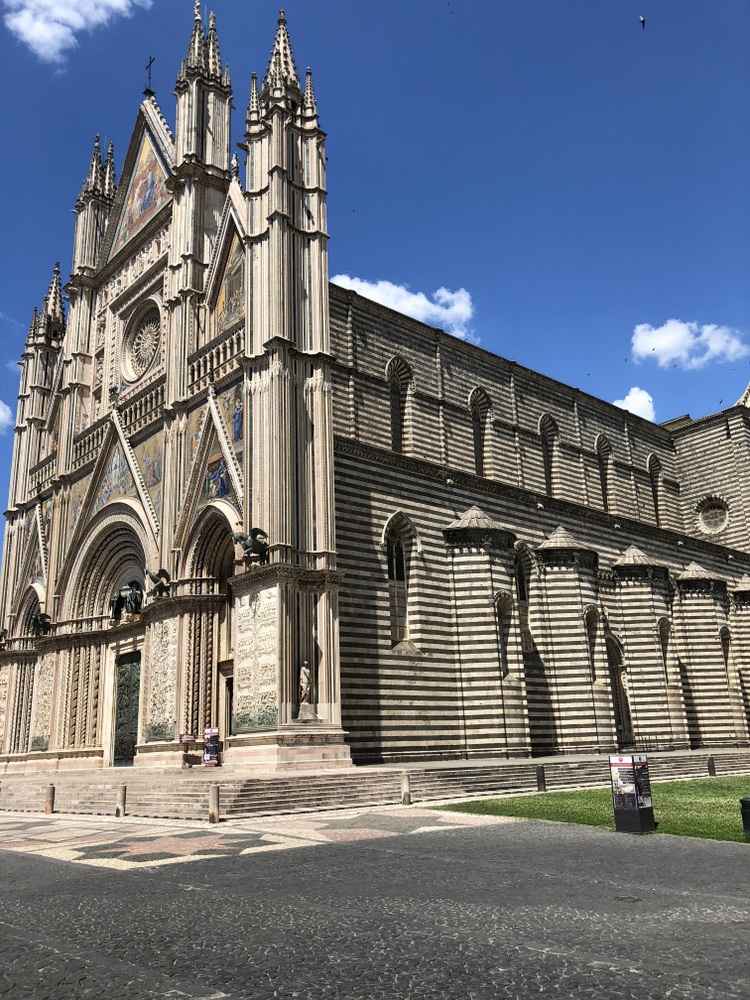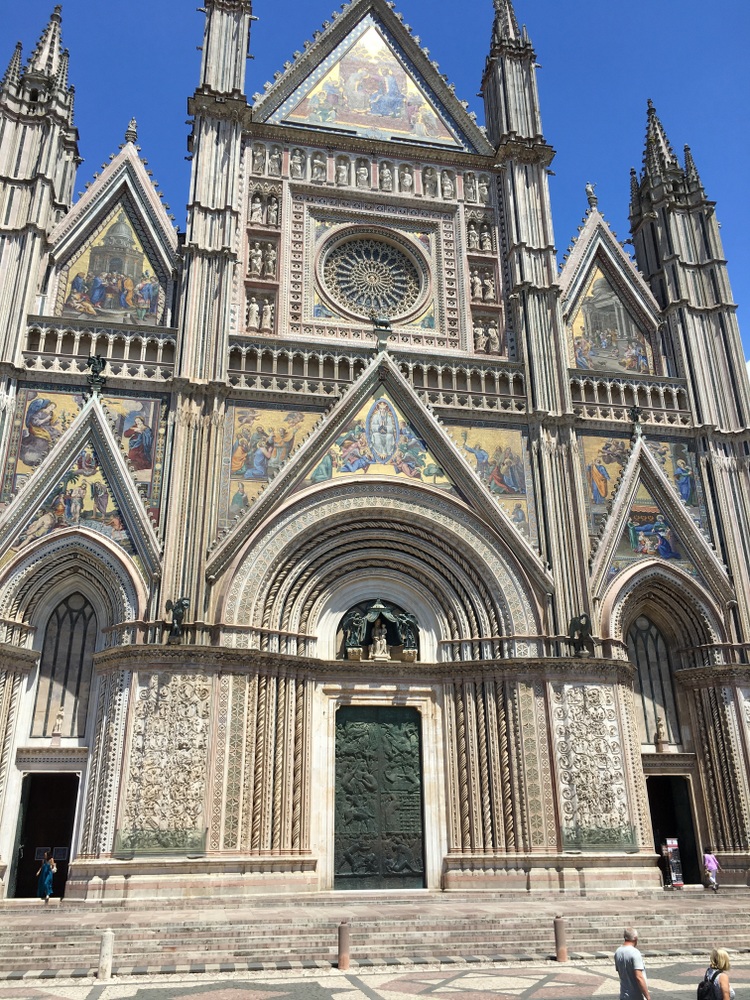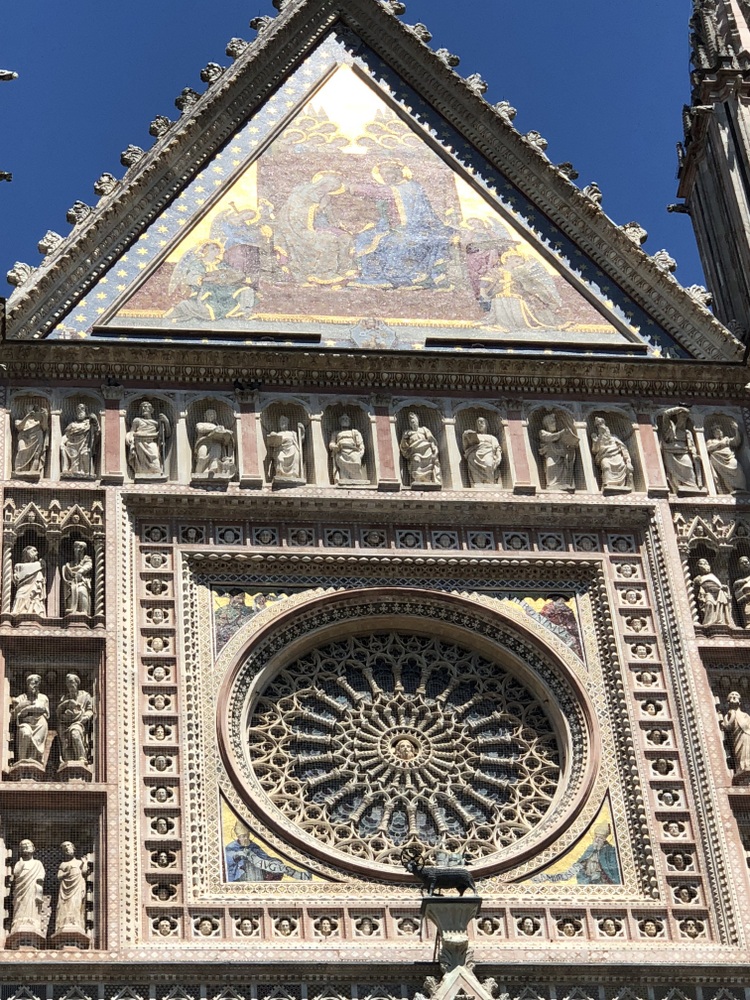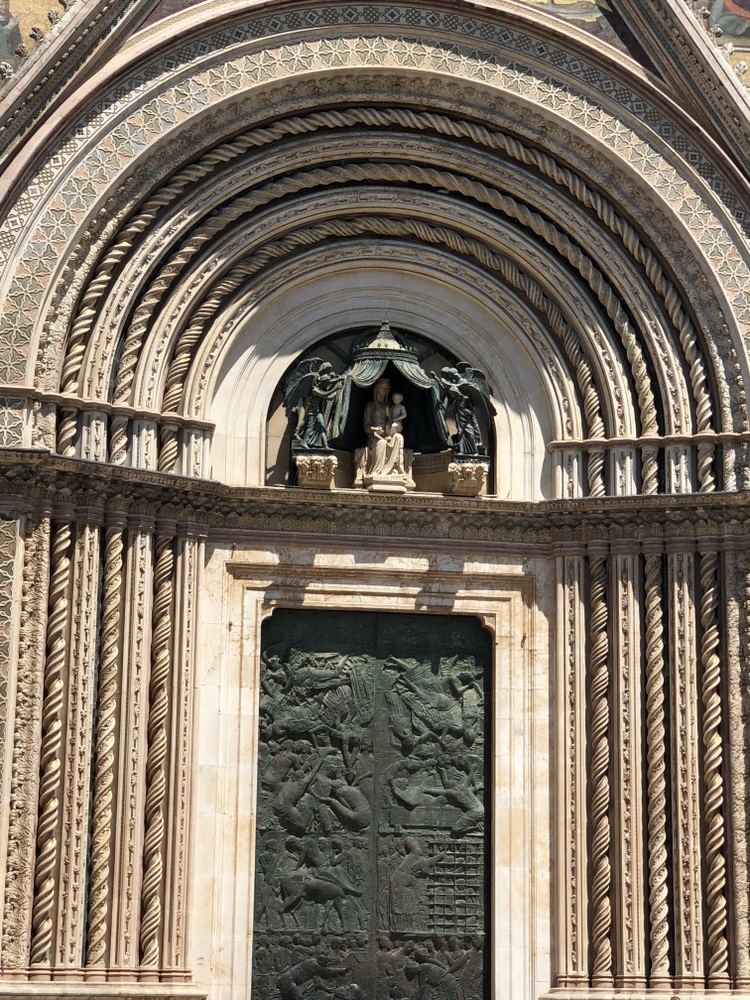 We had a light lunch at a hole-in-the-wall place. We explored narrow alleyways that probably haven't changed in a few hundred years.
Unlike Rome (and later, Florence and Venice), there were no crowds here. Yes, there were other tourists, but the crowds and the sort of city behaviors that come with crowds (pushy vendors, panhandlers, tour guides shouting to be heard) were completely absent. While Orvieto proper was very small, I could see how people could find themselves wanting to stay there a few days, like a small seaside town that rewards a full exploration.
Back at our B&B we had a homemade dinner which was simple but delicious, including the pasta we had made in the morning's cooking class.  There was a full house, and we drank bottles of wine with dinner, then sipped homemade aperitifs afterward with exotic flavors like rosemary and anise.  Then, we watched one of the most amazing sunsets I've ever seen.
We conversed late into the evening with our fellow guests, trading stories, rolling our eyes at some and becoming strongly invested with others.  Evie and her friends from earlier ran off and did their own thing while the adults stayed at the table and conversed with the innkeepers.
It was bittersweet, because this place is the kind of place we usually seek out when we travel — quiet, beautiful, with great hospitality. I can easily see how someone could settle into this beautiful place for a week, exploring the countryside, coming back to swim and nap in the hammock in the garden, then seeking out little local treasures for dinner.
But that wasn't the kind of trip we were taking — we had much more to do. So, we went to bed, knowing the next day would bring another massive change of scenery.  The next morning we took it easy, swimming in the pool and letting the lazy summer sun and quiet country noises relax us.  Around lunchtime, though, it was time to depart again — back to downtown Orvieto, back to the train, and on to Florence.