Jess and I have been talking about testing ourselves with a longer, tougher hike before winter changes things too drastically.  With my mother visiting and able to bring Evie to gymnastics, we decided this weekend was the perfect chance to give a longer outing a try.
We departed for Wachusett Mountain State Reservation in Princeton, MA, home of the famous Central MA ski area. We had been pouring over trail maps and plotting a route that would take us around the mountain before going up and over.  We knew we'd be looking at several hours of hiking and so packed a lunch and more water than usual.
We parked at the Visitors' Center, loaded nearly to capacity with cars on this beautiful fall day, and started on the Bicentennial Trail.  The trail started off wide and easy, with large stone steps and a gentle ascent.  We were accompanied by many other hikers, large families and couples and groups of boisterous friends.  It was odd to be sharing our hike with so many other voices.
Soon, a steep trail (Pine Hill Trail) forked off towards the summit, but we continued straight on Bicentennial.  The trail immediately grew both quieter and more rugged.  The flat areas disappeared and we had to step from stone to stone, but the overall elevation change was still subtle.  To our left, occasional breaks in the trees showed the beautiful views of the surrounding countryside.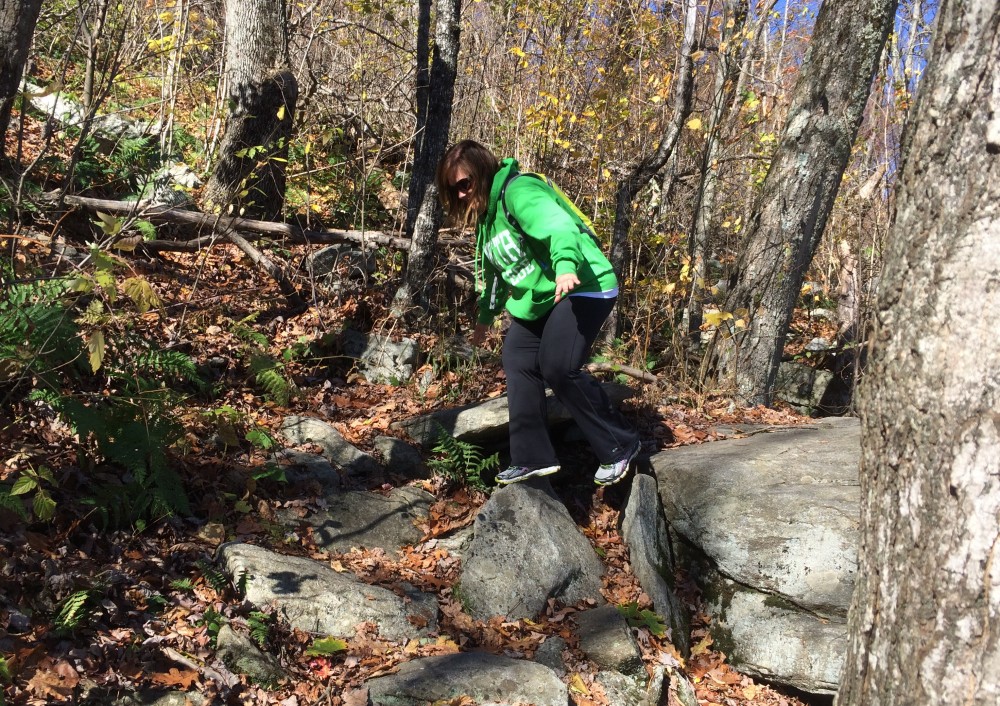 We crossed many small streams – and often the trails and runoffs shared the same channels down and around the mountain, so our rocky paths were shared with running water.  This made the rocky areas slippery with either water or wet leaves, and the less rocky areas were often quite muddy.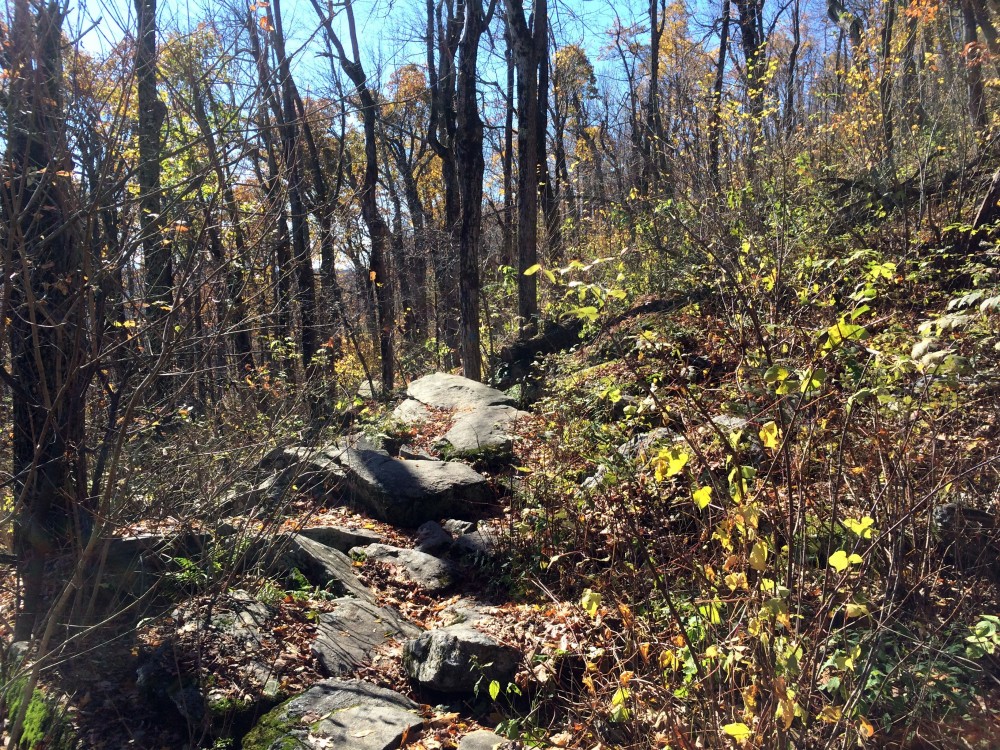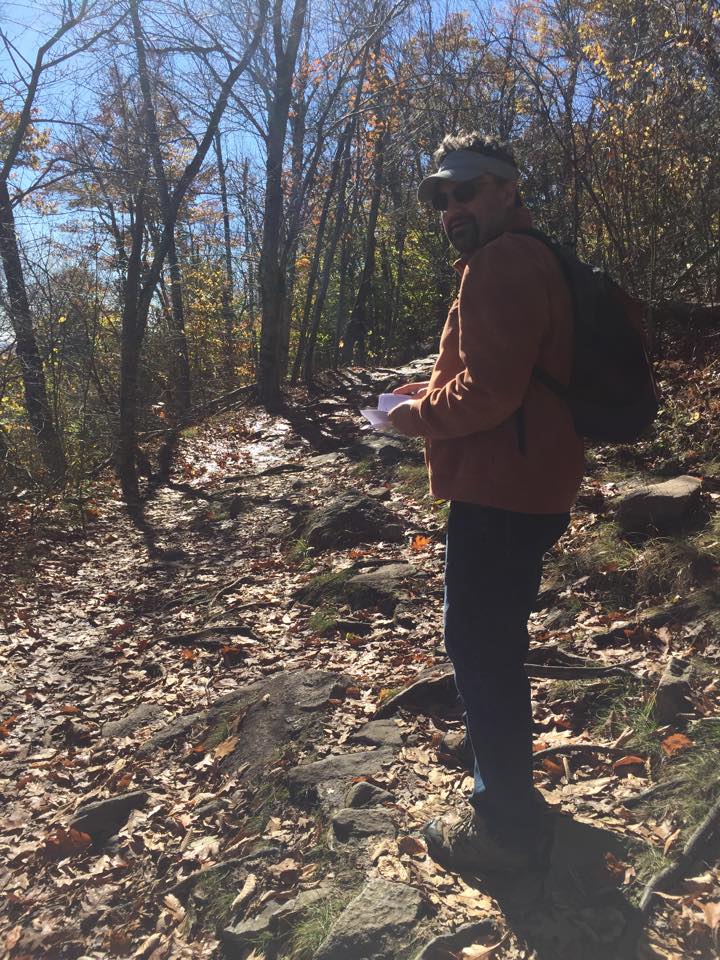 After an hour or so, we broke out of the forest and into the top of a broad open meadow on the hillside.  There, we ate our lunches and reassessed our plans, fine-tuning our route now that we had more of an idea of what the terrain was like.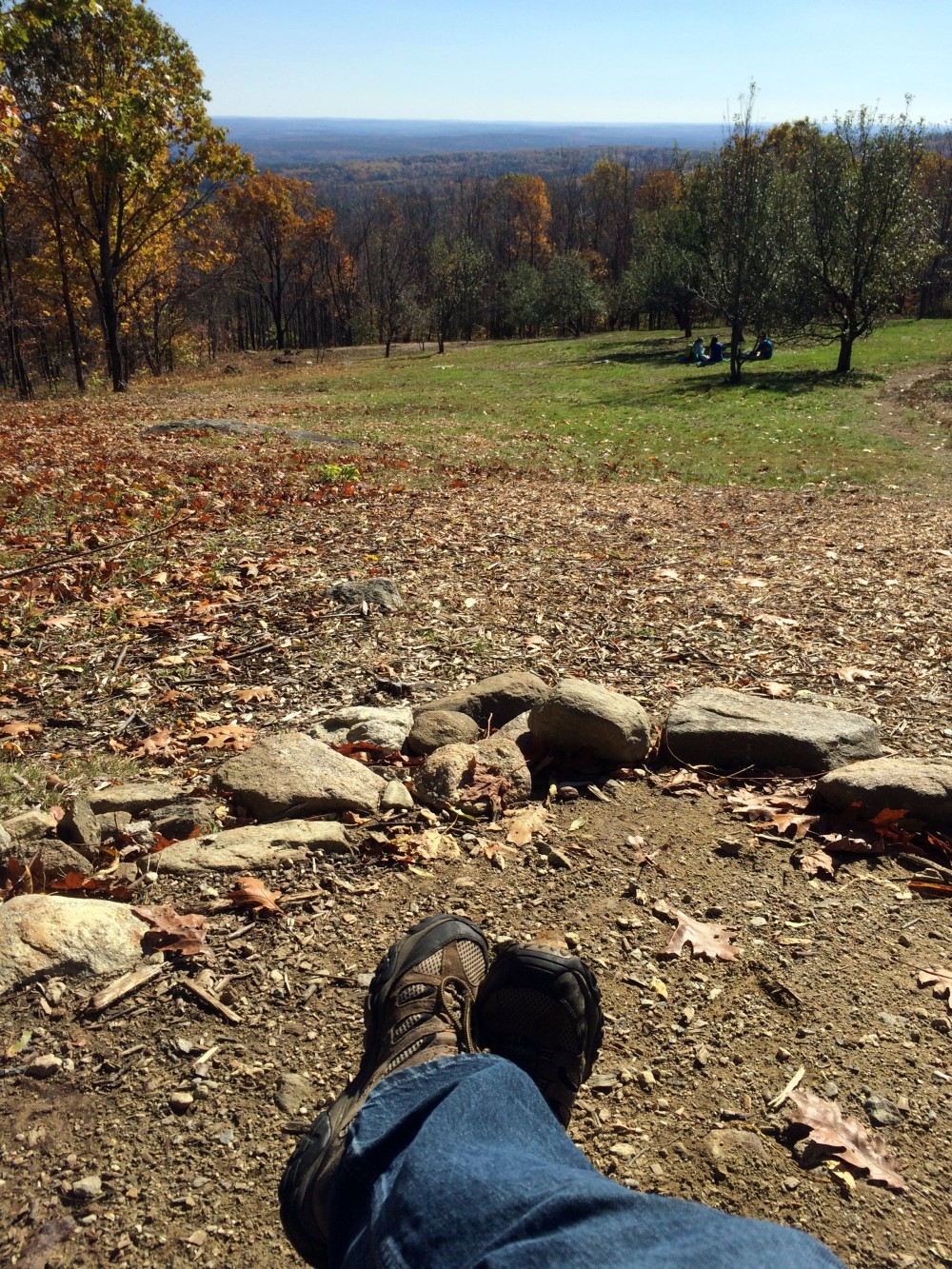 From there we took the High Meadow Trail up the mountain to Jack Frost Trail, and continued upward from there.  The ascent was steeper here and steady as we approached the summit from the south.  Our legs were in shock at the surprisingly steep sections we were hiking.  I was definitely humbled by this part of the hike; I had thought we could handle a six to eight mile hike on Wachusett because I had done over six miles at Wells State Park a couple weeks back.  But this was a whole new type of hiking and my legs were not happy.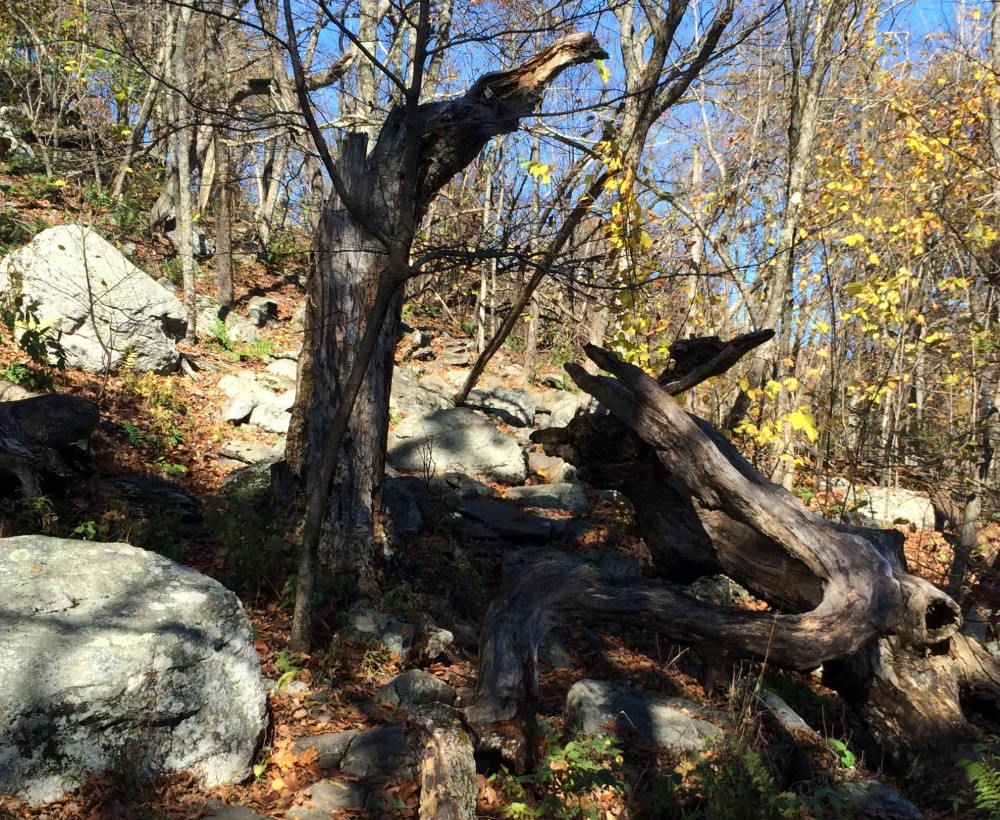 We turned west on the Link Trail, and continued west towards Semuhenna Trail.  This trail's unusual name is the result of spelling Anne Humes backwards.  The trail took us further from the summit but the terrain was among the best we'd encountered so far: still rocky and challenging at times but also with nice stretches of mostly-flat wooded paths.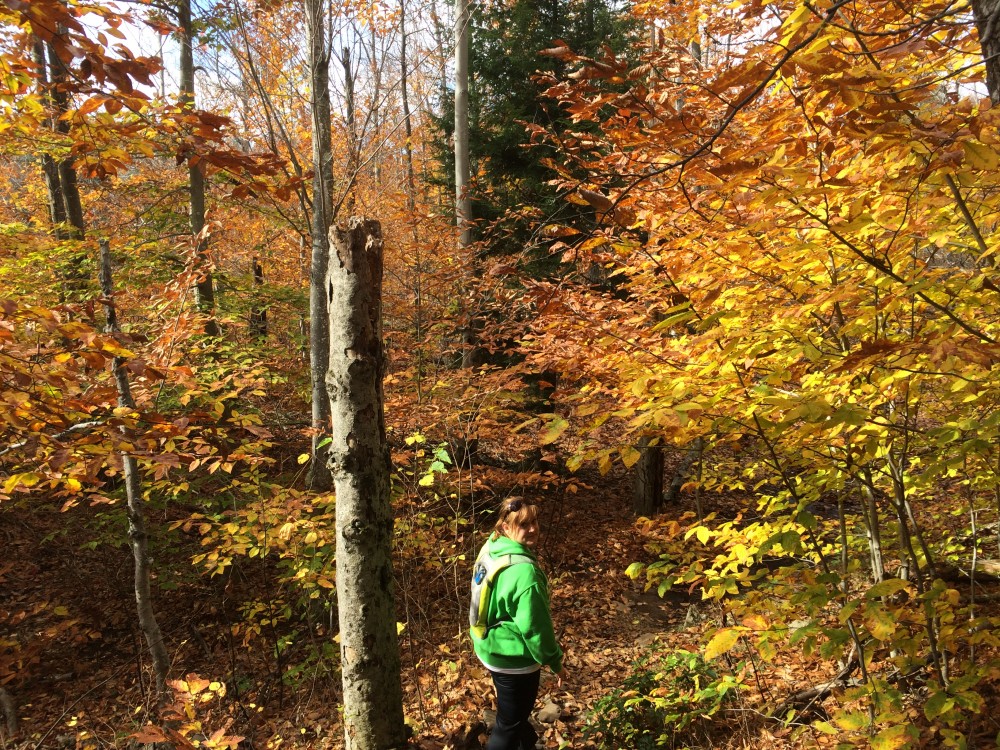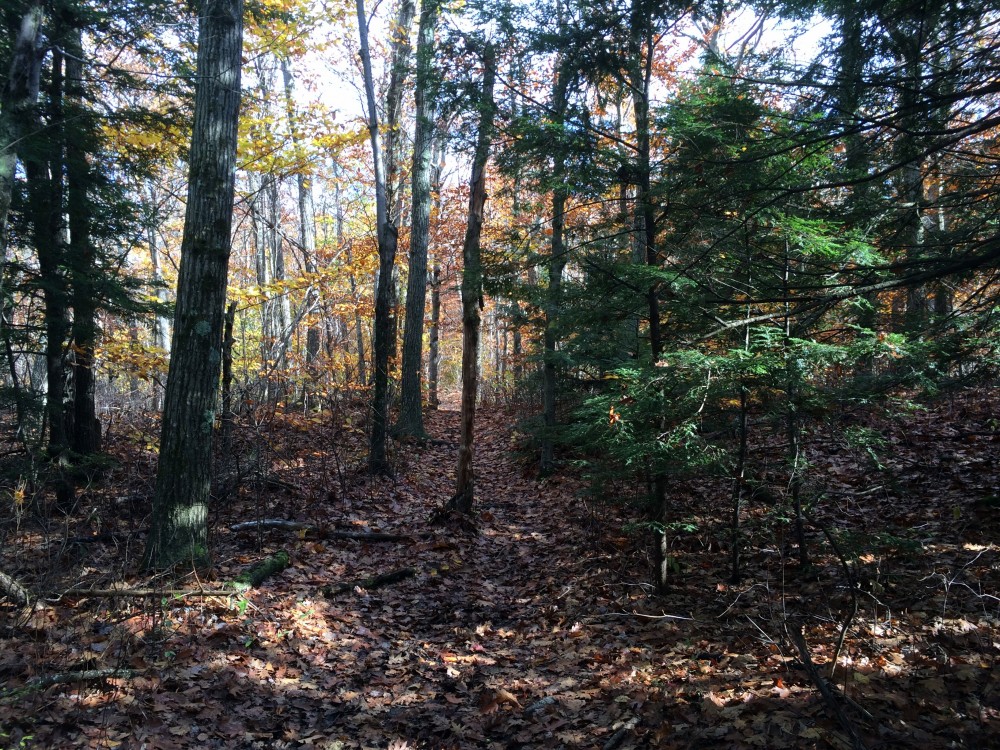 Two hours into our hike, we realized that if we followed Semuhenna all the way to Balance Rock and then hiked back up, our legs would be in rough shape for the final descent from the summit.  We made a choice to turn from Semuhenna to the West Side Trail and begin approaching the summit again, this time from the Northwest. We soon turned onto Old Indian Trail and begin the challenging climb up steep switchbacks towards the summit.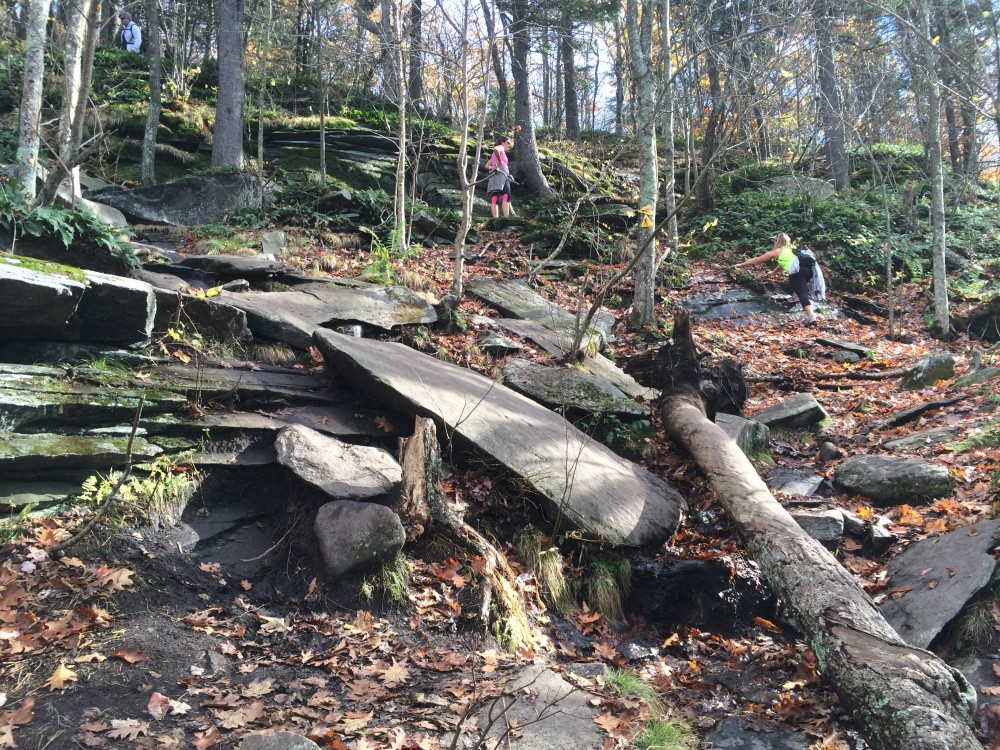 After its initial burst of altitude, however, Old Indian Trail levels off and approaches the peak at a much more civilized grade.  We left the trees at the top of the ski lift, and took the path to the top.  There, exhausted and weakened by our climb, we drank water and examined our maps (and took selfies, of course).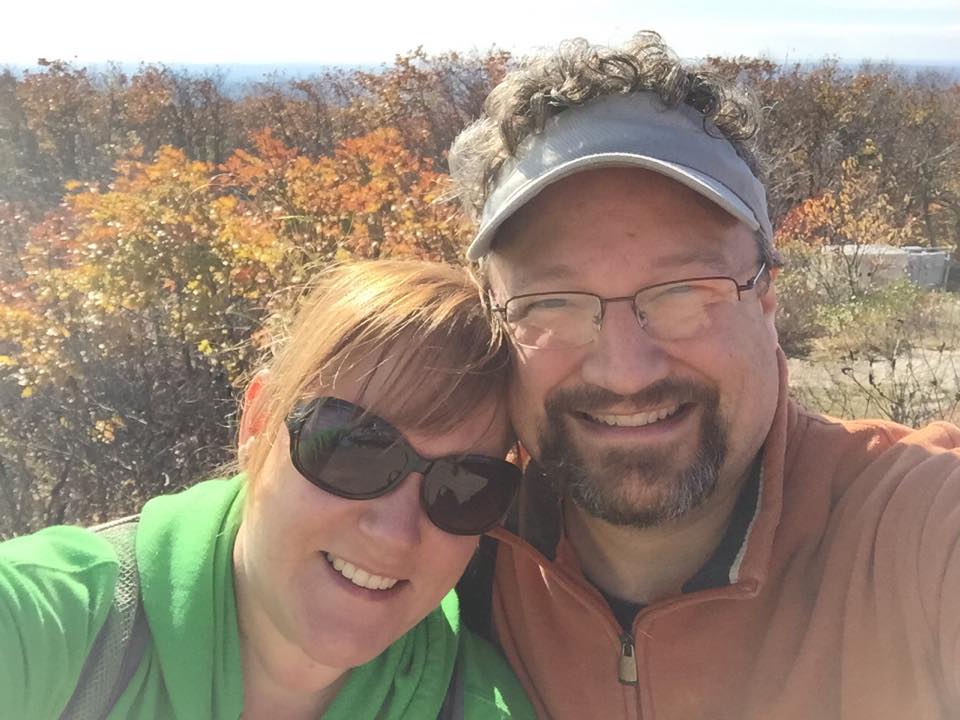 We decided we had done enough; our bodies were wearied and we wanted to end with smiles on our faces instead of frustrated and dismayed.  So we took the most direct route down, scrambling the half mile down Pine Hill Trail back to Centennial.  It was the steepest climb we'd had so far, 600 feet of descent in half a mile, down bare wide rocks with flowing water on them which had to be approached with care. Several times my legs almost betrayed me, but I managed to grab hold of trees and keep from an embarrassing and painful fall.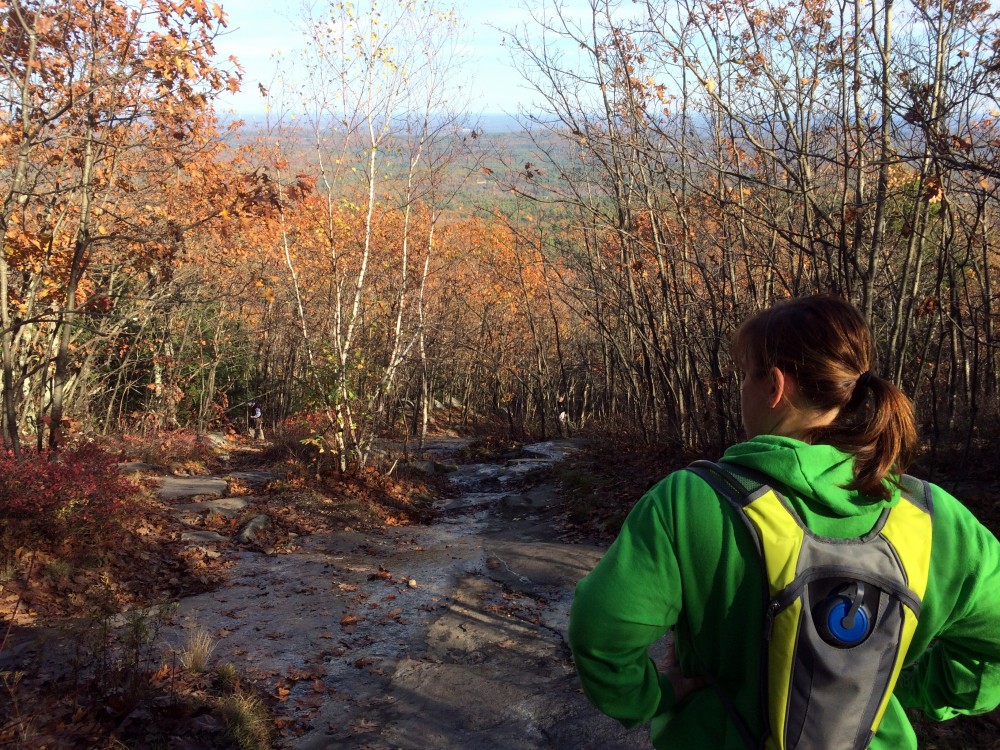 After what seemed an eternity of careful descent, we finally arrived back where we began, on the flat easy section of Bicentennial Trail.  We followed it back to our car — three and a half hours of hiking (and resting), five miles of travel by the GPS's accounting.
It's definitely the most challenging hike we've tackled.  We learned a lot about why mountain hiking is different from other hiking.  I learned that I won't attempt another hike with so much climbing in it while wearing jeans — not a pleasant time!  And we learned that one of the advantages of a place with so many criss-crossing trails is the ability to refocus the hike based on the circumstances.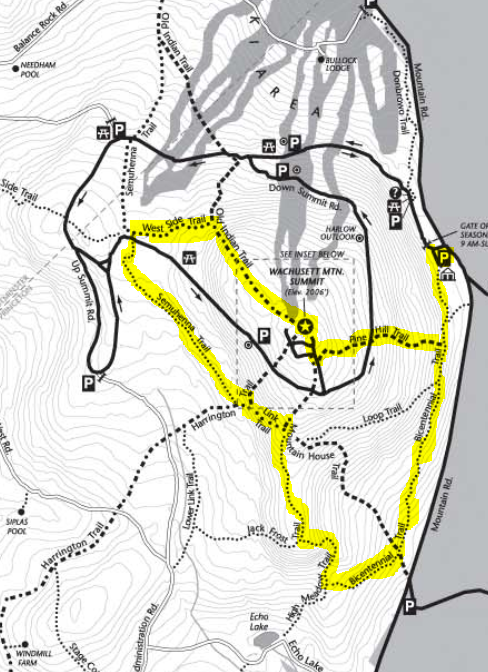 (Trail map courtesy Massachusetts Department of Conservation and Recreation.  Our route is highlighted in yellow; the summit is marked with a star.)
With 17 miles of trails and many landmarks to see, we have plenty more to see next time we decide to visit Wachusett.