No big hikes this weekend, but there was plenty of the outdoors.
Saturday, my in-laws came to visit, and my father-in-law and I got out our dusty fishing equipment and decided to try and hit the Quinebaug River to see if we could land any freshly stocked trout.  We fished two separate sections near Old Sturbridge Village, exploring the shore and trying from a dozen different spots.  We got a few hookups but landed no fish.  It was a beautiful day with highs in the low 70s, and regardless of what the fish were doing we couldn't have been more content.  The water was clear, we saw fish and birds, enjoyed the warm air, and enjoyed some good company.
This area is near to where the tornado passed through in 2011; it seems we are surrounded by reminders of it.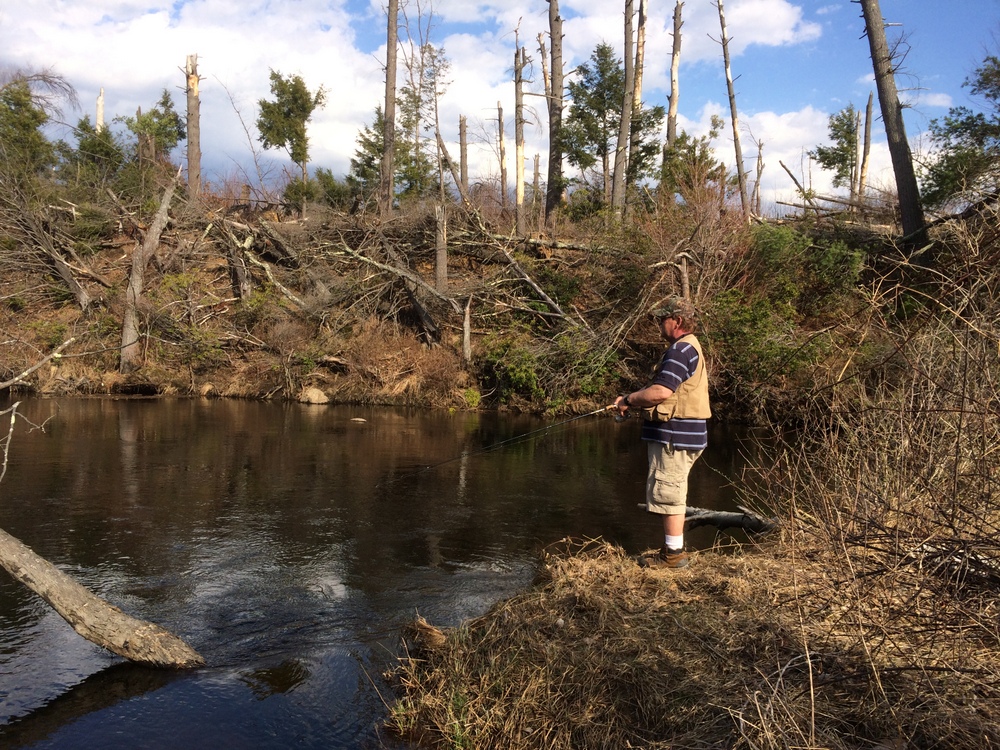 Of course, we did a tick check after our bushwhacking expeditions, and each had to pull off one tick that was on board but hadn't started feeding yet.  It doesn't take much….
The next day, Evie decided she was sad she hadn't been part of the fishing trip and wanted to fish.  I wasn't quite ready to take her to the river; too much bushwhacking and not enough empty ground.  So we went to the Rod & Gun Club I'm a member of, and fished one of their ponds.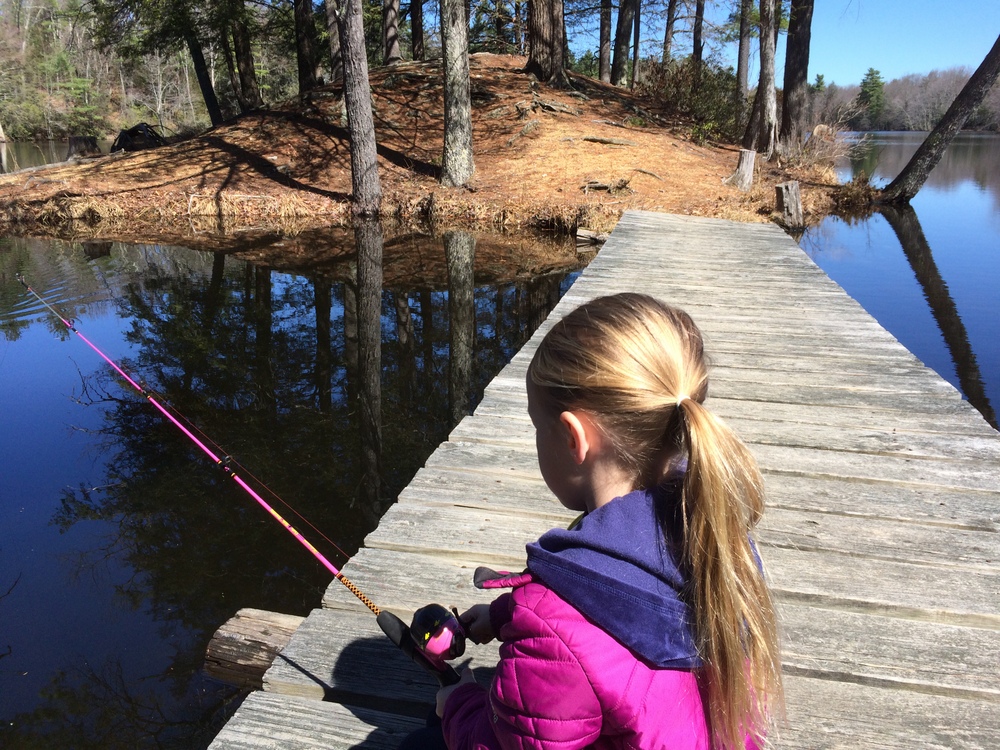 We caught no fish here either, but saw some perch nervously guarding their egg sacs (which we saw plenty of).  We also saw young salamanders swimming away from us as we walked the shoreline.
(There's one in the picture above, right by the dark leaf in the bottom right-hand quadrant).
After fishing for a bit and enjoying a snack by the shore, we did some exploring, trying to get up to the Plimpton Land which borders the club and is in the process of (hopefully!) being secured for future generations to enjoy as open land.
We walked through some land which had been partially cleared as part of a green forestry initiative to create better wildlife habitat, and explored a bit, but didn't end up on the right trail, and looped back.  I'll go back another day and see if I can puzzle out the trail markings.
So — a beautiful weekend in early Spring, a little fishing, a little exploring, a little quality family time.  No real hikes to describe, but these feet got plenty of exercise anyway….