On the first Sunday of the New Year, Evie and Jess made a last-minute decision to cheer on a friend at a gymnastics event in Western MA, and I made a last-minute decision to revisit the Sibley Farm / Burncoat Pond property with the intent of walking a portion of the Midstate Trail.  I'd hiked here with Jess twice before (1, 2) and both times we had mostly ignored the Midstate Trail.  Looking at the map, I realized I probably had enough time to hike the trail from the parking area up to Route 9 and back.
First off, let me again say how much I love this property.  Miles of trails on different terrain, fairly close to home and major roads, yet quiet once you're out there, with wildlife and ponds to admire.  Take a look at the awesome map they have at the trailhead.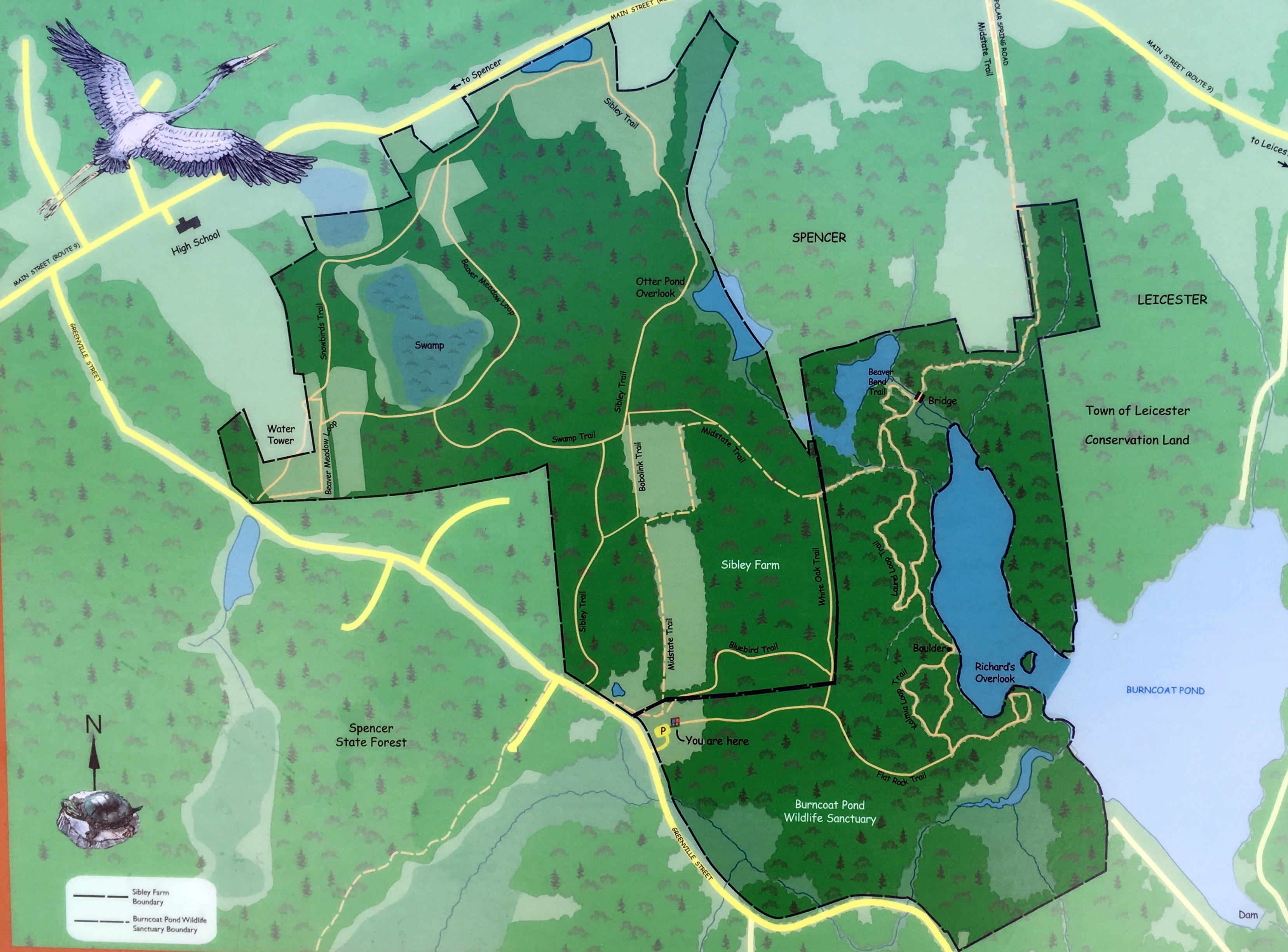 My route this day would follow the bottom trail until it reached the White Oak Trail, which I would take up to the Midstate, which I would follow up to Route 9.  On my trip back, I would stay on the Midstate back to the parking area.
Our first real snow of the season was still fresh on the ground, and was coated in a bit of ice.  I was glad for my walking stick (and in fact wished I had two at times), and I often had to tread carefully to avoid falling.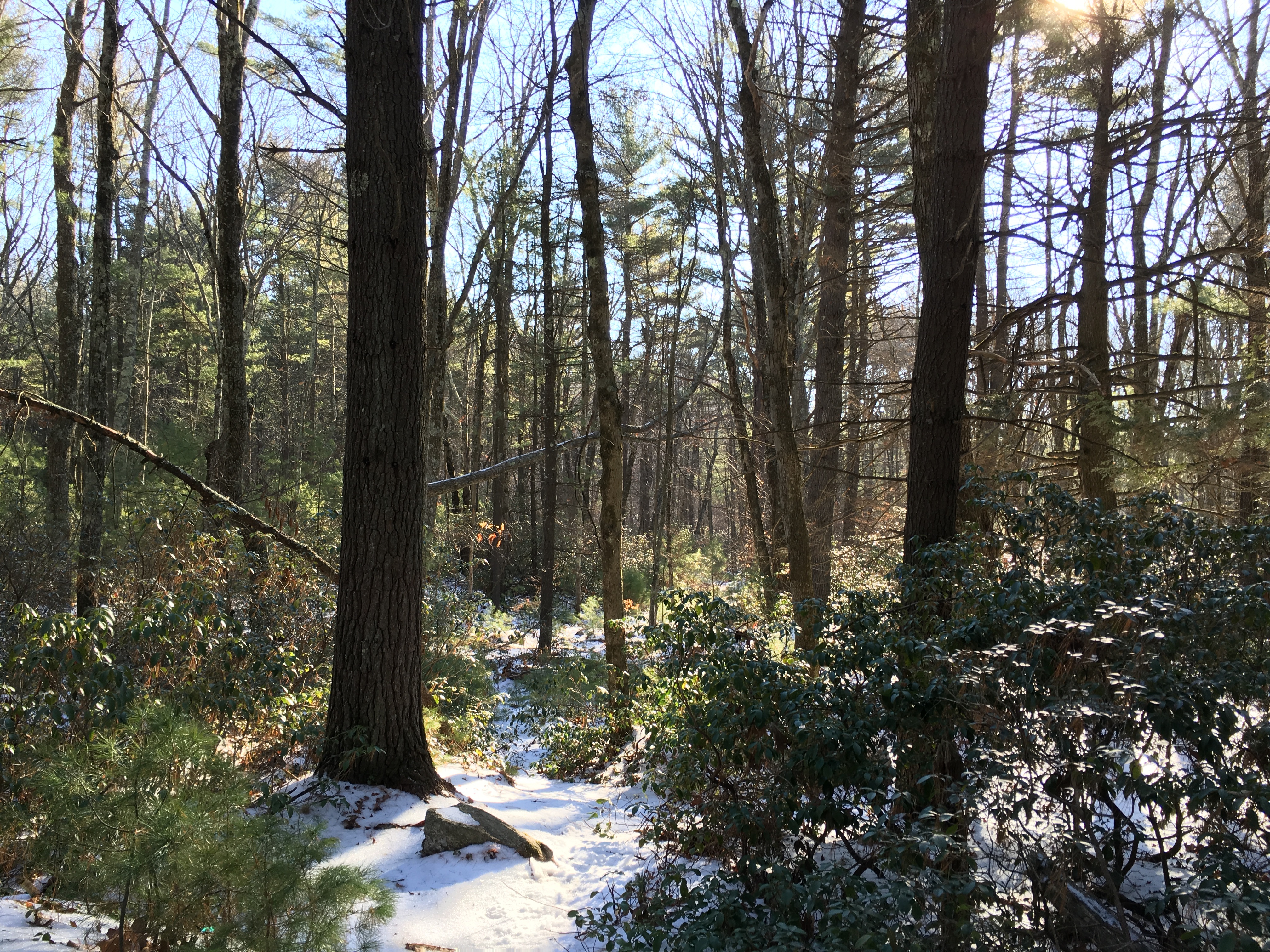 At first, the trails showed recent activity; boot treads and dog footprints mostly.  But the woods were quiet; I only met a couple other people despite a parking lot full of cars (again, the benefit of a large property with many trails).  In the pictures below you can see the "tags" they use for trail markers on this property, which nicely stand out in ways painted blazes sometimes don't.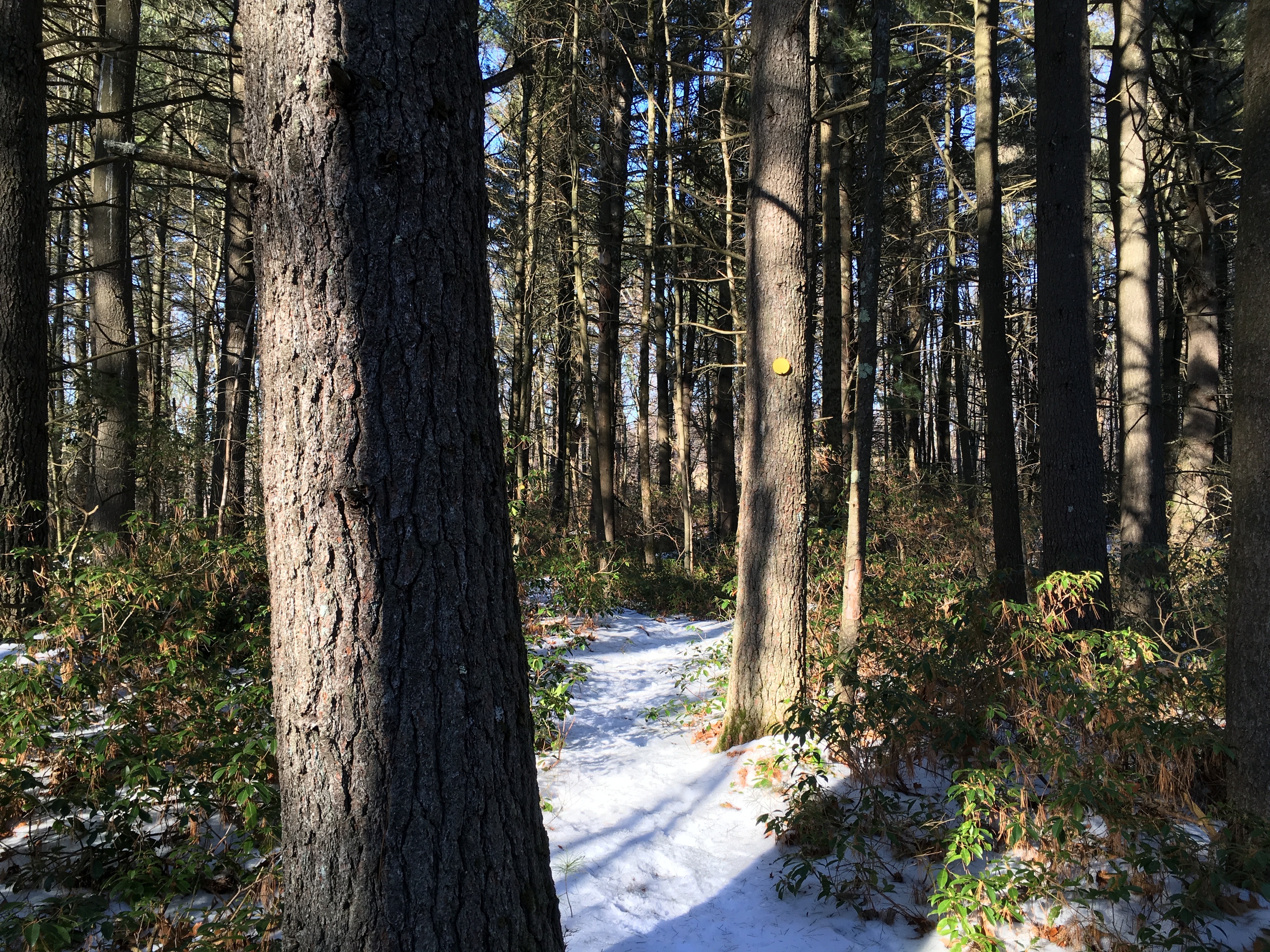 I finally found my way onto the Midstate trail, and headed North.  It was only a bit more than a mile to the road but it was not easy going due to the snow and ice.  My legs were already feeling the pressure.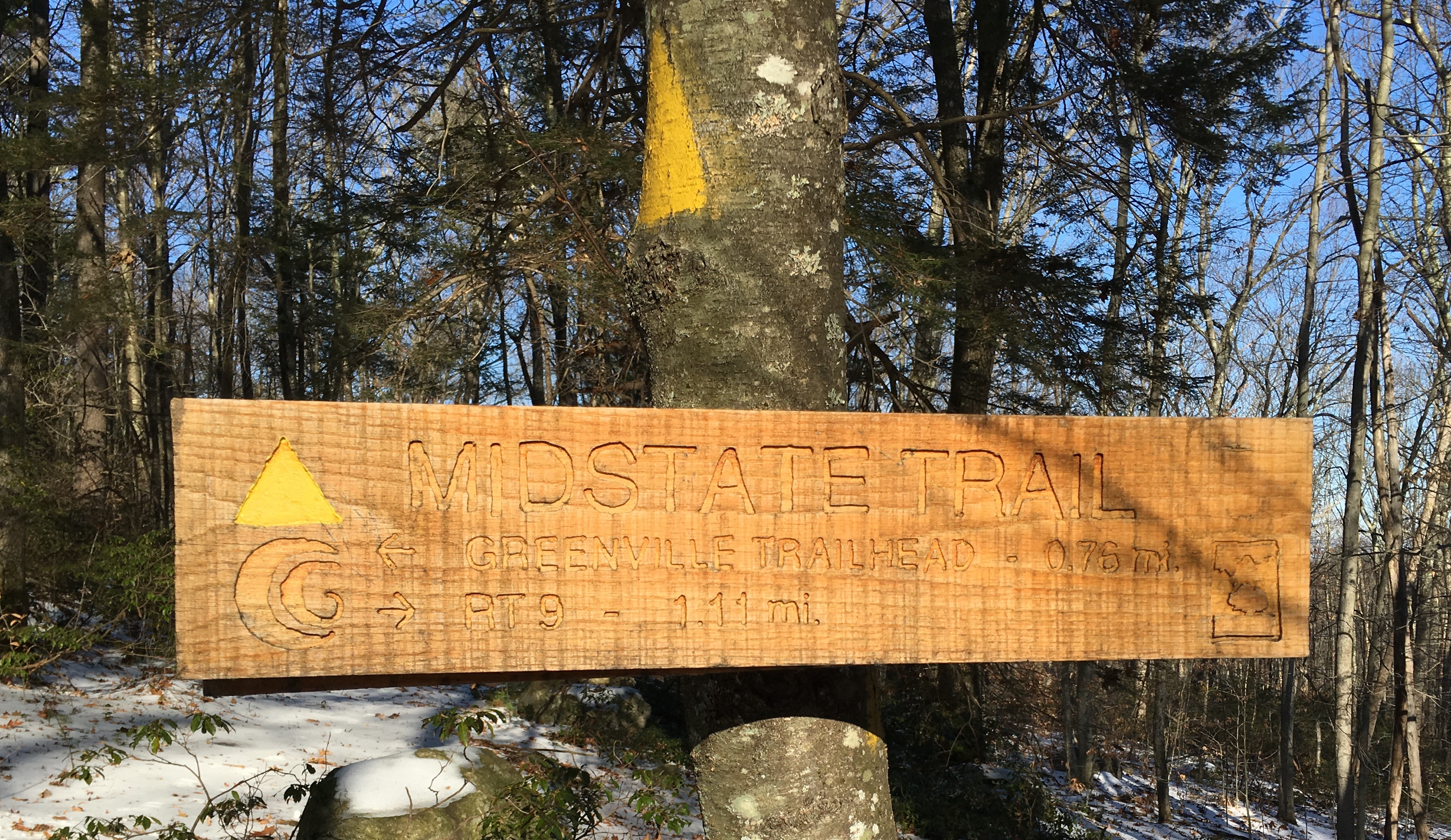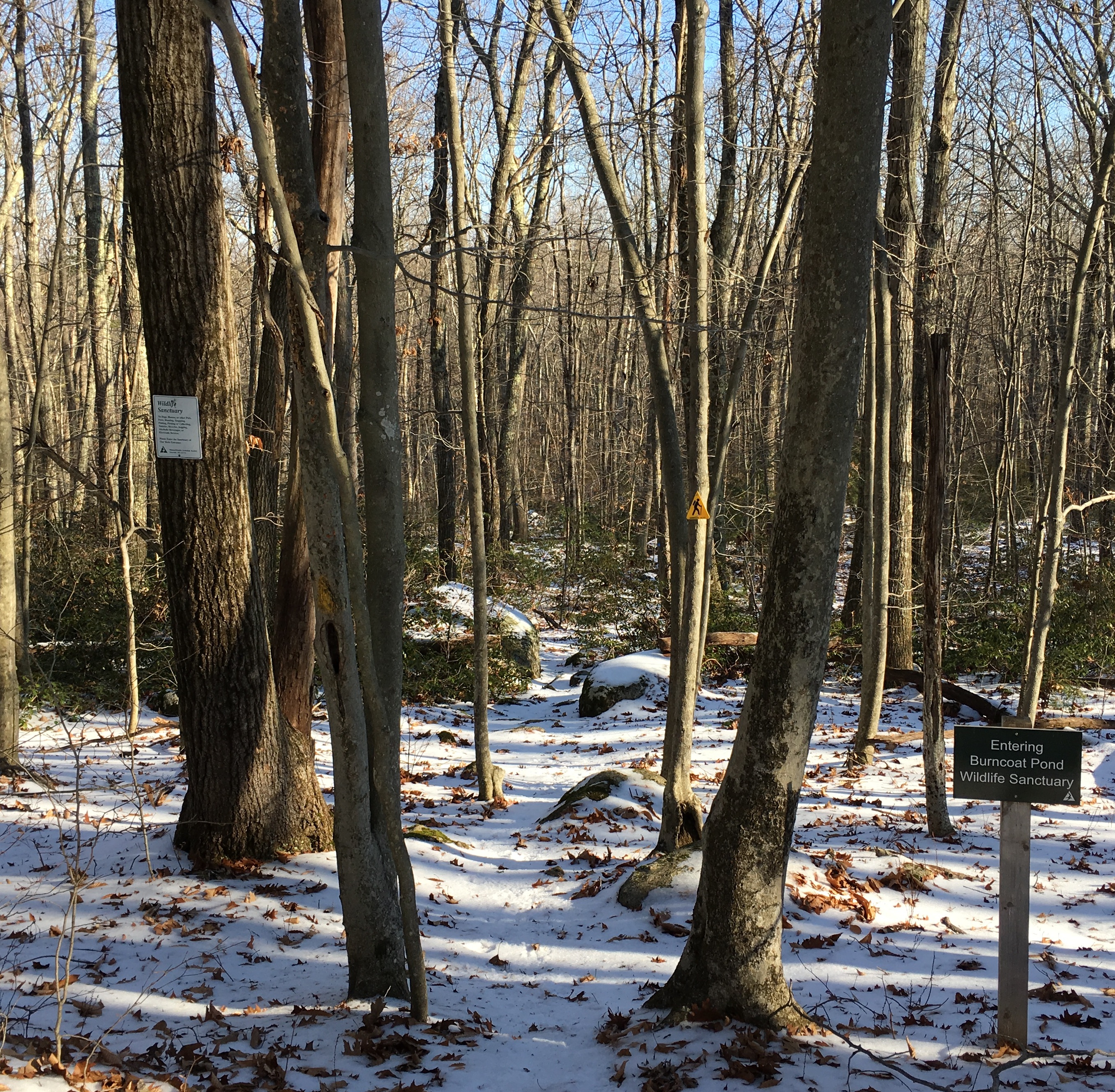 The trail overlaps with the trails on this property at a few points, but still maintains its yellow triangle blazes.  Finding the trail was never difficult. Below you can see two yellow blazes and a blue one, for the same trail.  By this point, as you can see, the signs of human traffic had lessened significantly.
Part of what I like so much about this property is Burncoat Pond, and the beaver ponds and marsh areas that surround it.  There are numerous viewing points out to the water.  It was nice to see the water starting to freeze as the property transitioned to winter.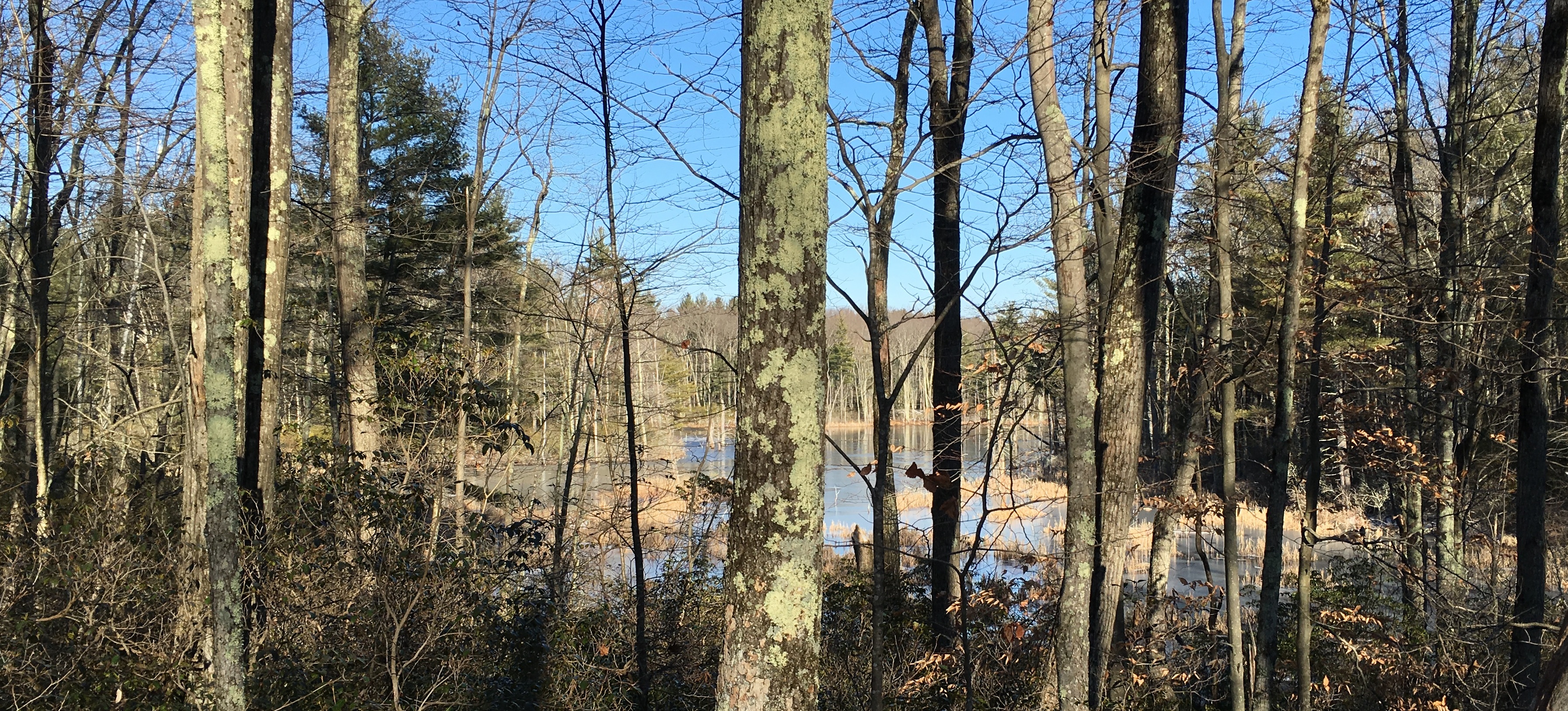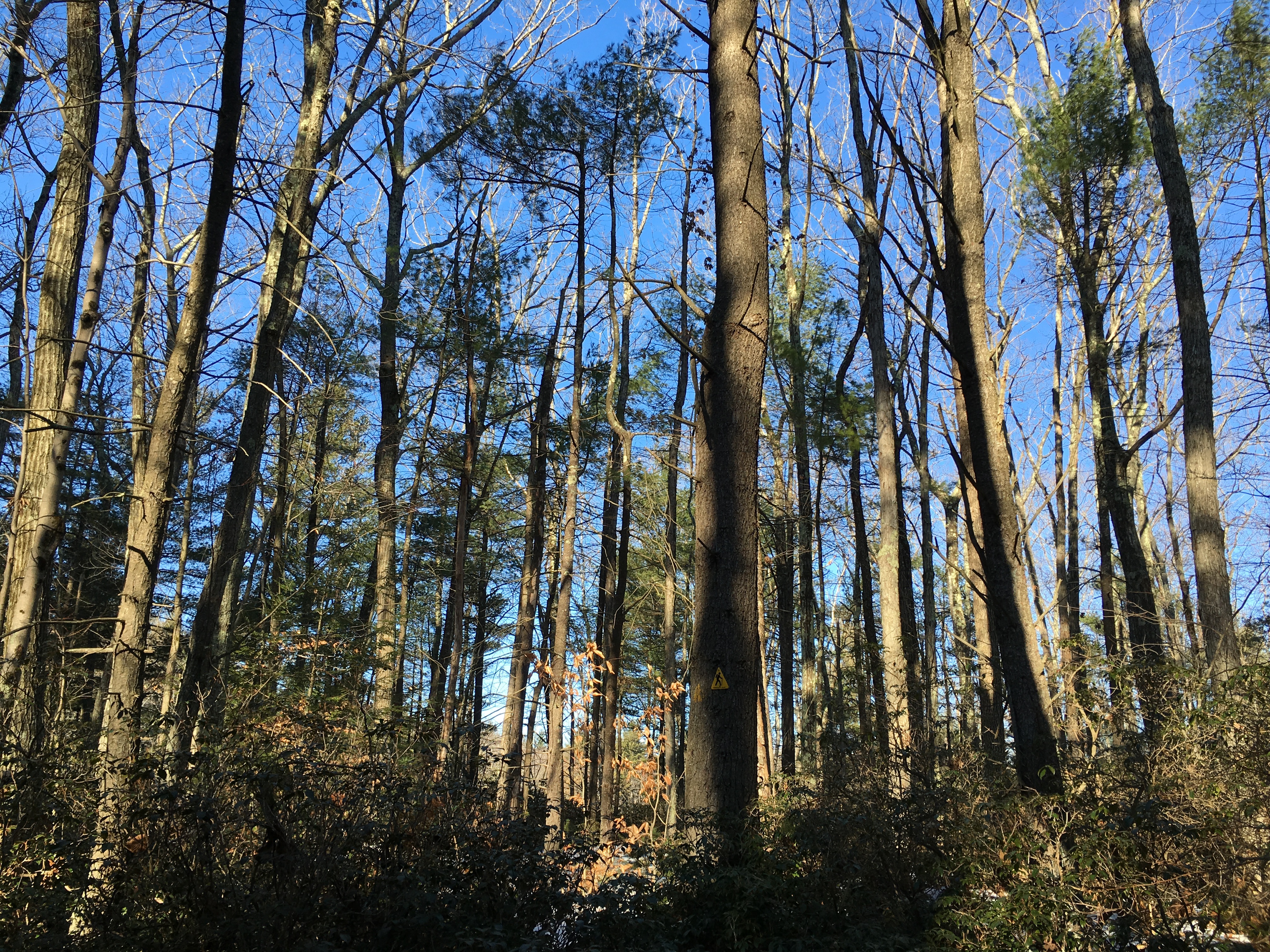 As the trail winds through the wetlands, there are a few areas where you have to travel on bridges to keep out of the muck (or the ice, in this case).  These were in excellent shape, having only recently been replaced (according to the fine folks on the Midstate Trail Facebook Group).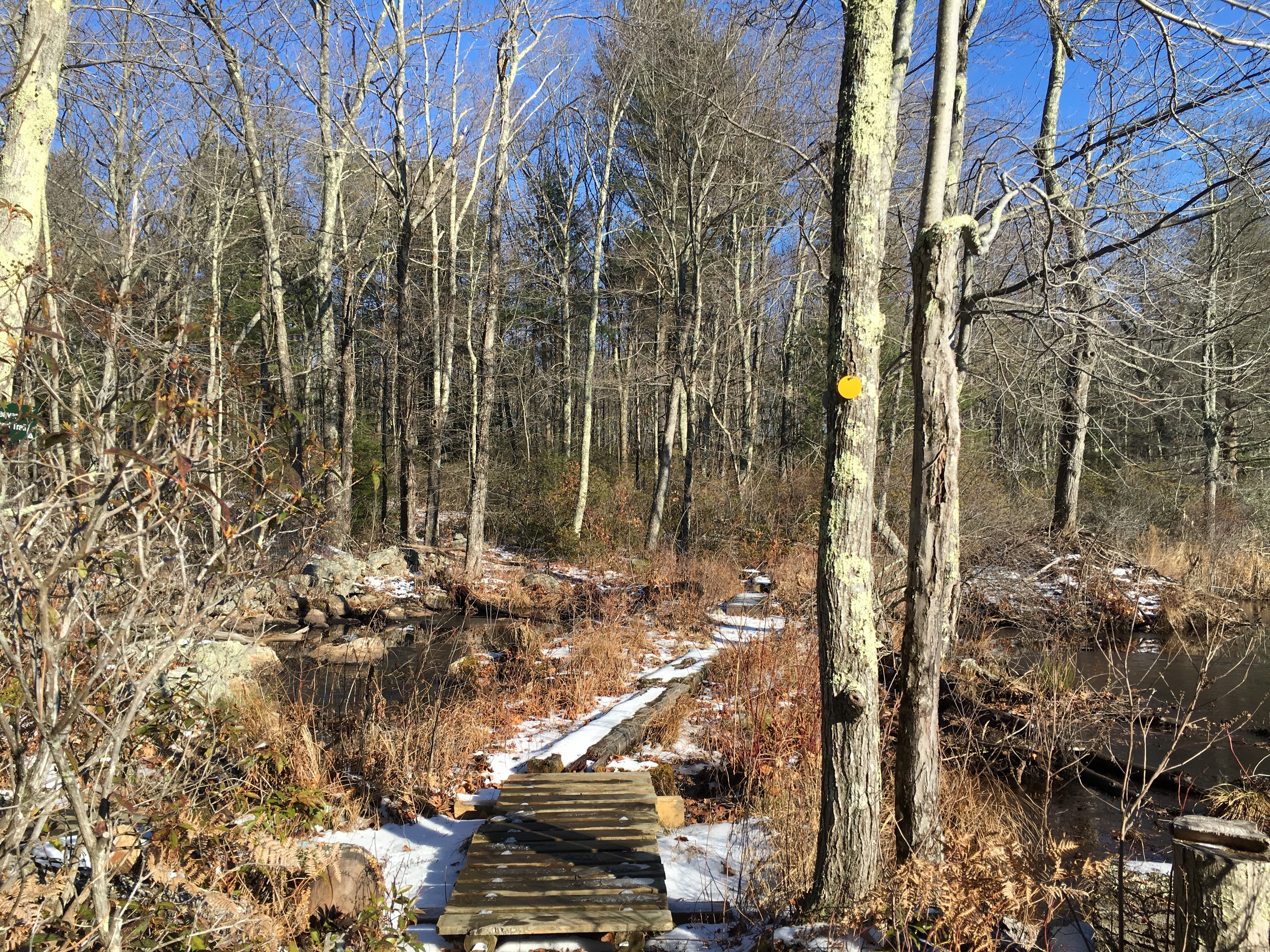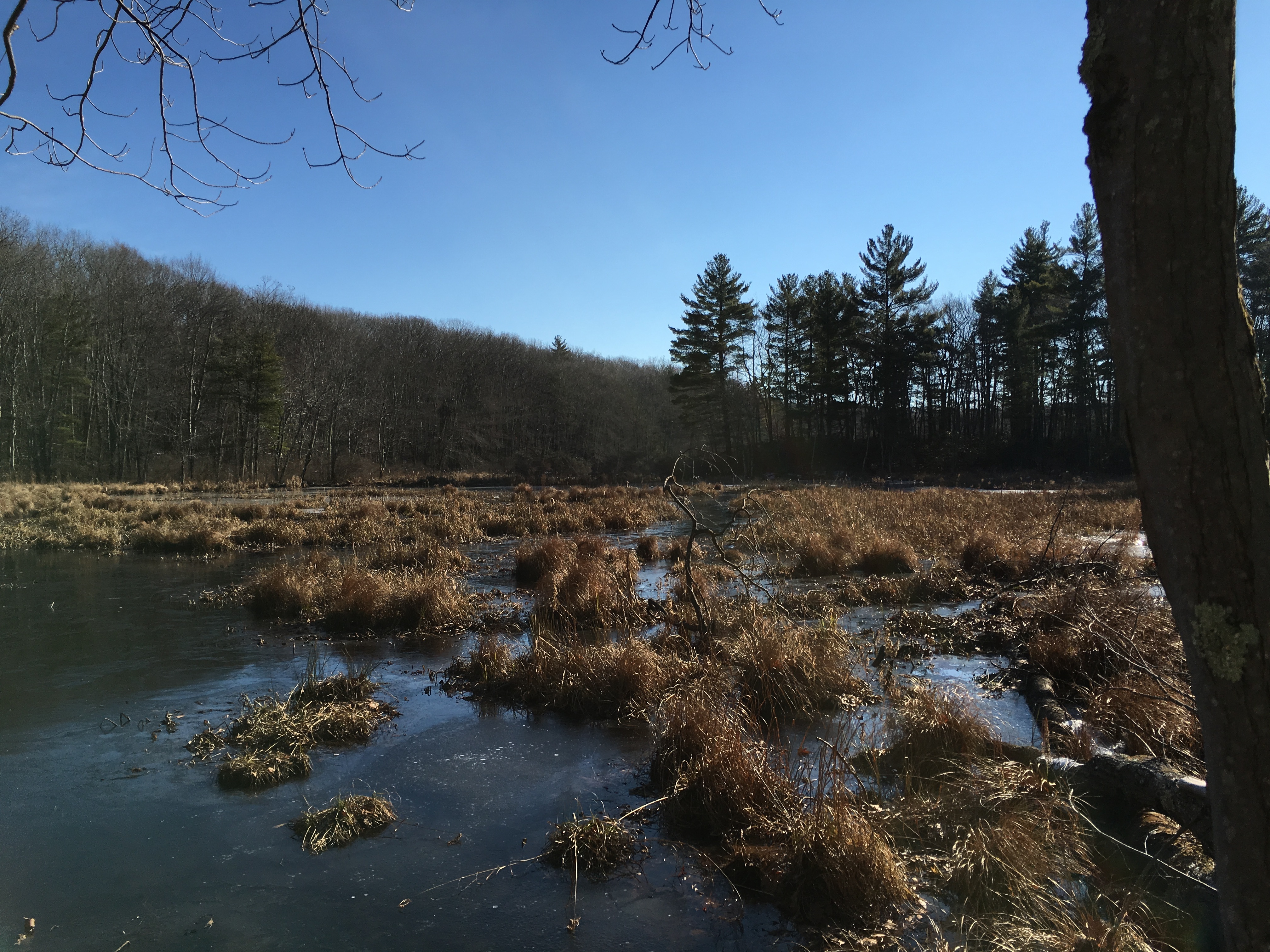 Again, human traffic on the trail was significantly less in this area as compared to closer to the trailhead.
However, animal footprints were becoming more common.  I saw several sets of deer and turkey tracks as well as the usual squirrel tracks. Below you can see some prints as well as what may be like prints from someone wearing crampons (or snowshoes?).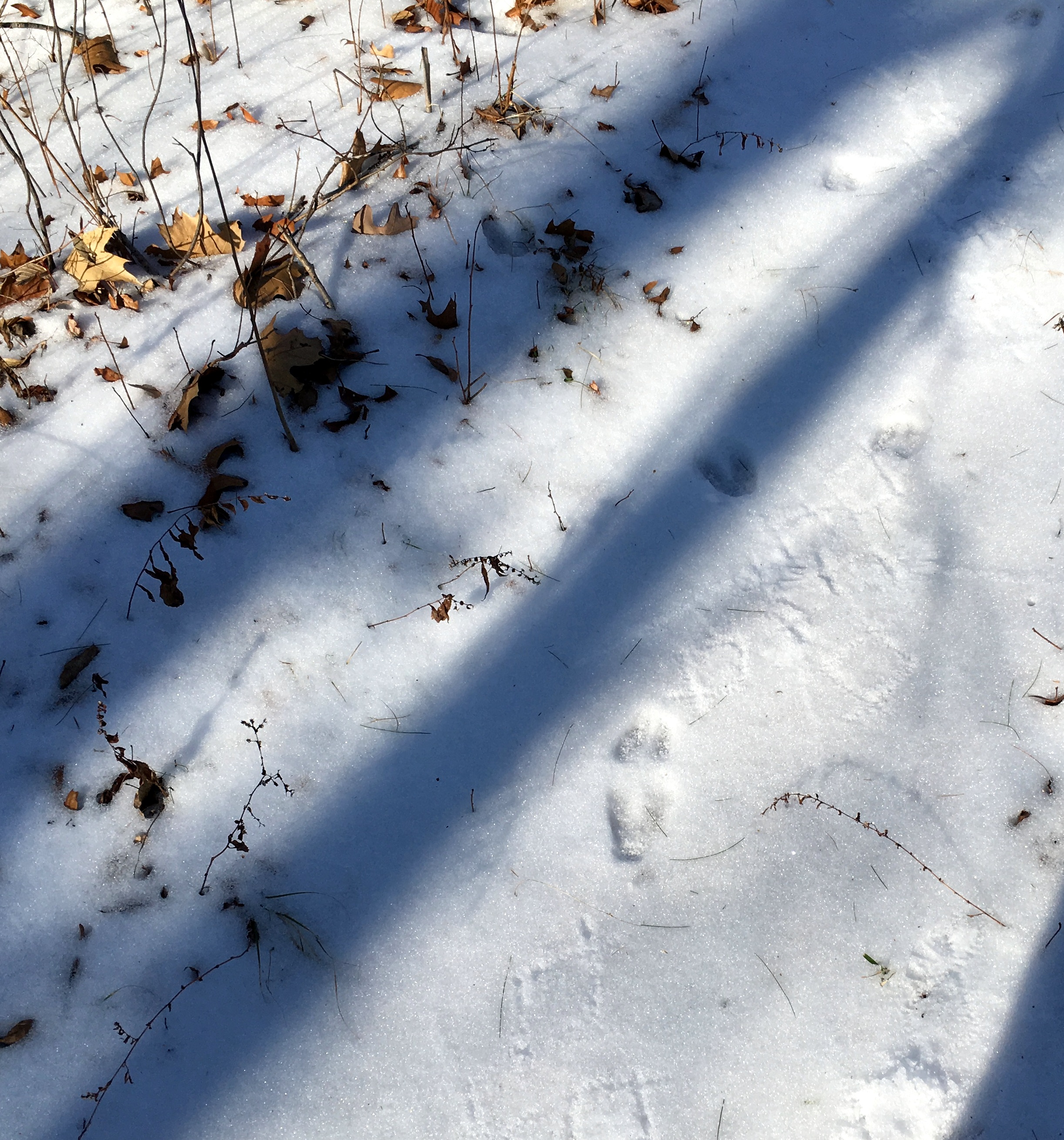 For a while the trail here passes by some private property with many No Trespassing signs on it.  It includes a massive field with No Hunting signs posted periodically — I saw many deer trails headed into this field as well as the property owner's tree stand in one corner.  I imagine this family has a full freezer every year.
I was quickly approaching Route 9, though.  The trail here overlaps with Polar Springs Rd, and there is some roadside parking for those who want to hit the trail starting here.  There was a bench here and an old mostly ruined structure.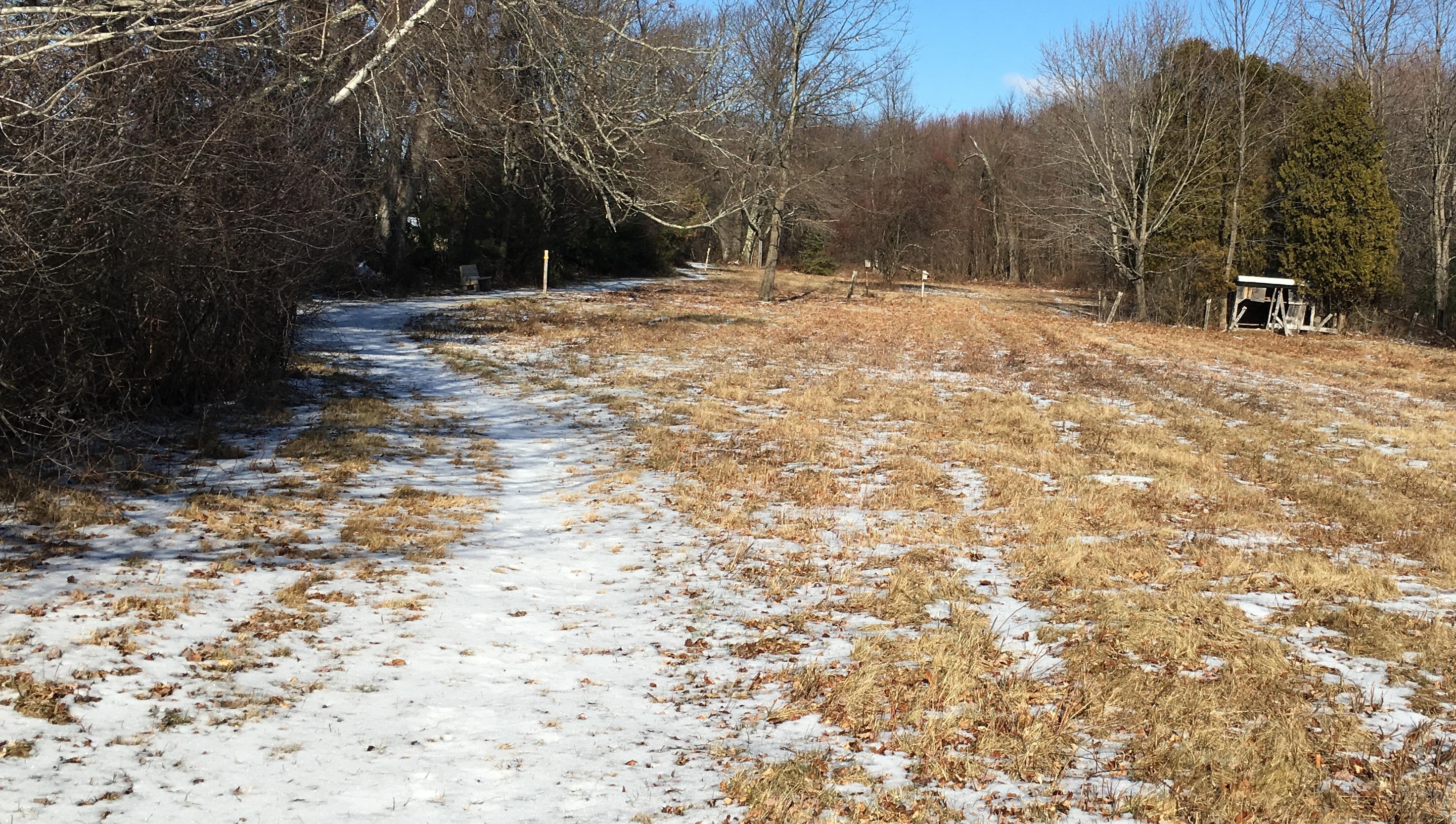 I walked out to Polar Springs Rd and out to Route 9, before turning around.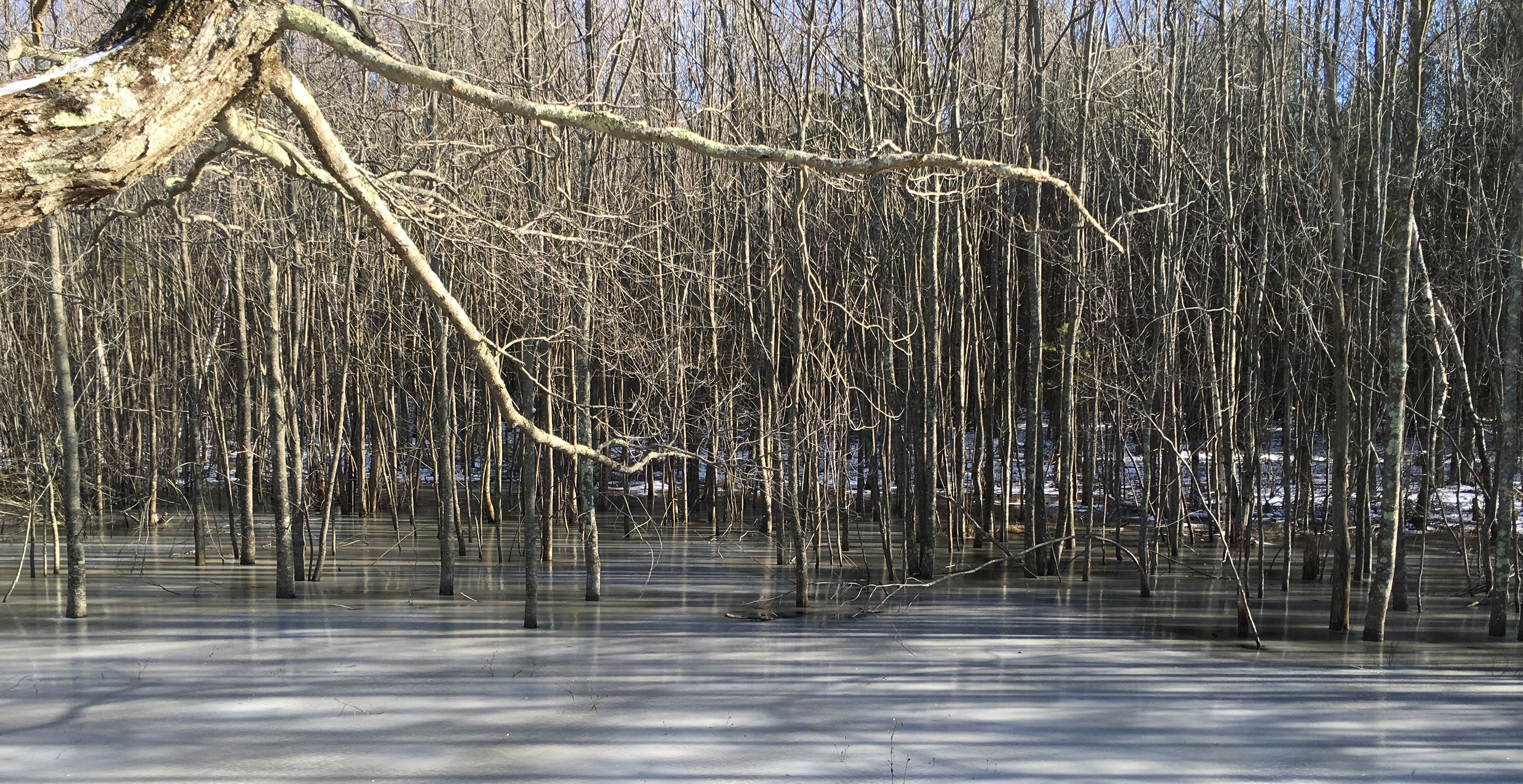 The trip back was mostly the same as the trip out, though my legs were much more tired.  I hadn't been on a serious hike in months and I was feeling it.
There were a couple different spots to see as I took a slightly different path back than I had out.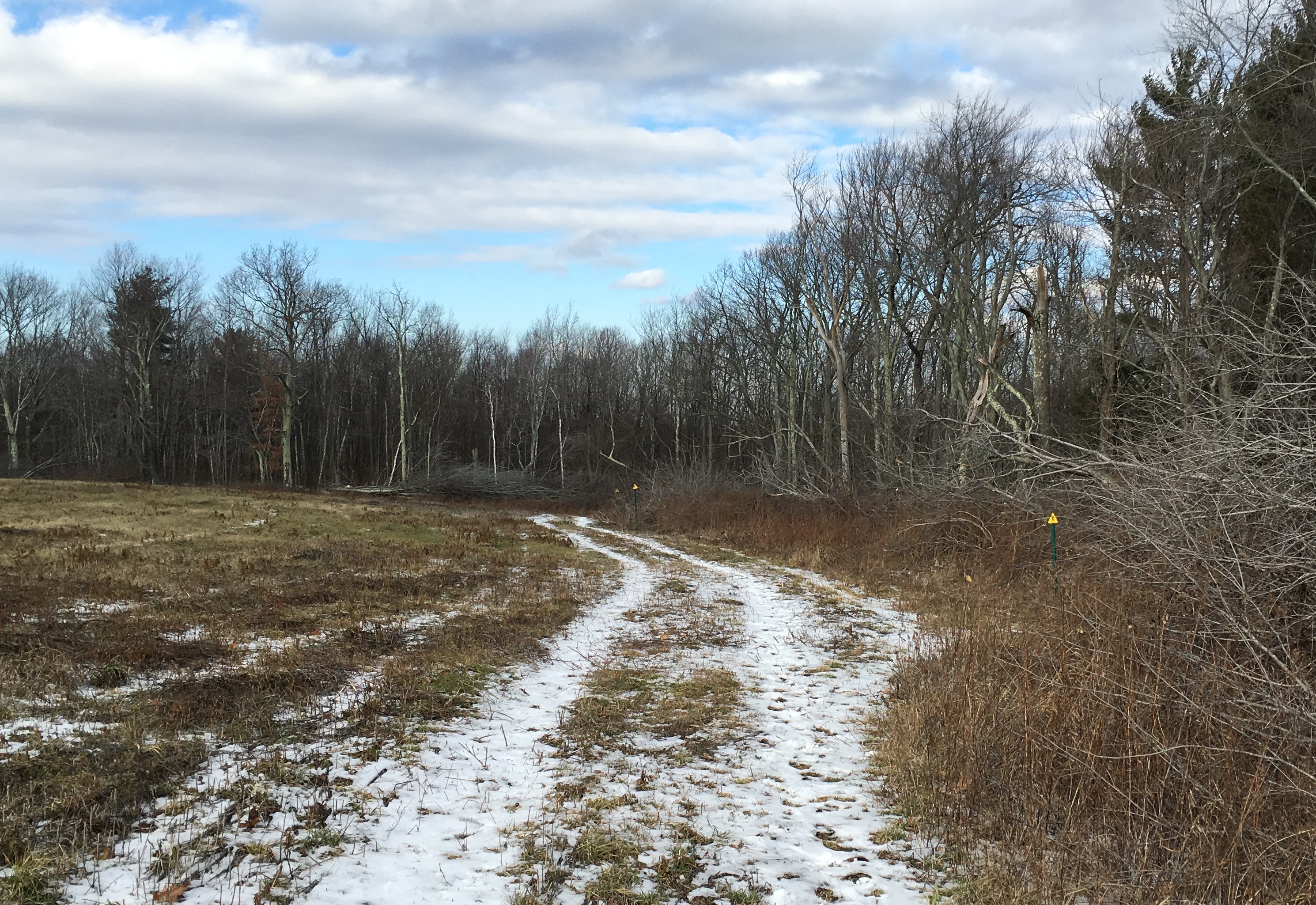 At the end, I had done four miles in two hours, and my legs were complaining loudly.  But it was a great hike and covered a piece of trail I've always wanted to explore.
Some day I want to cover the entire Midstate Trail.  Perhaps some more point explorations of it are in order.