(This is part 3 of a series of posts about our Summer 2018 trip to Europe. The series starts here.)
The high speed train from Milan to Rome took three hours, roughly 9 AM to noon. On this trip, I grew to enjoy the rail connections we took. In almost every case, we had a group of four seats to ourselves. It was a chance to decompress, rest, read, and write. We could absorb whatever we had done already and begin plotting what we would do next. With plenty of space at our seats, room to move around, and hardly any stress at departure or arrival, it was sort of the opposite of air travel. I'm jealous of the rail system they have in Europe. It totally changes the travel equation.
Our hotel in Rome was a Bed & Breakfast in the Monti neighborhood. We chose it because it was walking distance to most of the attractions we wanted to see, convenient to the train station, and was a spacious room for three with a balcony overlooking an interior courtyard for a very reasonable price.
We had some speed bumps getting to the B&B — our walking directions from the train station ignored the easy, direct route, and tried to save us a couple minutes by sending us over winding cobblestone streets which I'm sure were charming but which made for a bit of a struggle pulling our luggage (compact though it was). When we got to the B&B, we had to phone the innkeeper and get the codes for the electronic door (this was our only interaction with the innkeeper — a very different B&B experience than we were used to back home), which took a bit of time and had us a bit worried, but turned out fine.
Once inside, we dropped off our bags and headed out to explore Rome (no particular destination in mind, just pick a road and start walking) and find some lunch.  Somehow we were surprised by the palm trees; they definitely added to the overall feel of the place.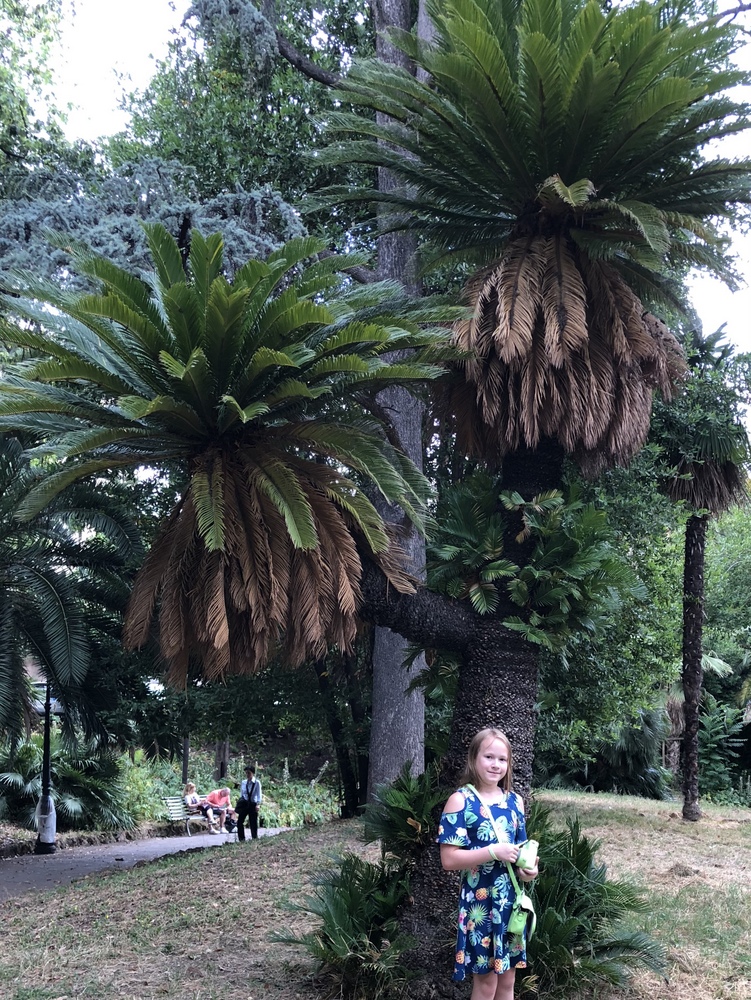 It rained on and off and we took occasional shelter under trees and overhangs (because we hadn't bothered to take the umbrellas provided for us by our innkeeper — oops). We felt a little giddy, to be honest, alone in the massive city that was Rome, able to do whatever we wanted and having no particular destination in mind. We wandered more or less aimlessly, picking random directions at intersections and keeping half an eye open for lunch.
We stumbled into a little cafe along a main road where an English-speaking woman behind the counter helped us navigate the somewhat confusing menu (pick from these refrigerated already-prepared meals, which they'll heat up for you and bring to your table, basically). We picked out some food, and settled in to eat it, watching out the large window as people walked by in the rain. On a giant TV on one wall, a selection of Madonna music videos played. I have no idea why, and it added to the feeling of cultural difference by giving us something familiar and yet out-of-place.
We continued our wanderings (picking up gelato, which you can assume happened multiple times every day, even if I don't mention it) and ended up back at the B&B for a late-afternoon rest. This would actually turn into a recurring pattern on our trip — by taking a little break before dinner, we made sure we were ready for the later evenings in Italy. Nobody was overtired or overwhelmed, Evie could text her friends back home, and we could assess our evening plans together.
With umbrellas in hand this time, we headed back out and threw the customary coins into Trevi Fountain. I expected it to be a mobbed tourist scene, and it was packed with people, but it still felt magical and beautiful.
Even as crowded as it was, we could slip off to the side and admire the fountain while people vied for prime picture-taking spots at the front. In its own way, the fountain was peaceful and calming, even in the midst of the chaos of the tourist mob.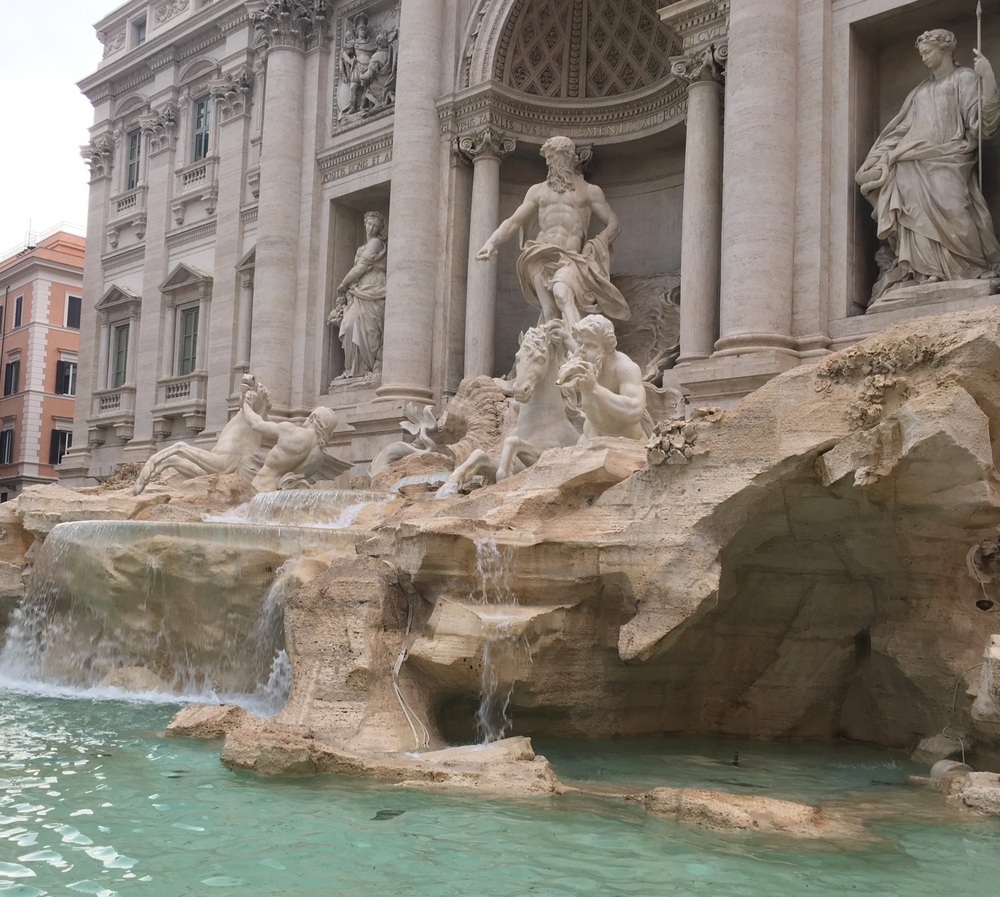 We went from there to the Spanish Steps, and had a similar experience.
We got "suckered" into buying roses from one of the many folks working the crowd, but while I'm sure we overpaid for them (and tossed them in the trash shortly afterward) they made great photo props and I don't regret it.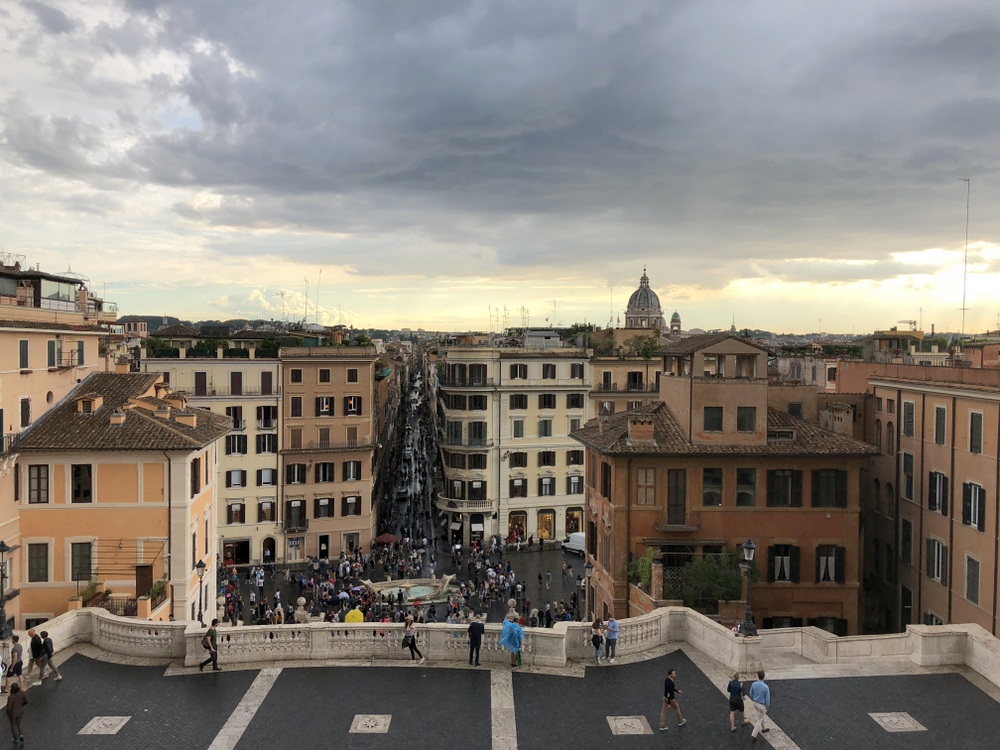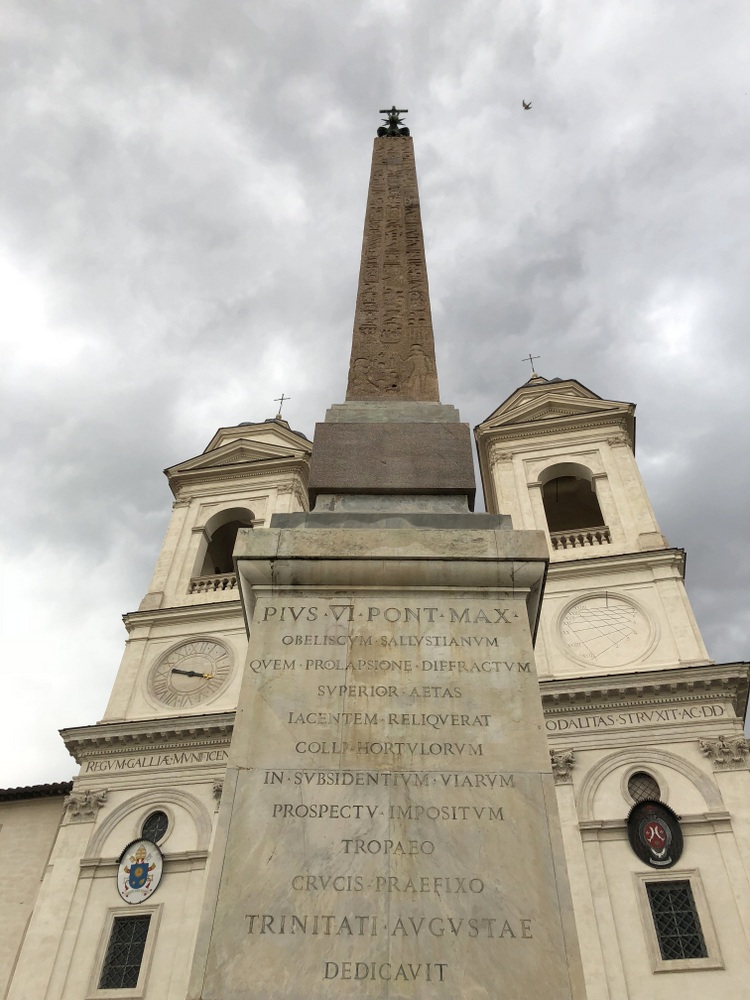 Rome is an amazing city, massive yet full of art and life. The main roads are chaotic and loud, full of cars and scooters and ambulances and police, but the side streets are often empty and silent, many pedestrian-only and paved with ancient cobblestone.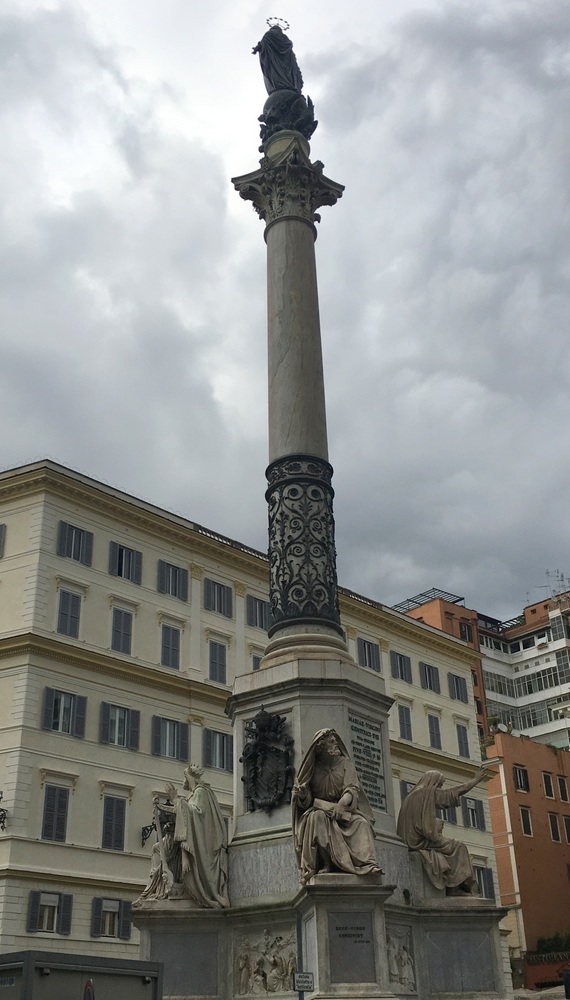 As we walked, we would round a corner and stumble onto an old fountain, or an obelisk, a statue, or a church older than our country.
This is a city steeped in history the likes of which we can only imagine in the US, and yet has all the hustle of a modern national capital.
We had dinner at a fairly nondescript place near our hotel, and slept well in our quiet B&B room (we had not yet met another person there).
At breakfast we finally met the housekeeper, a wonderfully charming woman who spoke almost no English (to match our almost no Italian) but was quite hospitable and friendly nonetheless. From there we walked to the Colosseum for our four-hour tour. It was the only tour we had booked in advance, and covered the Colosseum, Palatine Hill, and the Roman Forum.
I apologize for the abundance of pictures from this tour; trust me, I could have posted more.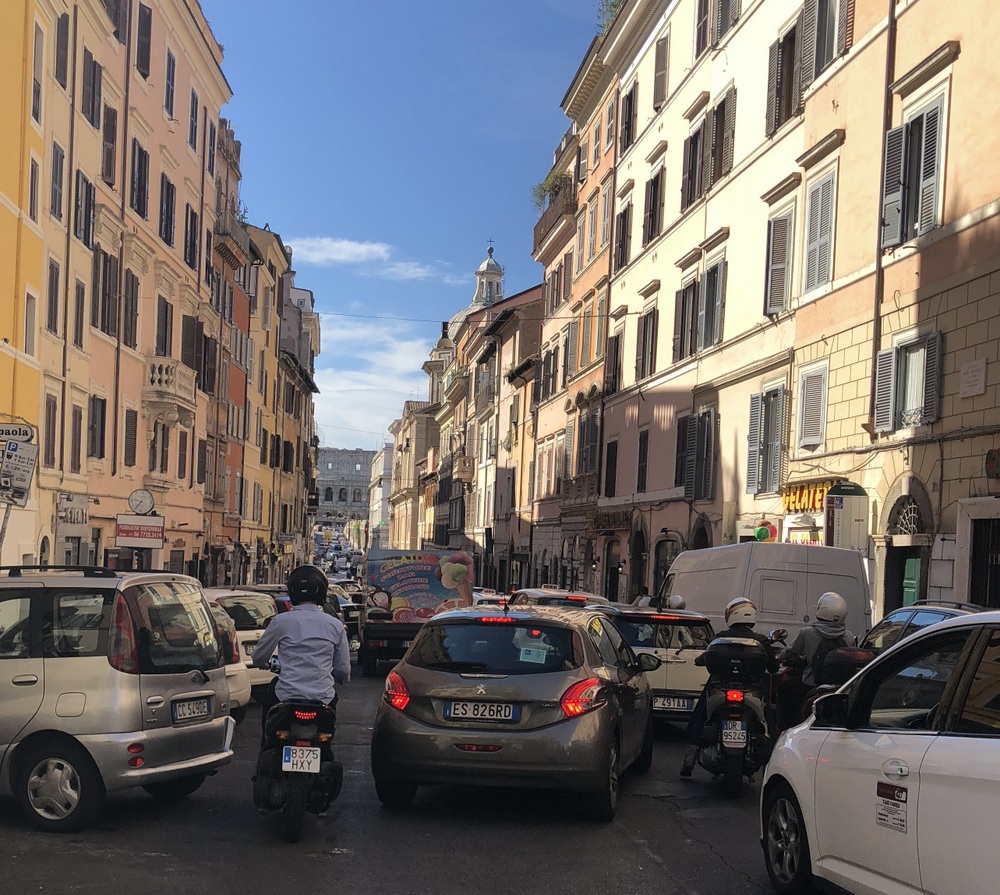 The sun was beating down on us, but we were well hydrated. We walked all around, over, and through the ruins, receiving an excellent education by a local guide.
This was a big splurge for us and it was well worth it (even if somehow, we forgot it was a four-hour tour at 10 AM which meant Evie was getting hangry right when the tour peaked).
We paid extra for a tour that went underground in the Colosseum; I'm glad we did, but for me personally, the Colosseum was less amazing than Palatine Hill and the Forum.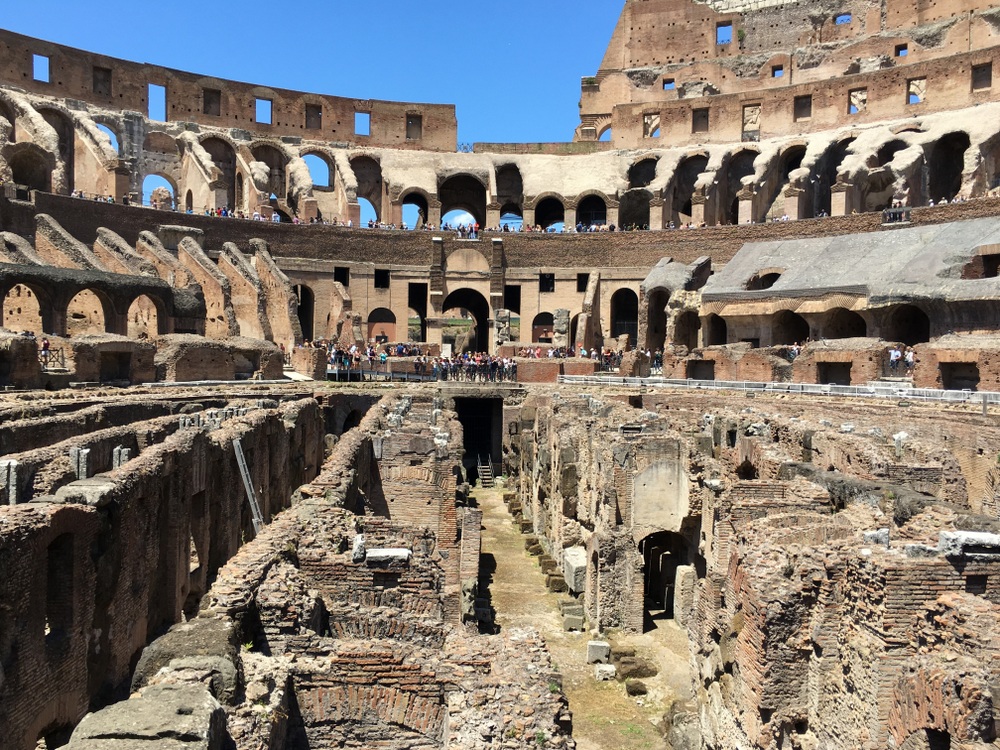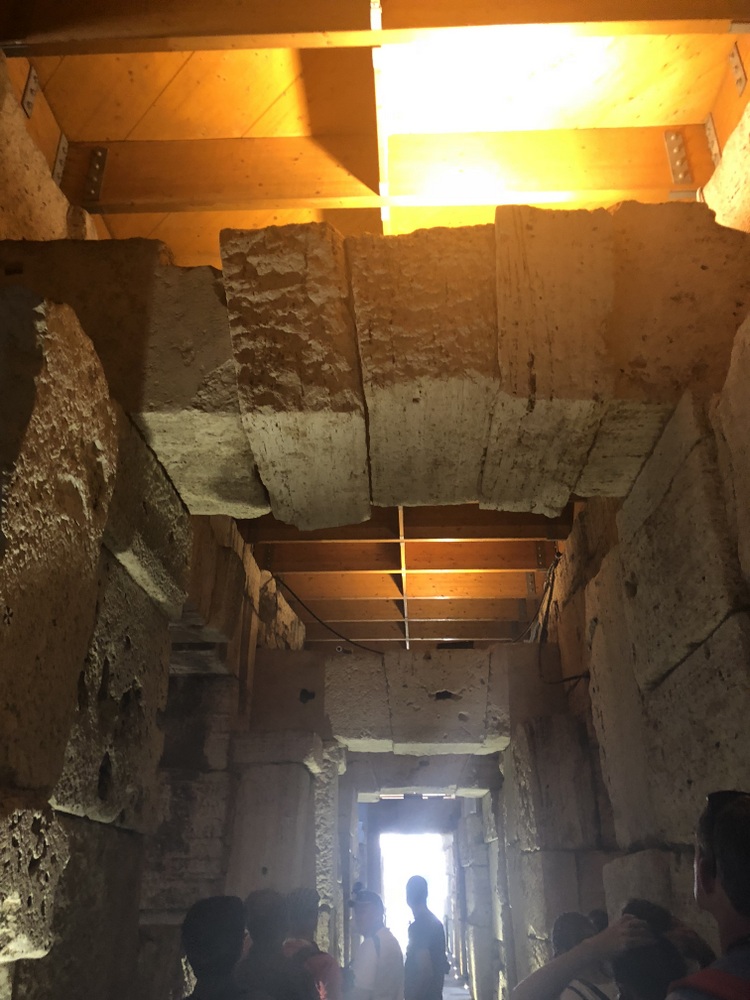 The sense of history, of these peoples from around this region who picked this spot to settle, put aside their differences, and build a city that helped define Western civilization for thousands of years, is something incredible.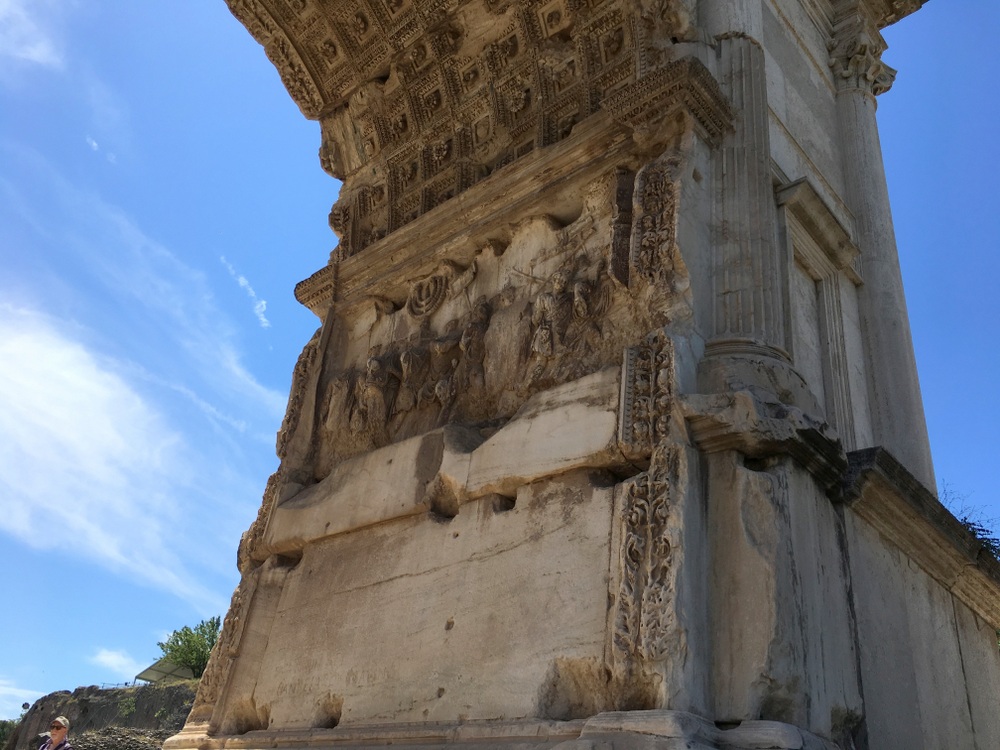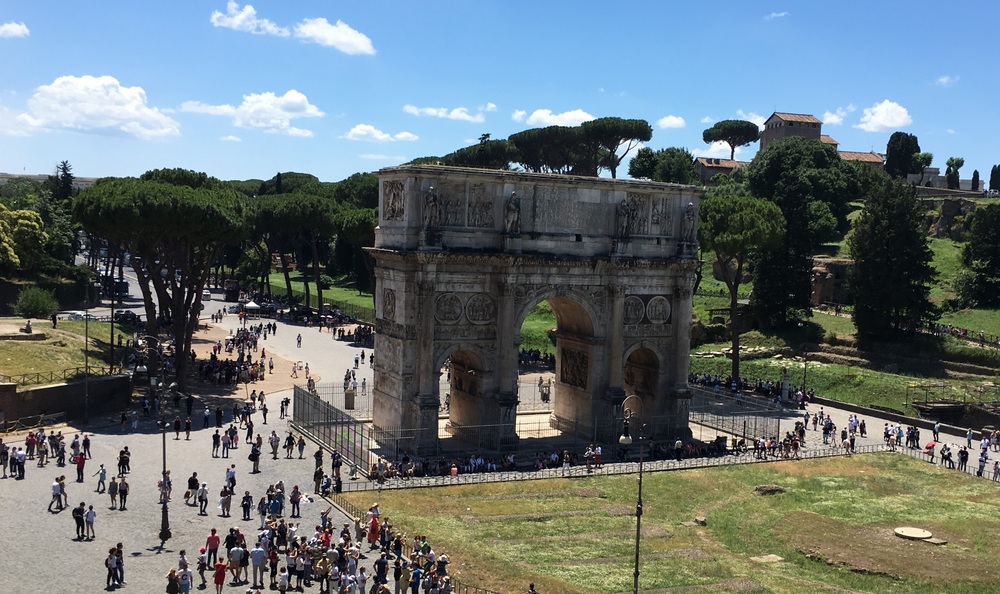 Match that with the incredible views, the impressive umbrella pines, the summertime smells of wildflowers; I could have spent the whole day outdoors at these ruins.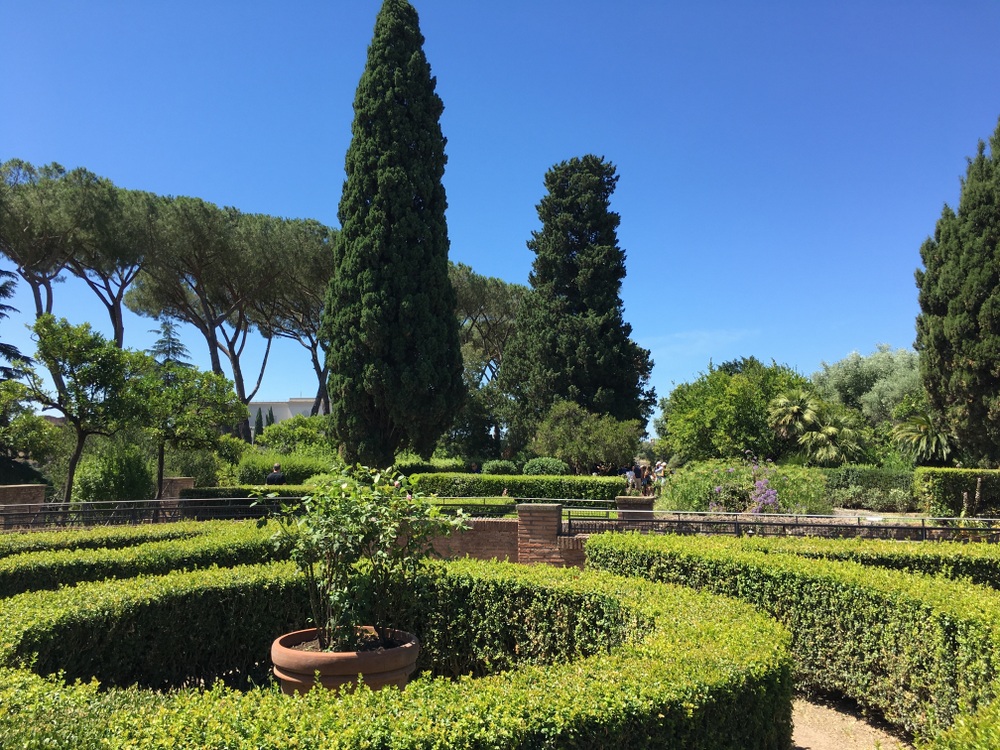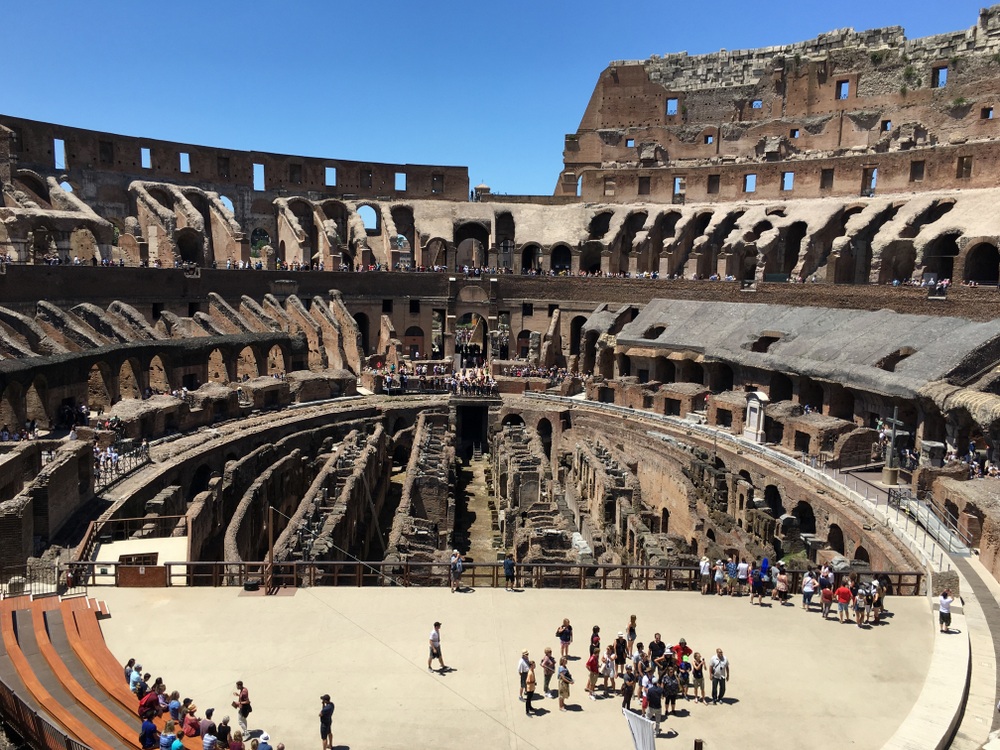 After the tour we had a late lunch at a hamburger/pizza place and then got some rest back at our B&B before going for an early evening walk.
We ended up at the Fountain of the Naiads, a spectacular sight not far from the train station.
We wandered more, and ended up having a somewhat ordinary dinner sitting outside at a restaurant with a view of the Colosseum. I wish we had spent more energy finding good food in Rome. Every meal we ate was fine, but I know there's excellent food to be had in Rome, and we didn't really find it. That said, we enjoyed eating outdoors and watching the city.
We had time to kill the next morning before our train left, so we took another walk in a new direction.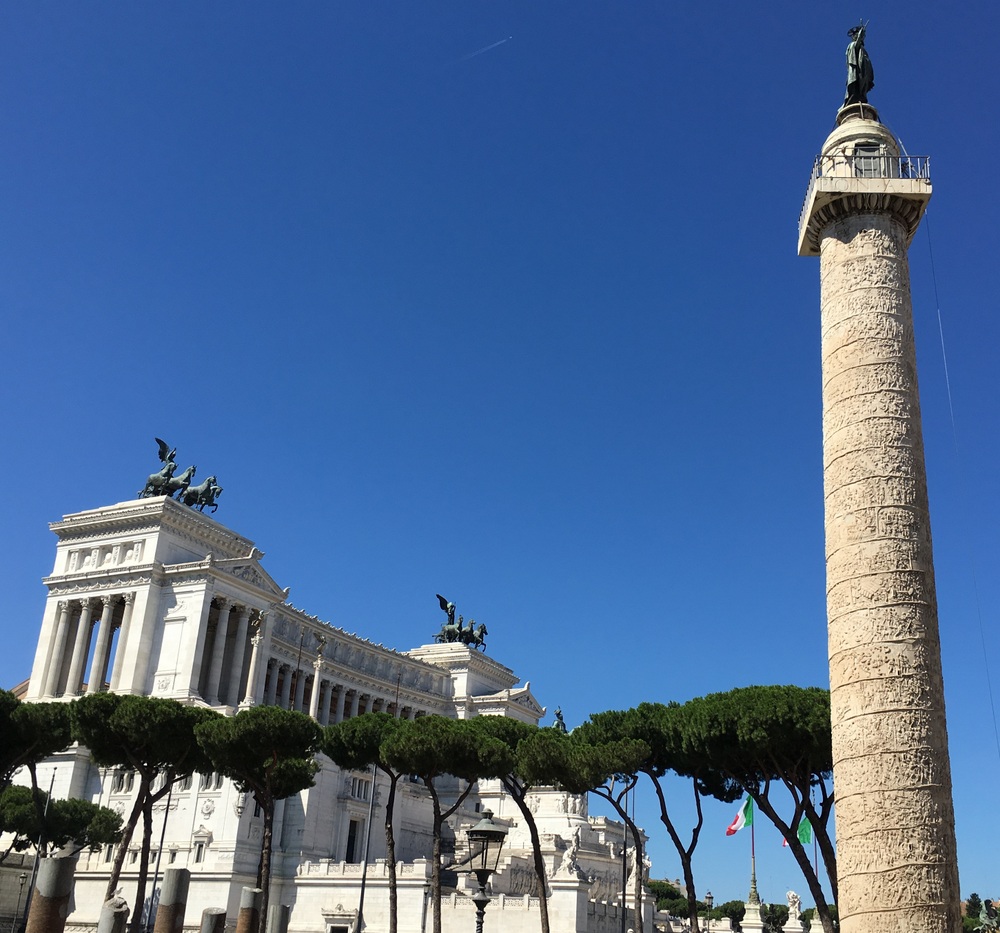 We visited Piazza Navona and had some more of that quintessential postcard Rome experience.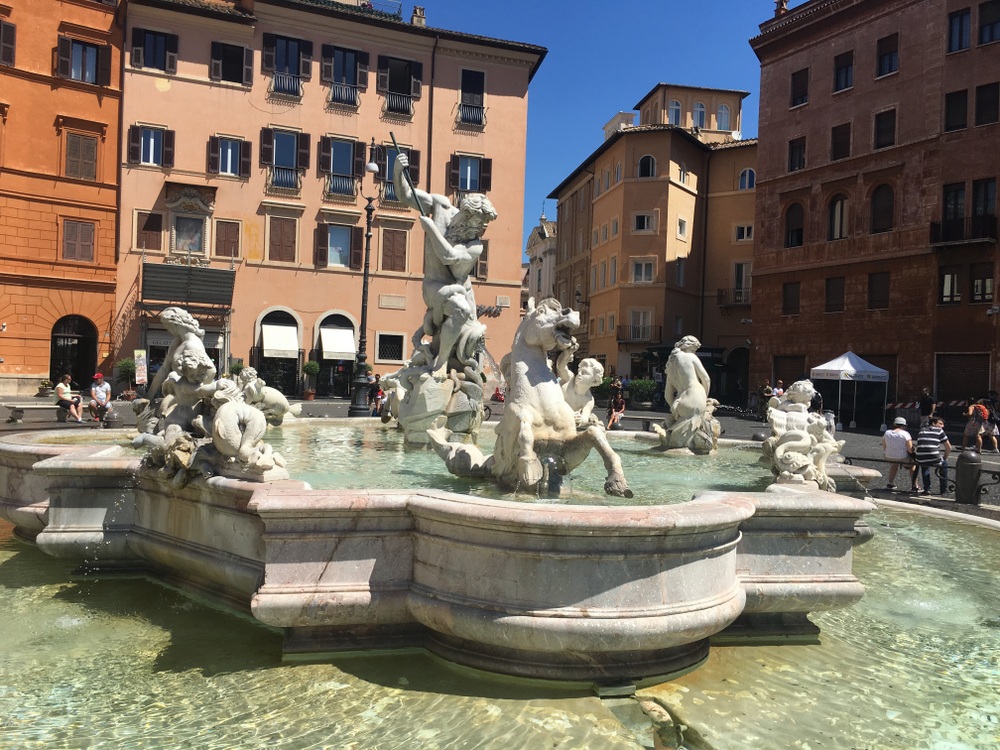 We visited a cat shelter we had learned about online, where (some of) the city's famous population of stray cats is taken in, spayed or neutered, and given medical care before either being adopted out or simply given a good place to live out their remaining days.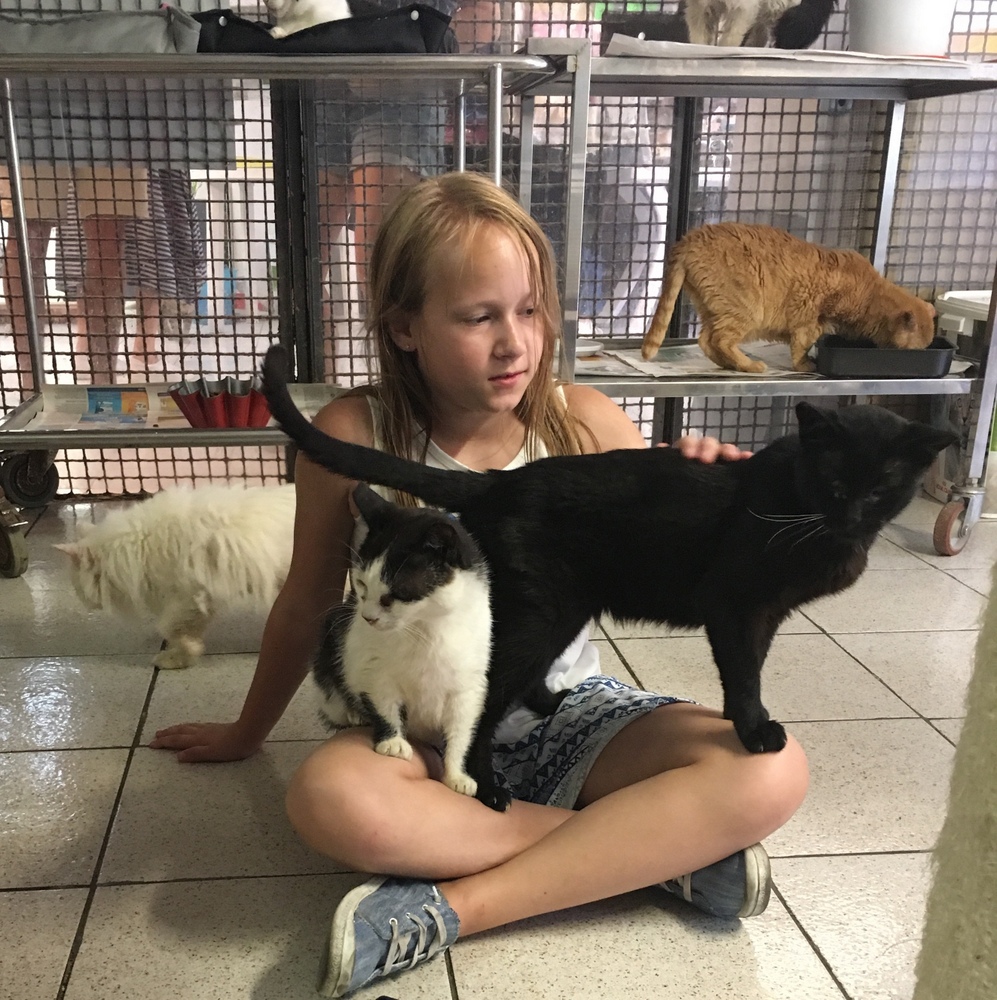 We also walked past the Pantheon but didn't go in; the crowds were getting massive at this point.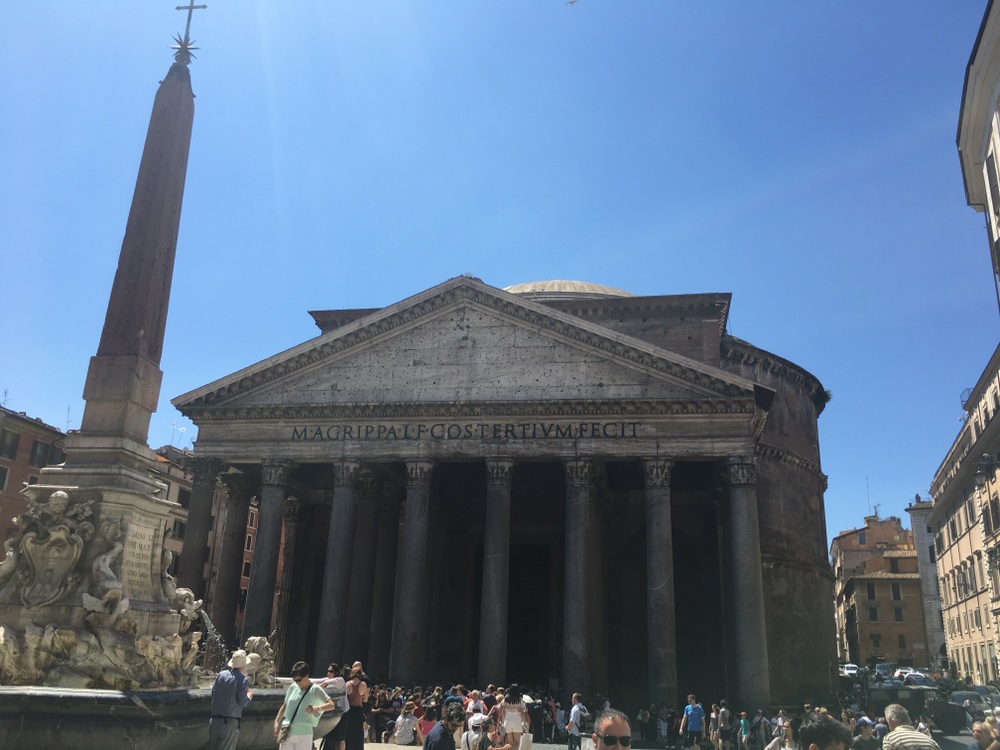 Our tour guide the day prior had suggested it might be this way due to cruise ship crowds — from all I've read and seen, cruise ships have really changed the character of tourism in Italy (everywhere, really, I'm sure). And it's not just cruise ships. In general, as the economies of the world develop and their borders open up, people want to see the world. With the Internet, there are fewer "best kept secrets." Crowds are a fact of life, and finding ways to savor the real flavor of a place becomes a new challenge.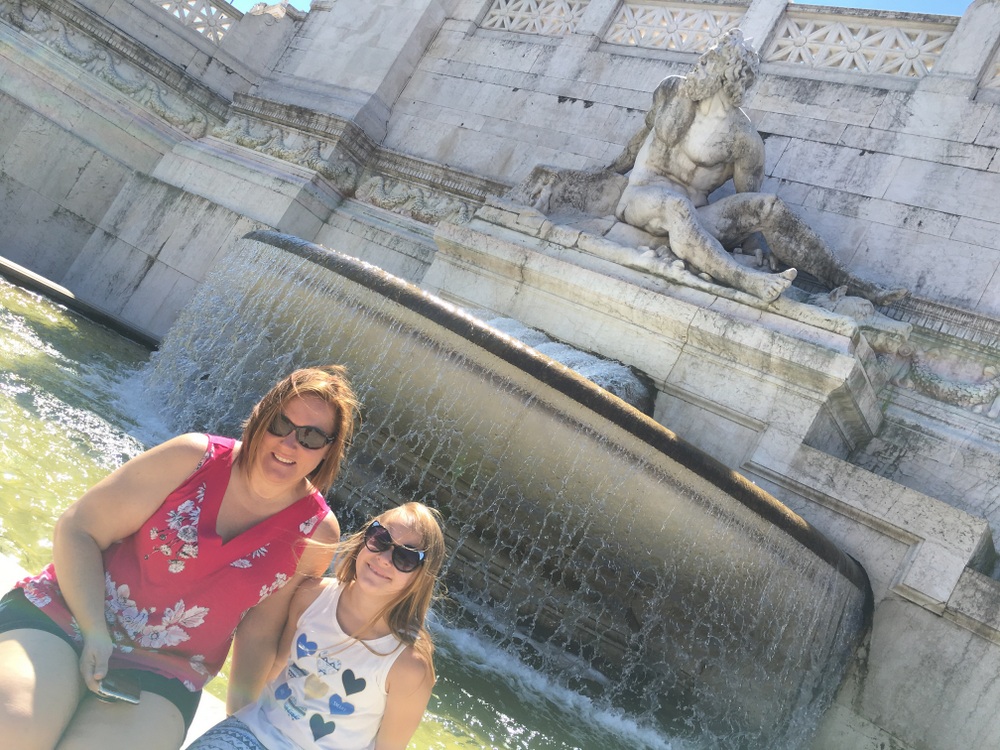 I can't possibly write about everything we saw or felt in Rome. It's a massive city, with beautiful surprises around every corner. There's a small population of wild parakeets near one building that we watched for a while, for example.There are drinking water fountains everywhere so you can refill your water bottle.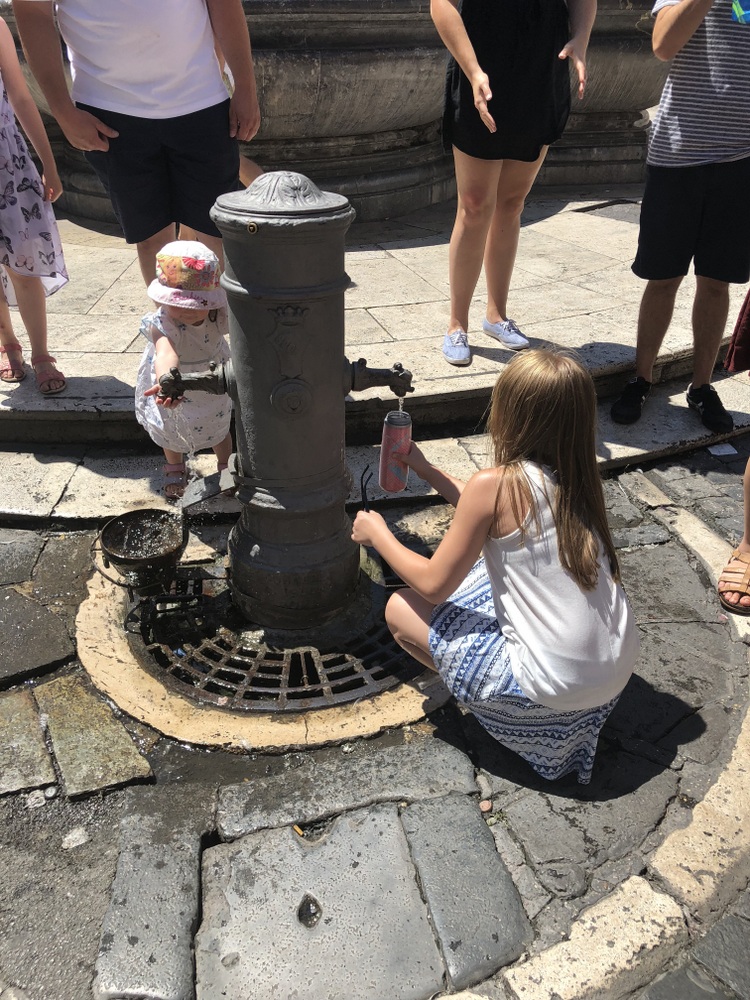 The official buildings of the city are immense works of art themselves. Statues, fountains, plazas, and views frequently make you pause and stare for no good reason.
It's also a bustling European capital, with traffic, crowds, noisy streets and police-escorted motorcades right out of a Jason Bourne movie.
We were both enchanted and exhausted — and we didn't even visit vast stretches of the city, including any of the Vatican.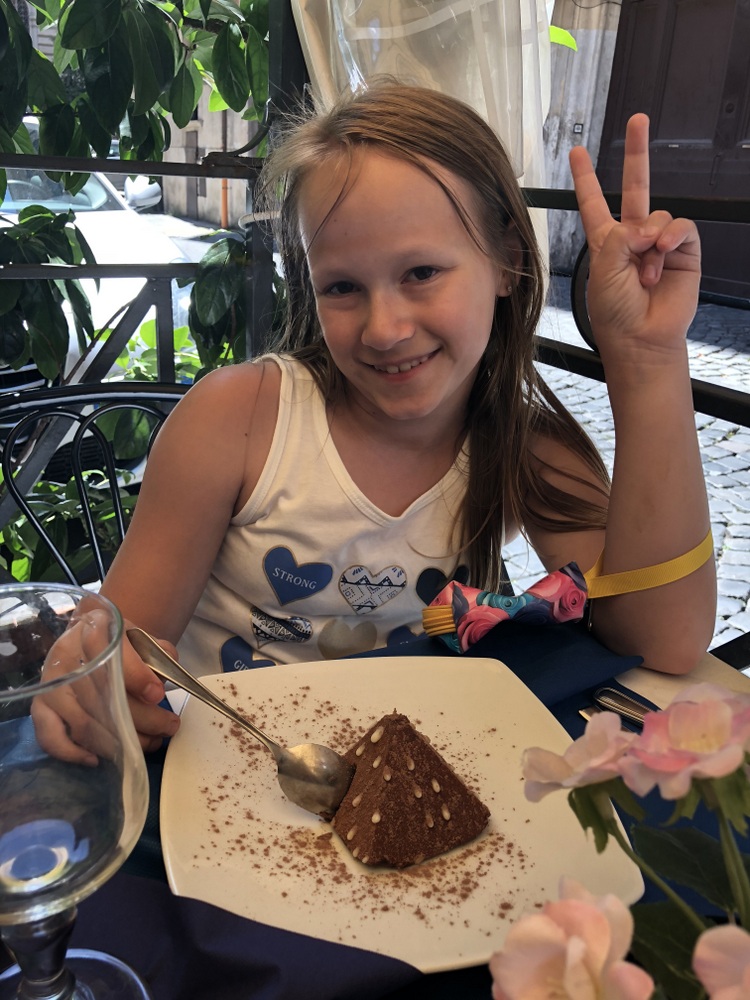 Our time in Rome was at an end, though. We had lunch on our way to the train station, and boarded an afternoon train to Orvieto, where we would experience a complete context change.