(This is part 5 of a series of posts about our Summer 2018 trip to Europe. The series starts here.)
We departed Orvieto via train for Florence in the early afternoon, about a two-and-a-half hour trip. The rural countryside slowly evolved into the city sprawl around Florence, and we changed trains outside town at the Rifredi rail station before arriving at the Santa Maria Novella station. We were seasoned travelers at this point, navigating the changing trains without much stress at all, though we did see the only real sketchy behavior of our trip out of an obviously drunk guy on a nearby platform who kept hitting a vending machine trying to get food to fall out of it.  Train stations attract a certain type of individual, even in exotic Firenze.
Now, I'm going to be honest here: I was prepared to be underwhelmed by Florence. We are not big art fans, and we were not going to visit the Uffizi or the Galleria. But multiple people whose opinions I strongly trust said Florence was amazing, and it had the advantage of being close to Pisa, which Evie was dead-set on visiting. And, I'm so grateful that we took their advice. Florence really came to us at the perfect time; we had our city skills and senses honed by Rome, and we were fully relaxed from our time in Orvieto.
It helped that we ended up in a great hotel — the Hotel David, on the opposite side of the Arno River from the busy downtown. They're a small, family-run business, and deserve every one of their 2600+ five-star reviews on TripAdvisor. We felt welcomed at every turn, and enjoyed the generous breakfasts and happy hours, included in the nightly room rate. If you find yourself in Florence, tell them "David" sent you!
Our first night in Florence, we stayed close to the hotel, instead of venturing into the city proper. We enjoyed the appertivo (happy hour, basically) at the hotel, with wine, beer, and snacks outdoors with other guests.
The hotel was small enough that we felt comfortable leaving Evie in the room (where she could chat with her friends over the free wifi) while we sat outside reflecting on our journey and planning ahead. We did this both nights and it was part of what made the hotel great.
That night we had dinner at a place recommended by TripAdvisor, a "concept restaurant" in the back of a clothing store.The menu was even printed on a shirt!
My food was good, but Jess's was amazing — especially her appetizer: toasted bread slices with pistachio, honey, Gorgonzola cheese, and celery. A strange combination, but she still talks about it.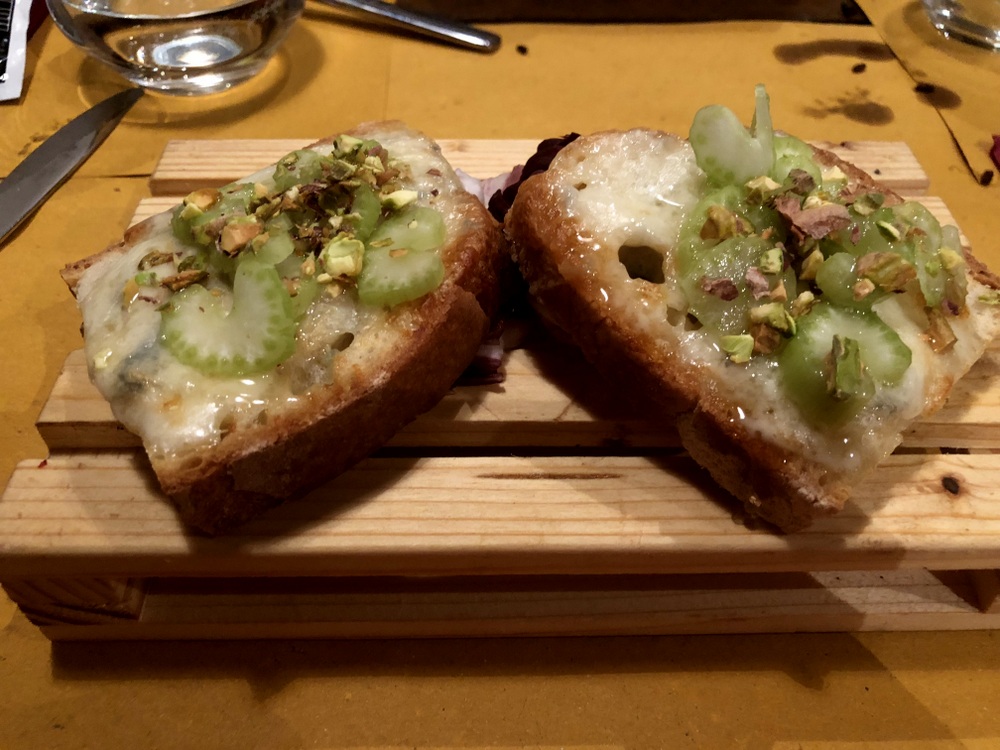 Walking back to our hotel, we saw the sun setting over the Arno River and had to stop at a bridge and stare. It felt magical, and I couldn't want to get across that river the next day and explore everything.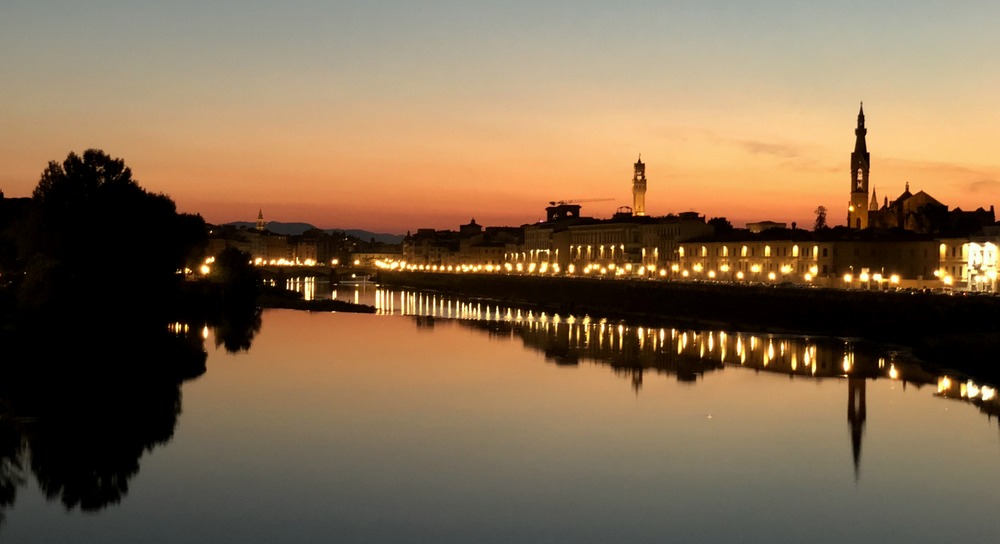 Florence felt completely different from Rome. Rome is sprawling and massive and full of surprises. In Florence, it felt like we always had the context of either the River or the Duomo at all times; it's compact and beautiful, and absolutely manageable on foot (although we did take a shuttle bus from our hotel into the city each day, it would have been walkable).
We started our day of exploration at Ponte Vecchio, and took everything as it came. We had no set agenda — we visited gelato places recommended by the waiter at the hotel, Jess shopped for a pocketbook, we stood around in awe at plazas full of statues, we walked around the Duomo and admired it from all angles. We had a delicious lunch at a little sandwich place, made with local meats and spreads you wouldn't find back home.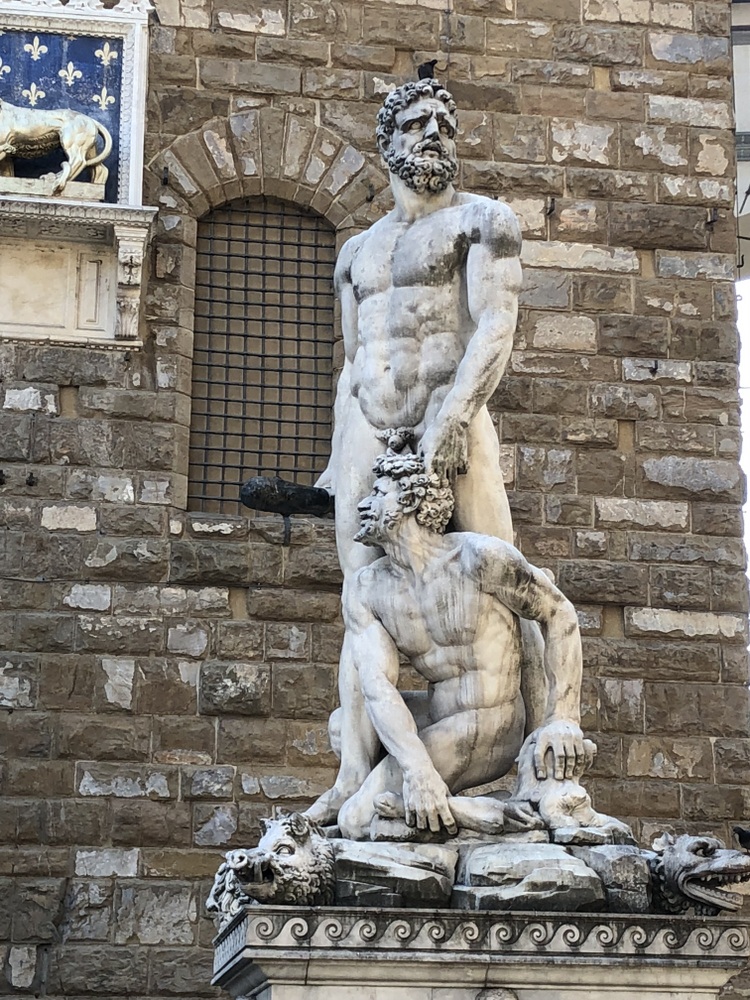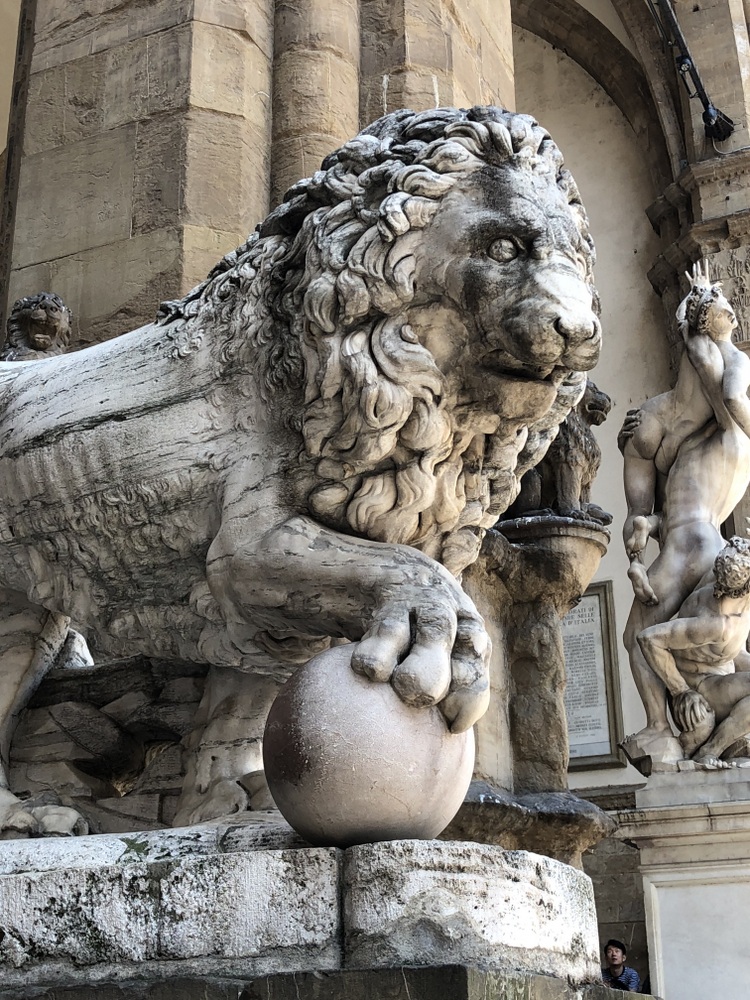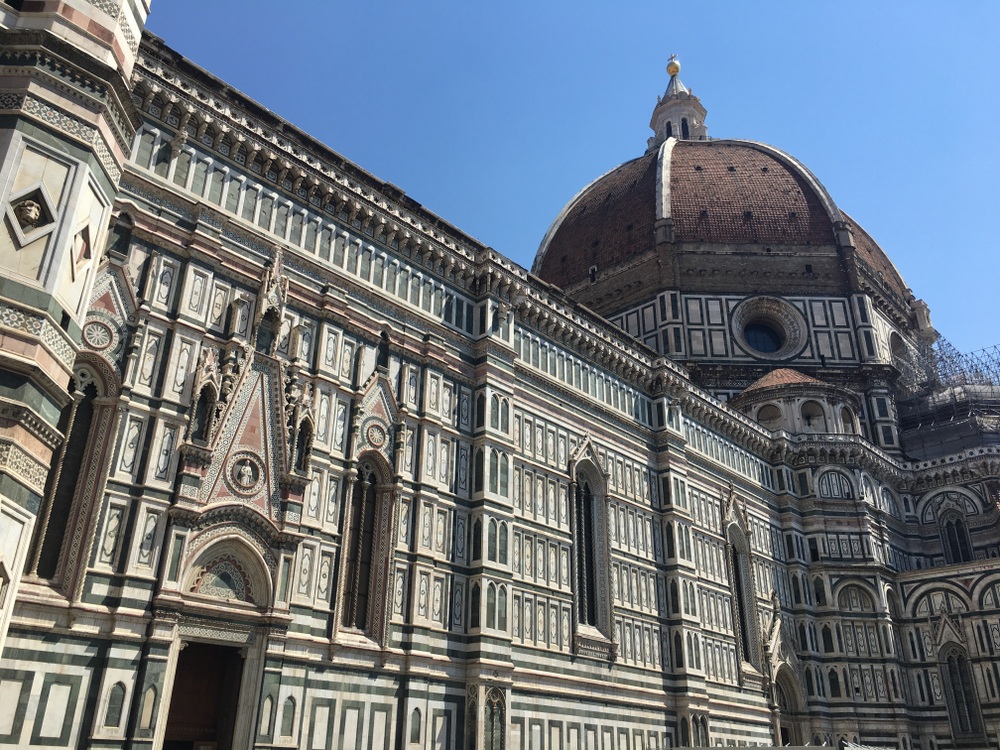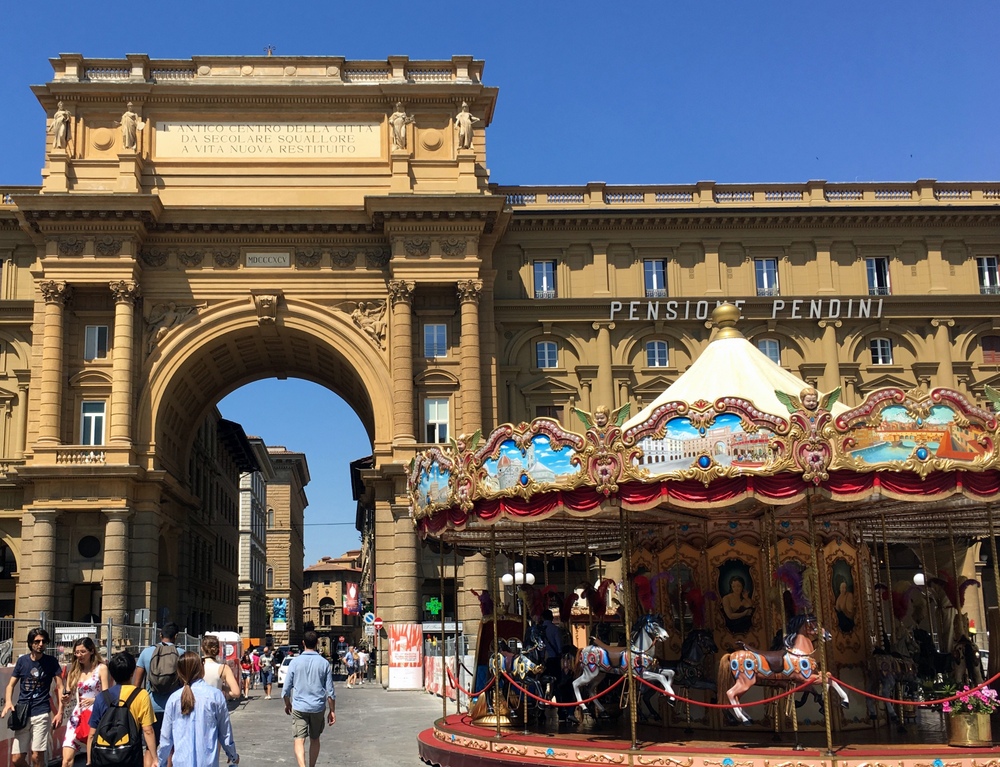 We also visited a museum in Florence — but not really a traditional one. The Leonardo da Vinci museum is dedicated to replicas of his inventions or concepts, many of which you can manipulate to see how they work. It's a very hands-on experience and I highly recommend it for families (or anyone who is into engineering and "how things work" type exhibits). If you're more interested in his art, however, I think there are probably better museums to explore.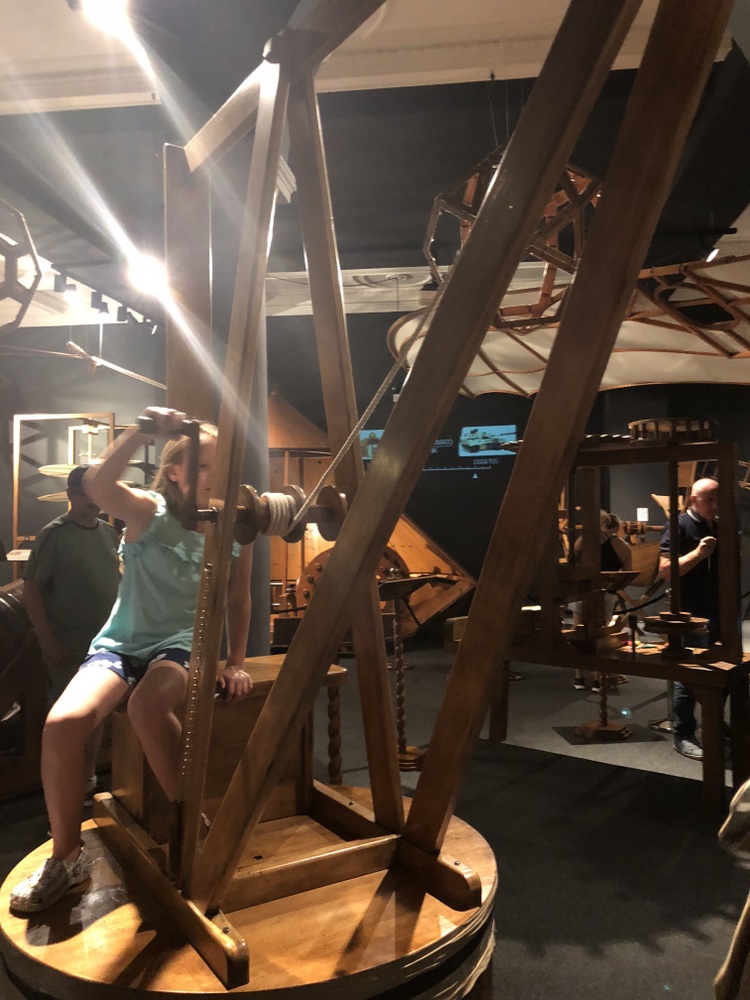 We capped off our day of exploration, sightseeing, and shopping at the Piazzale Michelangelo, overlooking the city of Florence as the sun slowly sank to the horizon. This was an incredible experience, one of the coolest city views I've ever seen, surrounded by the awesome vibe of a crowd of people all in collective awe.

There were people playing music, vendors selling snacks, beer, and wine — people camped out spots on the stairs hours in advance, opening bottles of wine and picnic basket dinners. It was something you can't really see in the states.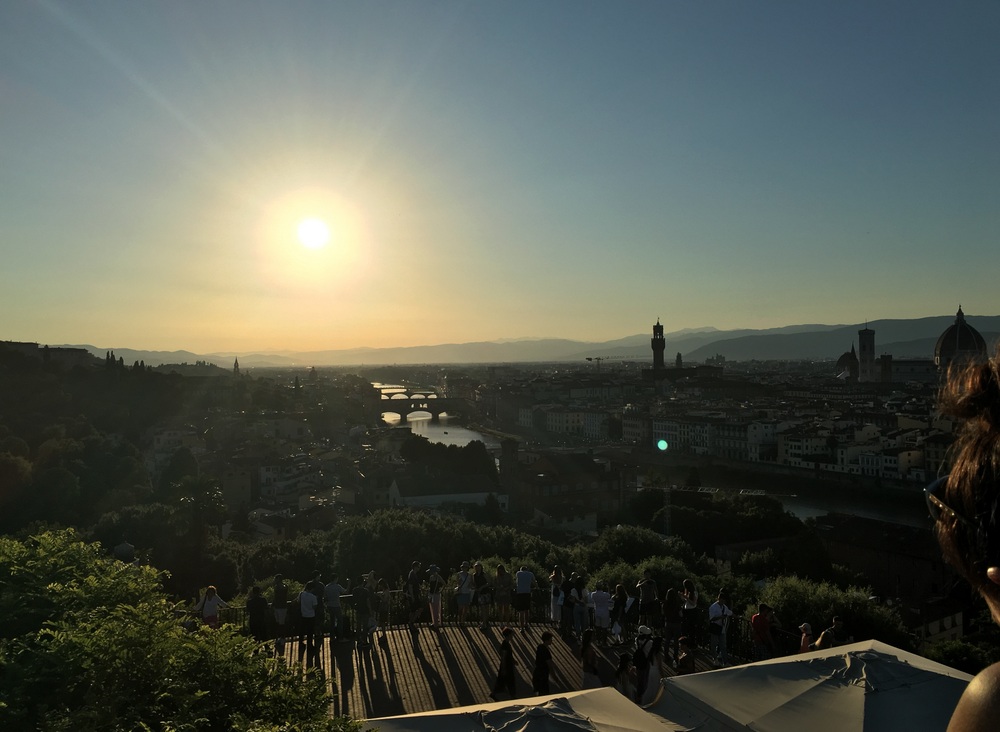 Our dinner was at the bottom of the hill, at a cozy little restaurant in a residential neighborhood.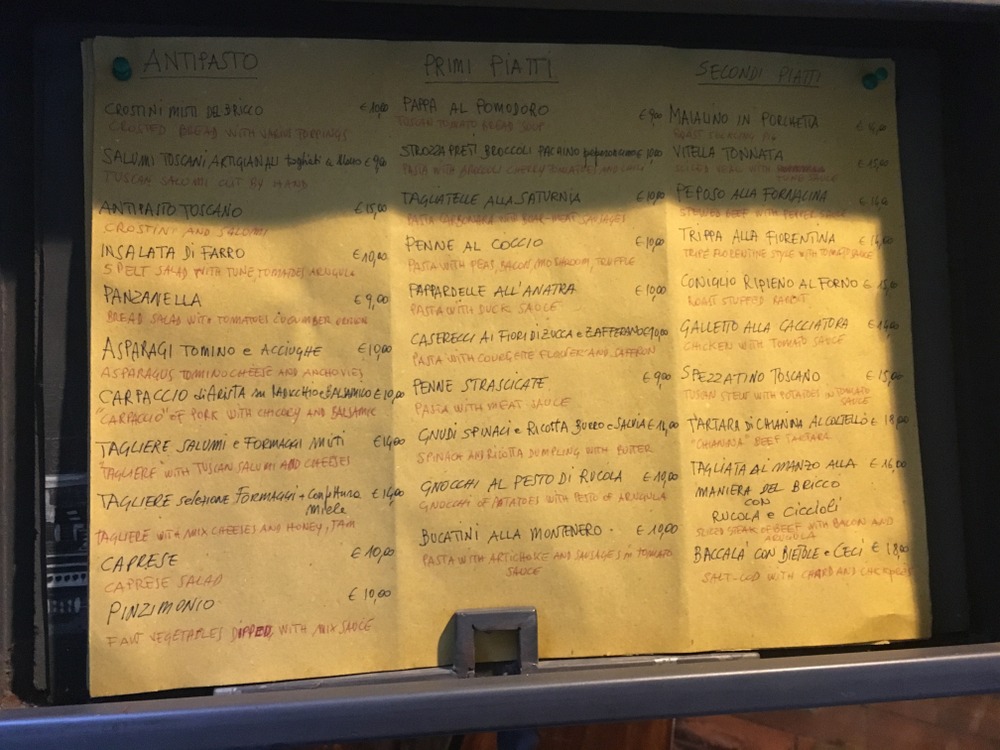 Walking there was a treat in itself, winding down the hill from the Piazzale, pausing at various spots to admire the views. This was more or less the end of our time in Florence; one full day, with a night before and after. I wish we could have stayed longer — one problem with a trip like this is that you never really get a feel for the flow of a place, and I would have loved to get into the flow of Firenze.
The next day we took the train to Pisa in the morning, on what was the hottest day of the trip. When we first started planning the trip, Evie asked for two things: the Eiffel Tower, and the Leaning Tower of Pisa.  We didn't make it to France, but we could do Pisa.
We visited the famous leaning tower, took the requisite pictures, and shopped for souvenirs.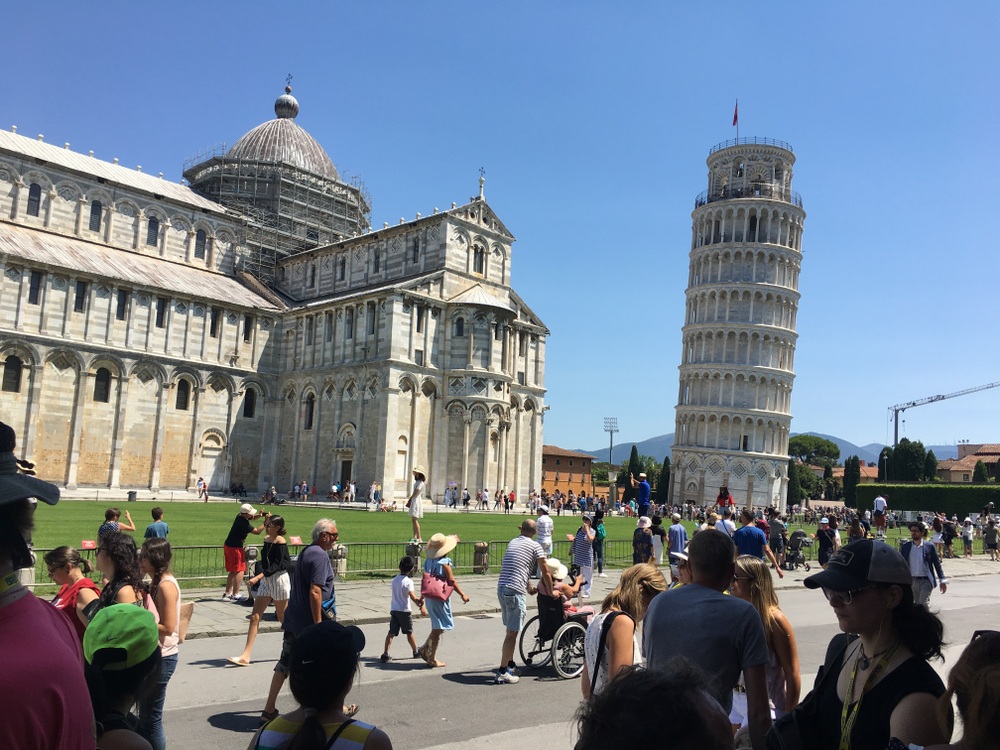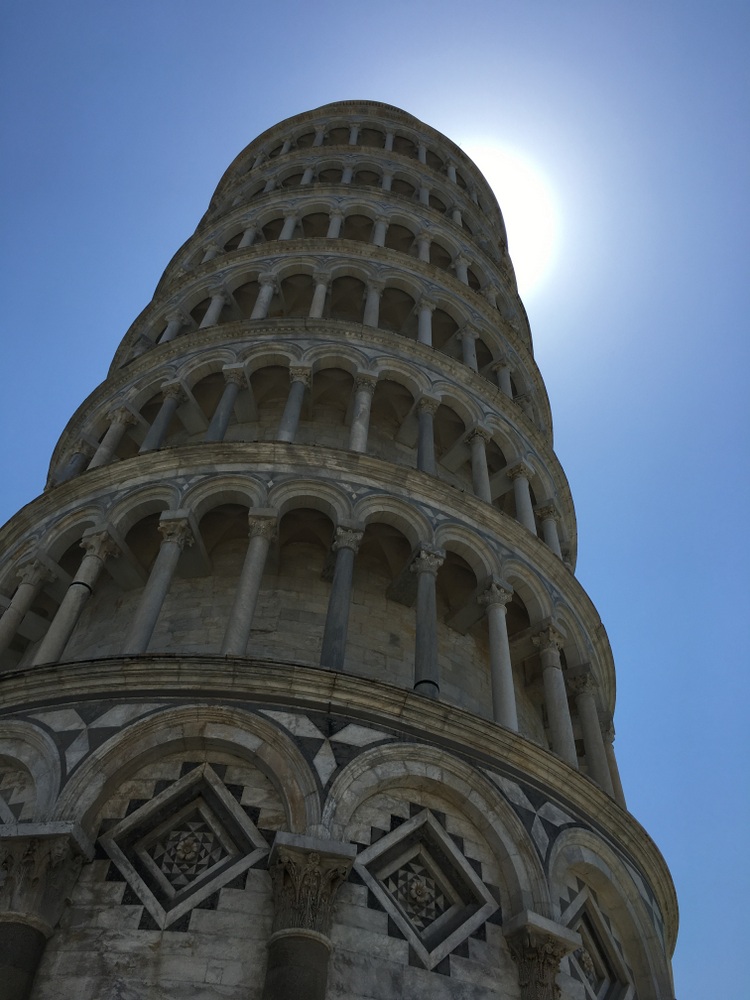 I know Pisa has more to offer than just the tower, but we weren't there for long enough to explore it. It is a beautiful tower, with or without the lean!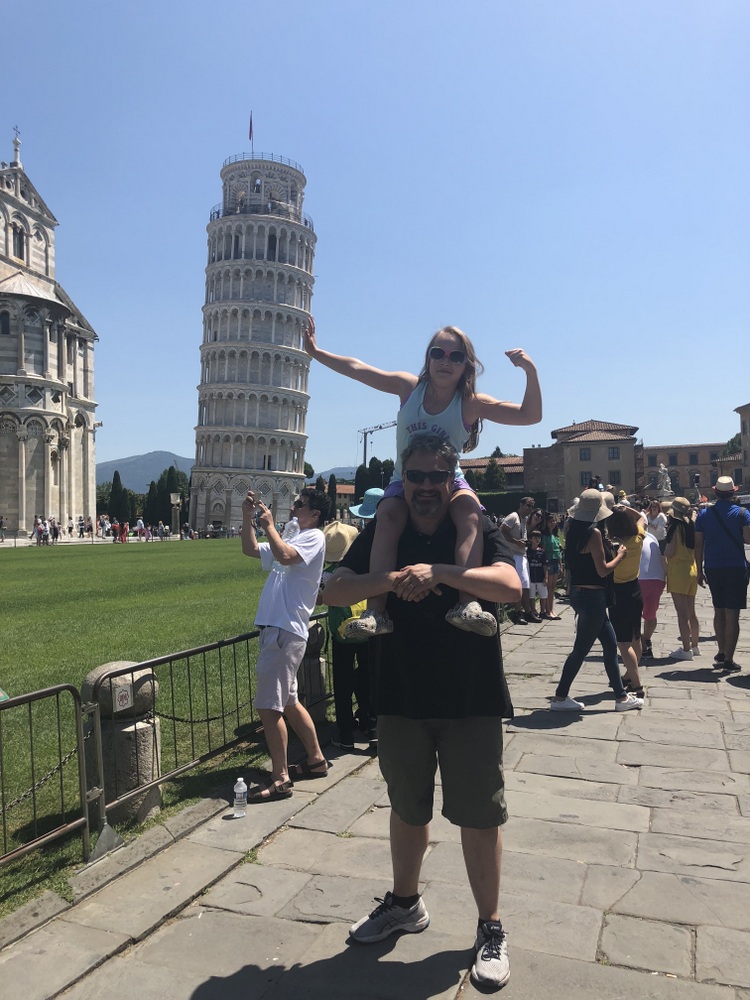 We made it back to Florence in time to meet up with some friends who happened to also be traveling through Italy at the same time (we had hoped our paths would overlap, and they did, by a couple hours). We spent some time chatting at the train station before grabbing a quick lunch and boarding a train back to Milan … and from there, to a whole new country. Switzerland awaited!